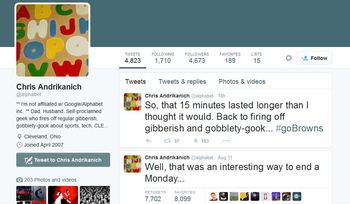 Chris Andrikanich's Twitter profile describes him as "Dad. Husband. Self-proclaimed geek who fires off regular gibberish, gobblety-gook [sic] about sports, tech...." He has been on Twitter since April 2007 and had not got more than a retweet or two per tweet.
Everything changed on August 10, the day Google Inc announced the formation of Alphabet Inc. His phone kept pinging as he found himself being mentioned ad infinitum on Twitter. He owns an interesting Twitter account, you see: @alphabet!
Yes, that is what many people thought—that Andrikanich had hit the jackpot. But, no, Twitter rules prohibit buying or selling handles. In fact, Andrikanich is not the only one to be in this position. JPMorgan Chase reportedly invoked "trademark issues" to secure the @Chase handle, which originally belonged to a Chase Giunita.
Some people rent their handles to companies for an annual fee. It is not a sale, as the handle belongs to the original owner. The Tweeple being wooed the most are early birds who made single-letter handles. Eg, Andrei Zmievski, whose handle is @a! Then come the ones with generic words in their handles. Eg, @photo, owned by photographer Michael O'Donnell.
Interestingly, alphabet.com is owned by BMW. It is BMW's subsidiary that provides services to corporations with vehicle fleets. So, Alphabet Inc's URL will be abc.xyz.