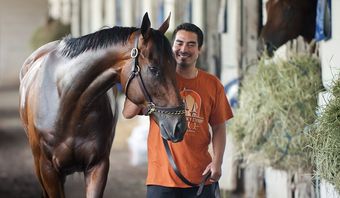 No horse had won the Triple Crown in 37 years. Then, American Pharoah did it on June 6. The pinnacle of horse racing in the US, the Triple Crown comprises the Preakness Stakes, the Belmont Stakes and the Kentucky Derby. Winning all three makes for the Grand Slam equivalent in the equine world. Only 12 horses have done it ever. The last Triple Crown winner was Affirmed in 1978.
While the press and horse fans were going gaga over Pharoah, subeditors in newsrooms were pulling their hair out. Is it Pharoah or Pharaoh? they asked. Then the twitterati picked it up. The pundits said the correct spelling is Pharaoh—raoh, not roah! Of course, it is so. But, what is the name of the horse, please? Pharoah, said the owners. A spelling mistake made in the registration certificate. Sorry. The storm died down.
Pharoah's Egyptian name comes form his dad, Pioneer of the Nile, who came second in the Kentucky Derby in 2009. And, his owners, Zayat Stables, is headed by Ahmed Zayat, an Egyptian Jew. Considering his speed-oriented pedigree and the Triple Crown win, Forbes values Pharoah at $50 million. So, does it matter if he spells his name the wrong way? Moreover, horses can't spell, can they?