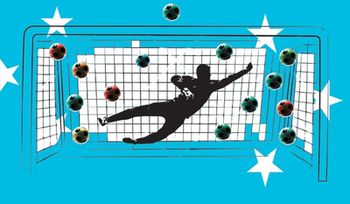 It's not every day that Micronesia makes news. Then again, it's not every day you concede 46 goals in 90 minutes. The archipelago nation lost, not to world champion Germany, but to Vanuatu, which is ranked 200 in the world by FIFA. The match, a qualifier for the Rio Olympics next year, ended with the score line 46-0. Vanuatu broke its opponent's defence as well as many Micronesian hearts as it sauntered past the clueless team.
In its previous two matches, Micronesia had lost 0-38 to Fiji and 0-30 to Tahiti. Yes, the team conceded 114 goals in three matches. Fun fact: Last year's FIFA World Cup had a total of 171 goals. Give Micronesia two more matches, it is bound to catch up.
Vanuatu striker Jean Kaltack found the back of the net 16 times, equalling German legend Miroslav Klose's World Cup tally. Apparently, the Micronesian goalie had started keeping just three weeks before the match. It certainly showed.
Organisers say it was the biggest win in international football, but it is unlikely to go in the record books as Vanuatu is not a FIFA member. The official record belongs to Australia, which beat American Samoa 31-0 in a qualifying match for the 2002 World Cup.
But the Micronesian players shouldn't be kicking themselves; at least they scored a few headlines.