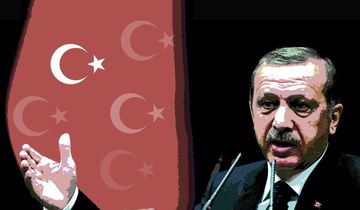 Recep Tayyip Erdogan is flushed with anger. Days before the nation goes to the polls, the opposition party claimed that the Turkish president had a golden toilet in his 1,150-room palace.
His opponents have often ridiculed the $600 million palace, which has four times the floor space of Versailles and was allegedly built in defiance of a court order. Erdogan, however, drew a line with this latest claim. He pooh-poohed the allegation and said he would resign if such a commode was found.
Such alleged excesses find place in the current campaign as the Turkish economy, a mainstay of Erdogan's success, has recently been down in the dumps. Economic growth fell from 9 per cent in 2011 to 3 per cent this year.
Eager to wipe away the controversy, Erdogan invited the Republican People's Party to inspect his residence―its leader Kemal Kilicdaroglu had publicly criticised him. The pot of gold became an election tool as Twitterati started posting pictures of Erdogan and luxury lavatories. Not one to take such crap, Erdogan challenged Kilicdaroglu to step down from his post if he was unable to find the toilet. He also threatened to sue the party.
Kilicdaroglu later denied having made such a claim, saying he had referred to golden toilets as a general criticism.