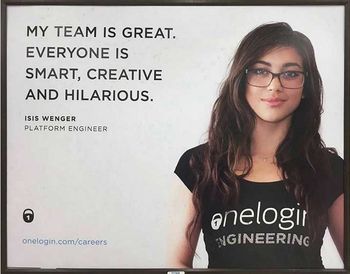 How should a female engineer look like? Like Amy Farah Fowler from The Big Bang Theory? OK OK, Amy is a neuroscientist, I know. Just saying. Can a female engineer look like Penny? Aha, gotcha.
The latest icon of hashtag activism is Isis Wenger. No, she has nothing to do with the Islamic State. The 22-year-old is an engineer with OneLogin, "a company that helps people manage their online passwords". She was part of a marketing campaign for OneLogin. Look up to see her in the banner.
The campaign ran into rough weather when netizens started commenting that Wenger did not look like an engineer. Wenger hit back by posting a pic with the hashtag #ilooklikeanengineer. The pic and the hashtag went viral. Now, female engineers are flooding the internet with selfies and the hashtag.
And, the electric traffic light just turned 101. The first one was put up in Cleveland, Ohio, on August 5, 1914. Interestingly, there have been allegations of sexual discrimination against traffic lights, too. Apparently, the green pictogram on the 'walk light' is 'male'. So, the city of Dortmund, Germany, put up a 'female' pictogram. Well, women wear trousers, don't they?