She surfs the internet for news on politics, loves movies and has read every book on her bookshelf. Sounds like just another smart youngster, but N.L. Beno Zephine is no ordinary girl. The 25-year-old recently became India's first 100 per cent visually-impaired Indian Foreign Service officer. "You cannot say that I am not an ordinary person," says Beno. "I am normal, too. You have sight and I do not. That is the only difference."
Ever since she was a child, Beno knew she wanted to serve the nation. Her dream was realised on June 12, when she received a phone call from the ministry of external affairs, confirming her position as an IFS officer. She had secured the 343rd rank in the 2013 civil services examination conducted by the Union Public Service Commission, and was the topper among disabled candidates.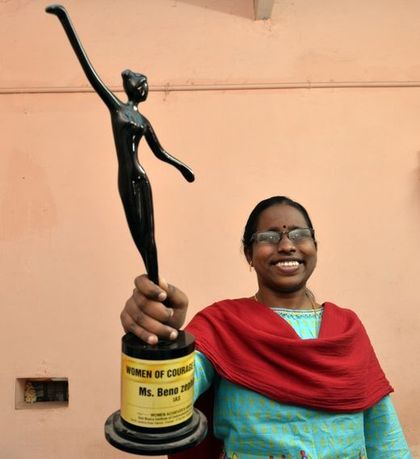 The excitement is palpable at the modest, three-room home that Beno shares with her family in Villivakkam in north Chennai. The phones haven't stopped ringing and Beno's small, low-lying room is filled with bouquets. "I have always been ambitious," says Beno, who has a postgraduate degree in English from Madras University and worked as a probationary officer in the State Bank of India while studying for the civil services exam. "Nothing has stopped me from moving forward and proving successful in life, including my blindness."
Three months after she was born, Beno's parents, Mary Padmaja and Luke Anthony Charles, were told that their daughter was completely blind. Initially, Beno's disability greatly worried Mary. But her worries dissipated when Beno began thriving at the Little Flower Convent Higher Secondary School for the Blind. "My daughter taught me what life is and how to face challenges with courage," says Mary.
Beno does not appreciate sympathy. "I always say this to everyone and, at times, to my mom, too, when she worries about my future," says Beno. "When mankind had the inability to fly, flights were invented. Likewise, whenever there is an inability, you invent a better way to overcome the obstacle." Luke Anthony, who works with the Indian Railways, has always had confidence in his daughter's abilities. "We are very proud of our daughter," he says. "Though we helped her, what drove her was her determination, confidence and her extensive power of observation."
When Beno was younger, her parents spent hours reading books to her and Luke Anthony spent at least 45 minutes each day reading the newspapers to her. Now, she uses technology to read, and has audio software installed on her laptop and phone. To help prepare for the civil services exam, Beno, who learnt Braille in school, got all her books changed into formats that were accessible to her with the assistance of the Worth Trust, an institution that works for the rehabilitation and training of the handicapped. Recently, she sent most of the modified books to a library, where she felt they would benefit other visually-challenged civil services aspirants. "There was a mountain of books in my room," says Beno. "I have only retained whatever I felt would be useful to me. Books should be cherished and they will definitely help aspirants like me." She has, however, kept the notes she had prepared on Indian polity and administration in Braille; she says she will cherish them for the rest of her life.
What Beno lacks in sight, she makes up for in hearing. She is acutely tuned in to every sound around her. In fact, in her family, she is the fastest to move around at home. She knows exactly where everything is placed: her books, her laptop and kitchen utensils. Even when she is in an unfamiliar environment, she needs only a day to adapt. Discussing social issues comes naturally to Beno. "I have always been proud of our country," she says. "We have the best resources, but they are not evenly distributed. We need to preserve our resources." In fact, when she was in school, she would chide her friends for wasting water and they would tease her saying, "the collector has come". Ever since passing the civil services exam, Beno has been a sought-after motivational speaker in schools, colleges and social platforms in Chennai and recently spoke at a conference in the US. "I don't prepare for any lectures," says Beno, who is fluent in English. "I just talk extempore."
Ask her if she sometimes feels sorry about being disabled and she replies sternly: "Why should I? Usually, I don't feel bad about anything. Nothing gets to me and I am not so undignified." Instead, she uses adversity as an opportunity. For example, all these years, her mother always chose and matched her clothes each day, but when she moves to Delhi in the next two months to start work, Beno will have to do so herself. So, with Luke Anthony's help, Beno has worked out a way to identify the colours of her clothing. She plans to get the name of the colour, written in Braille on a metal sheet, stitched onto her clothes to help her colour coordinate them. She will not be wasting too much time dressing up, however, as even in her room at home, she doesn't have a dressing table. The one accessory she likes to wear is a pair of spectacles, as even though they do nothing for her sight, she feels it adds to her personality.
Beno is a movie buff and recently enjoyed the film Interstellar, which won the 2015 Academy Award for best visual effects. In her spare time, she likes hanging out with friends at Skywalk Mall in Chennai. Beno says she is looking forward to living in Delhi, though she might miss her favourite dish, idlis.