Sriram Gaikwad had never thought for a moment that he would change the destiny of his village, Borgaon. Located in Surgana taluk in Nashik district of Maharashtra, Borgaon and its neighbouring villages had only subsistence farmers who grew rice and coarse cereals like ragi and bajra for subsistence if they had a good monsoon.
Gaikwad, 34, lived in Ghodambe, a tribal hamlet of Borgaon, and was tired of his hand-to-mouth existence as a farmer. Way back in 2004, he used to work at a seed and fertiliser shop in the neighbouring taluk to supplement his meagre income. The shop belonged to a farmer, and Gaikwad often listened to conversations between the owner and representatives of the seed company. "I heard from them about strawberry farming and that caught my attention," said Gaikwad. Soon, he decided to take up strawberry farming. He raised Rs6,000 to buy 2,000 saplings of strawberry, by dipping into his savings and by borrowing the rest.
"People laughed at me. Even the shop-owner tried his best to discourage me by saying strawberries would not grow in our area. My initial investment of Rs6,000 and the additional expenses on fertiliser, pesticides and labour were a very huge risk a decade ago," he said. Luckily, his idea took off.
Being uneducated, it was not easy for Gaikwad to find out more about strawberry cultivation and he had to rely on his instincts. He had the backing of his wife and he put his heart and soul into his new enterprise. "My joy knew no bounds when we first saw the little green fruits taking shape and then ripening into bright red juicy ones," he said.
The strawberry plant yields fruits for five months, so farming it is highly profitable. But it is labour-intensive, as the fruits will have to be plucked daily and packed and transported without delay.
"I had no knowledge of selling strawberries, but the friendly shop-owner helped me. His friends helped him sell strawberries and told him about the need of packaging the product to attract good markets," said Gaikwad. With this support, he earned a profit of Rs80,000 in the first year.
Gaikwad used part of the profits to visit Mahabaleshwar, Surat, Valsad, Ahmedabad and Mumbai to learn marketing techniques. While in Mahabaleshwar, he had a brainwave. The hill station, which attracts lakhs of people every year, is also famous for its strawberries, and Gaikwad thought that branding his strawberries after Mahabaleshwar would probably help. He then ordered attractive corrugated boxes, with the label which said "Mahabaleshwar Fresh Strawberries", to sell his produce next year.
Back home, Gaikwad decided to extend strawberry cultivation to nearly three acres. He also told his relatives and friends about his success. He earned Rs4.5 lakh in the second year, and his cousins, who also started growing strawberries, earned good profit as well. "We had never seen that kind of money in generations. We saw currency notes of Rs500, in fact bundles of them, for the first time," said Gaikwad. People from neighbouring villages and hamlets soon started visiting Ghodambe to see the miracle of strawberry.
Waman Gavali, a 32-year-old tribal from Borgaon, was one such curious visitor to Gaikwad's place. "The first thing I asked him was to show me how a Rs500 note looked like. I wanted to feel it," said Gavali. Gaikwad explained to him and everyone else who met him all about strawberry farming. "Everyone was eager to plant strawberries the next year, but very few had money to buy the required number of saplings. I had just finished the second season and I thought of making strawberry saplings myself," said Gaikwad. He sought guidance from elderly farmers and managed to prepare thousands of saplings. "I did not know whether my saplings would actually produce strawberries and hence I gave those to everybody on credit. They did not have the money to buy from shops anyway," said Gaikwad.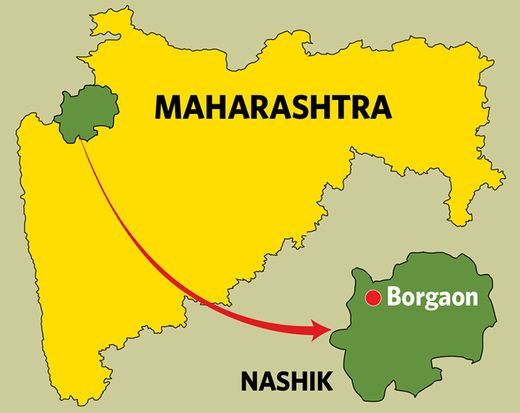 "I was praying and so was my family since I, too, had planted the same saplings. Its failure would have ruined me completely. But the miracle was to continue and the saplings turned out to be very productive," said Gaikwad. Everyone who planted strawberries got handsome returns as Gaikwad had by then streamlined the selling process, too. "I earned Rs7 lakh from my yield and Rs4 lakh from the saplings. Traders had started coming from Gujarat, Mahabaleshwar and Mumbai," he said. Arun Gavali, a tribal from the neighbouring Kherud village, said most of the villagers repaid their debts after just one strawberry season. "Now, we don't have a single moneylender in almost 40 villages," he said.
All this happened silently, without any support from the government, and these tribals, otherwise neglected, are feeling empowered. With money in hand, they are repaying their loans and are able to get better health care and good education for their children. "My two sons are studying in a public school in Srirampur and my nephew is studying in Nashik. We will improve even more once they learn English," said Gaikwad.
M.H. Mahale, the agriculture officer in Borgaon, said strawberry was cultivated in over 250 hectares in nearly 32 villages in the region. "These strawberries have changed their lives," he said. Earlier, most of these villagers had not even seen a bank, but now everyone has an account and an ATM card.
Gaikwad is confident of notching a yield of 12 tonnes and a profit of Rs18 lakh this year. "We produce over 18 varieties of strawberry. Now we need encouragement from the government," he said. "We want processing industries to come and make jams, jellies, ice-creams and other products from strawberry, which will reduce our transport losses."