He was declared dead on arrival at a remote clinic where he was taken after his unit came under attack during the Kargil war in 1999. Major Devender Pal Singh, called DP by his friends, however, had other plans. After being miraculously revived by a visiting anaesthetist, Singh fought his way back to life.
Major Singh, who was 29 then, was commanding a unit at the Chicken's Neck area in Akhnoor, hardly 80 metres from the Line of Control. It was early in the morning on July 15, 1999. At around 6am, the Pakistani army started firing at Indian positions. Amidst the chaos, Singh heard the familiar whistling sound of a mortar shell. But before he could run to an open area, the mortar started its descent and fell on soft ground barely five feet from where he was standing. Singh dived and lay on the ground, but the shrapnel pierced the right side of his body and mutilated his leg.
When he regained consciousness after three days, Singh found that he had lost his leg, a severe infection had paralysed his intestine and around 50 shrapnel were still embedded in his chest, ribs and elbows. "The doctors told my parents that I was dangerously ill. They had lost all hope. But I didn't," he says.
Singh, who is from Jagadhari in Haryana believes that his inner energy kept him alive. "Not even for a moment did I think that I would not survive. Rather, I asked for a tape recorder and cassettes of a few Hindi movies. I would listen to the dialogues of Sholay all the time. I was quite cheerful and didn't let any negative thought come to my mind," he says. He was shifted from an Army hospital in Udhampur to the Army Hospital (Research and Referral) in Delhi and was later sent to the Artificial Limb Centre at Armed Forces Medical College, Pune. "I was a bundle of bones and flesh at that time. My weight was a mere 28kg," he says. "The doctors were shocked to see me. I stayed in that hospital for a year. And, for the first time, I realised that walking with crutches was like learning to walk all over again. Nobody told me how to hold those cumbersome crutches, but I mastered the art of walking with them. I can now hold a cup of tea in one hand, a box of biscuit in the other and walk around with crutches," says Singh.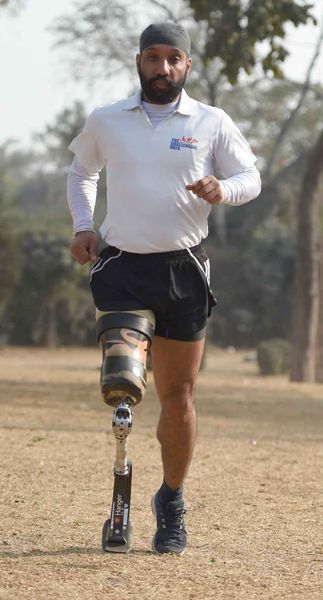 The first year was the toughest for him. Singh kept fighting different kinds of pains and aches, but he conquered them all. By the end of the year, he could stand on his feet—one artificial and one natural. But he realised that although he had started feeling normal, people around him could not accept him as a normal person. "Call it sympathy, pity or whatever, people do not allow a disabled man to return to normalcy," he says. "There were two options to deal with them: to tell them that their behaviour was not appropriate or to prove them wrong by making myself stronger. I chose the second one."
It was like a battlefield again. Singh had several roadblocks to overcome. His body was a mess. He felt excessive cold and pain in the right part of his upper body and left knee, while the rest of his body felt unusually warm. His intestine was still giving him trouble and there was a tumour in his bladder.
Singh decided to concentrate on his leg first. He started playing golf, as it was not very strenuous, but required him to move around. He then moved on to volleyball and squash and, then, he wanted to run. "Squash was difficult in the beginning as you have to shift your legs fast. But I was determined. Finally, I tried running. "It was to overcome the obstacles that a leg amputation can pose before you," he says.
In October 2009, Singh decided to run a half marathon in Delhi. He says the three hours and 49 minutes he took to finish the 21-km race changed his life. "Pain was stopping me and my mind was trying to tame it all along. It was like a long meditation. When I reached the end point, I was hungry. You know, I ate the entire apple that they gave me as refreshment, including the core and the seeds. I felt that kind of hunger for the first time in ten years. I reached home and crashed on my bed and slept. I felt normal again."
That marked a new beginning in Singh's life. He started training and ran many marathons after that. With each race, he regained his self-worth. Singh is India's first "blade runner" [those who run on artificial limbs like the South African athlete Oscar Pistorius].
But he did not want to be a lone achiever. So Singh formed a Facebook group in 2011, called The Challenging Ones. He today coaches people with disabilities, teaching them how to use sports as a healing tool.
"The group has 950 members. They interact with each other and help each other fight the odds. They post their achievements, which motivates other members. Sports restores the feeling of self-worth to people with disabilities and enable them to take charge of their body and life. I feel that's the most important thing. The disabled do not require a sewing machine or a pan shop if you empower them with self-confidence," says Singh.
Uday Kumar Bagade, a civil engineer, met with a road accident in 2007 and lost his left leg. The incident did not just claim his limb, but his self-confidence as well. Bagade, 38, slipped into depression and even thought of committing suicide. Last year, he got to know about Singh's Facebook group and joined it. Singh encouraged him to take up running. Last December, Bagade ran his first marathon in Kochi using a prosthetic leg. "That run changed my life. In fact, it is my second life. Now, I feel as confident as I used to feel before I met with the accident," says Bagade, who returned to his job as a civil engineer.
Singh believes that if a person realises his worth, the world, too, will accept it in no time. "Eighteen members of my team who participated in the Kochi Marathon last year got sponsorship from IDBI Federal Insurance. And, on February 28, people with disability will participate in India's first inclusion marathon in Delhi," says Singh. "Nobody will dictate terms to them; it will solely be upon them how much they want to run."