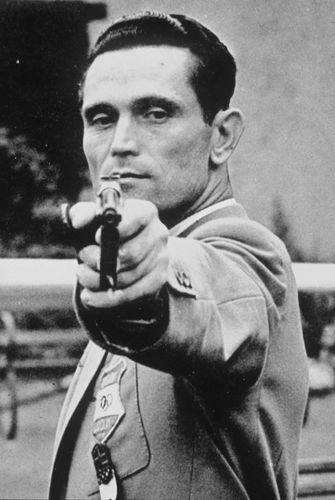 The 2016 Rio Olympics opened with much ado and fanfare and has managed to captivate audiences across the nation. With 11,000 athletes competing in over 28 sports, the Rio Olympics has set base for new champions to be crowned and history to be rewritten.
At the onset of the games, it becomes important for us to remember those Olympic legends who attained paramount success and inspired generations to come. One such athlete was Karoly Takacs—a member of Hungary's world championship pistol shooting team and the country's prospect for the 1940 Tokyo Olympics.
During a training exercise in 1938, a defective grenade blew his right hand—his shooting hand. Instead of focusing on what he had lost, Karoly, 28, decided to focus on what he still had—determination to succeed, mental strength, and, of course, a healthy left hand. He went on to win two Olympic gold and several awards at national level pistol shooting championships. His motivating story has been carved into eternity and has given him a place among the "Olympic heroes" of the International Olympic Committee.
Let us look at the top three takeaways from Karoly's story:
Operating from your circle of control
Karoly took responsibility for his own destiny by consciously taking a decision to not focus on the things that were not under his control (the right hand that he had lost). Instead, he worked on his aim to win the championship by practising with his left hand, something that was in his circle of control. In today's competitive and challenging work environment, it becomes easy for professionals to pass the buck on to external sources for the failures they face. They focus on the weakness of other people, the problems in their surroundings, and circumstances over which they have no control. More often than not, this results in an attitude of blame and accusations, reactive language, and increased feelings of victimization. To succeed professionally, always pro-actively spend your time and energy on things that you can control and influence.
Mental grit
One of the most important lessons from Karoly's story is that he was a man with the mental toughness to bounce back quickly from an extreme kind of adversity. The reason mental grit is vital for professionals is that when you are tough mentally and recover quickly, you don't lose the momentum and drive required to take a particular task to a successful closure. Such professionals are the ones that do not dwell on problems or the past, but can turn obstacles into a source of growth and opportunity.
Perseverance is the key to success
Karoly spent a month in hospital depressed both about the loss of his hand and the end of his Olympic dream. Most people under this circumstance would have quit and possibly spent the rest of their days feeling sorry for themselves. But this wasn't the case with Karoly. He was a winner who knew quitting was not an option and although life was hard, he wouldn't let it beat him down. After being discharged from the hospital, Karoly practised by himself for months. No one knew what he was doing. He probably didn't want to subject himself to the scrutiny of people who might have discouraged him from his rekindled dream. This ultimately led him to win gold in the 1948 London Olympics. Professionals who have the ability to resiliently go on, even when their efforts are met with failure or disappointment, tend to achieve their goals and ambitions easily. More than any other quality in professionals, perseverance is one key factor that gets projects out of the door, hones talents in individuals and turns dreams into living, breathing realities. As Karoly often said, "Make a promise to your dreams as if you were making a promise to your child—I will always stand by you no matter what, I will never give up on you no matter what."
Karoly is an excellent example of the infinite capabilities of human will-power. Despite being a right-handed person, he won two Olympic gold in 25m rapid fire pistol events, with his left hand. He is the answer to all those professionals who say that they can't. Next time you get pushed against the wall at work, take a decision to act like a winner. Think about Karoly; in fact, think like him. Get up quickly, take action, and achieve your goals!
The writer is head of project management, Work Better