The Rio Games kicked-off on Friday with all the glitz and glamour. The opening ceremony was bustling with activities drawn from Brazil's diverse culture as it welcomed the world to the 2016 Olympic Games in Rio de Janeiro.
Let's look at the Olympics opening ceremony at the Maracana through these five motifs.
The new Peace sign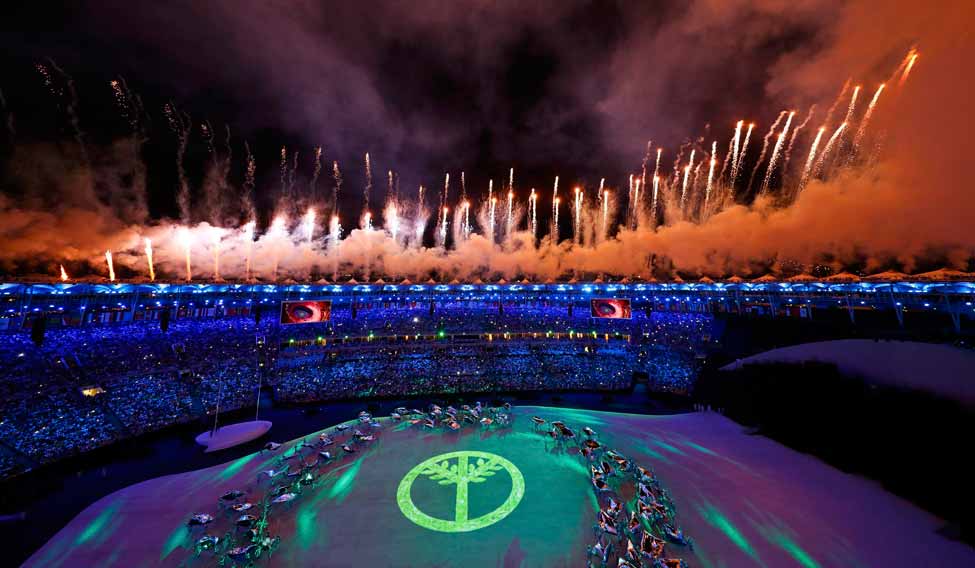 His suggestion for an ecology symbol became the centrepiece of the opening ceremony. The central lines in the popular peace symbol are transformed into a tree in his version. And, 'he' is Ziraldo Alves Pinto. The Brazilian author, painter, comic creator and journalist is popularly known just as Ziraldo.
The 14-Bis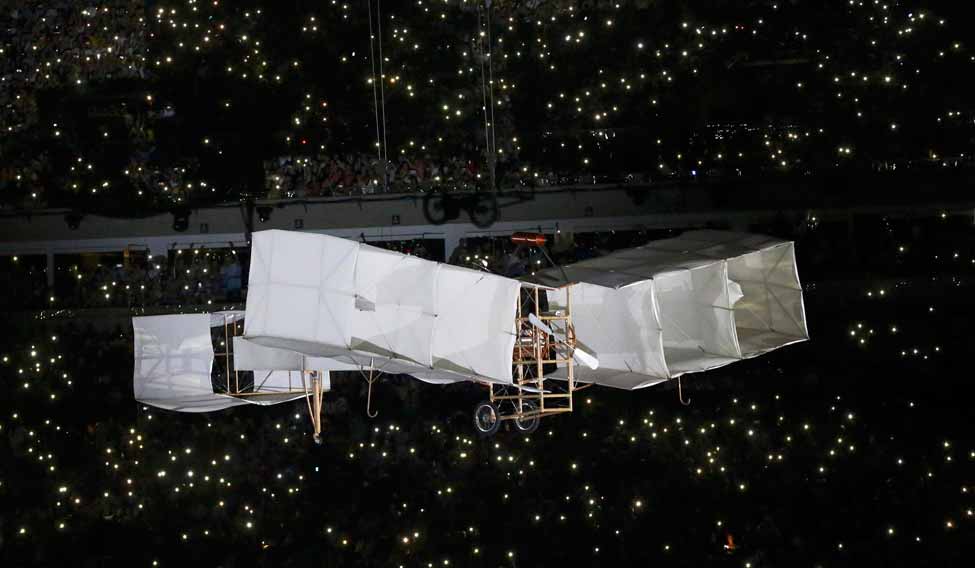 A biplane took to the air in the middle of the show paying tribute to Brazilian aviation pioneer Alberto Santos-Dumont. Many Brazilians believe that he, and not the Wright brothers, was the first one to fly an airplane. The Wright brothers had experimented with catapults, while Santos-Dumont's plane took to the air on its on power. The camp is divided and the fight is bitter.
The Athletes' Forest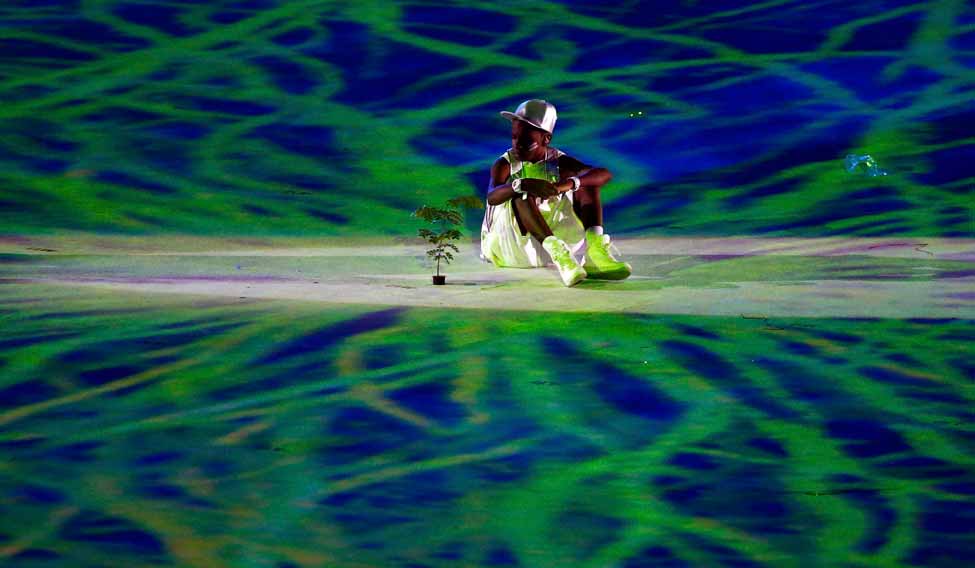 With 50,000 catalogued species of trees, Brazil prides on being the country with the highest diversity of trees. To celebrate this diversity, each athlete was given a seed and a cartridge to plant it in. The athletes then inserted the cartridges in the mirrored towers present on the stage. The 11,000 cartridges will form the Athletes' Forest in the Radical Park in Rio de Janeiro. The park will have 207 species—one for each delegation.
Transsexual placard-bearers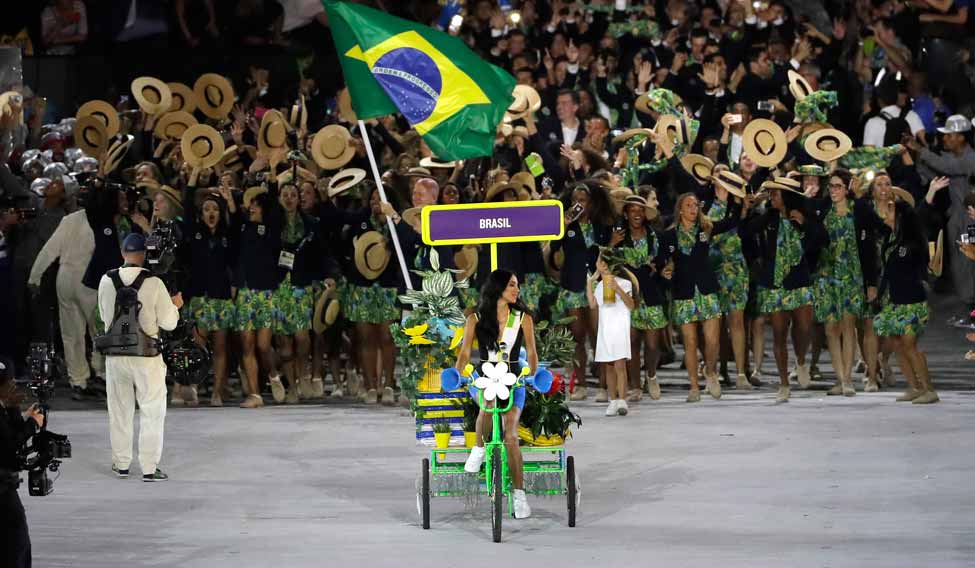 As usual, the march of athletes was led by Greece and closed by Brazil. Each team was preceded by a bearer carrying a placard with the country's name. Five bearers in Rio were transsexuals. The most popular one being Leandra Medeiros Cerezo, known professionally as Lea T. In 2014, she became the first transsexual model to sign a beauty contract when American hair-care brand Redken signed her.
Lea T is the daughter of former Brazilian footballer Toninho Cerezo.
The white kites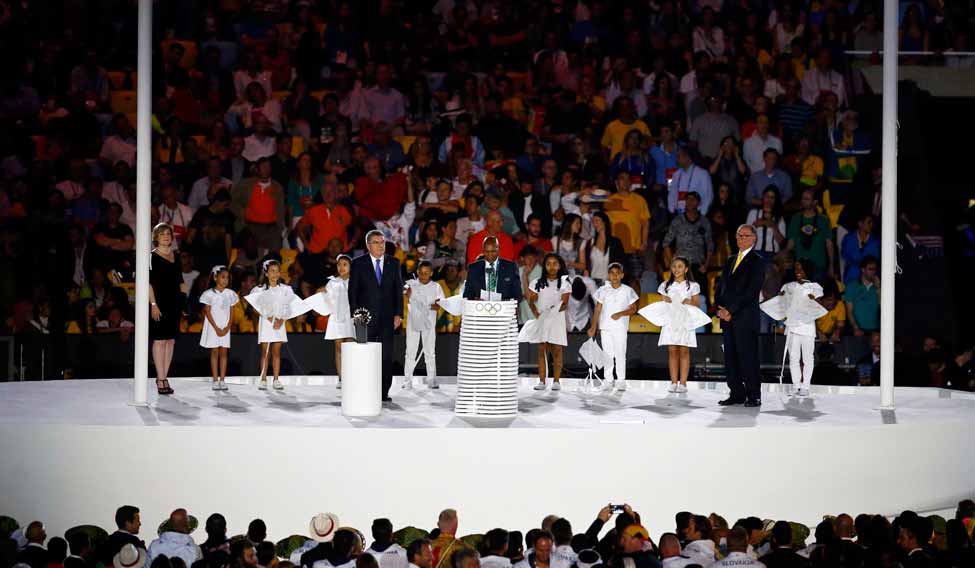 When veteran Kenyan athlete and two-time Olympic champion Kipchoge Keino ran up to the stage to receive the first Olympic Laurel award, he was preceded by children flying white kites.
Two hundred white kites were taken from Rio de Janeiro to Kenya and given to children there who had never played with kites. The Kenyan kids played with the kites, and returned some, after writing peace messages on them. The kites that came back from Kenya were among the ones flown by children in Maracana stadium.