Robotics will be available as a service in 2017 and will be heavily dependent on software predicts tech monitor, IDC. Its latest report titled "FutureScape: Worldwide Robotics 2017 Predictions" highlights the key drivers for robotics and how these are likely to shape the development of robotics in the next few years till 2020.
"Technological development in artificial intelligence, computer vision, navigation, MEMS sensor, and semiconductor technologies continue to drive innovation in the capability, performance, autonomy, ease of use, and cost-effectiveness of industrial and service robots," says Dr Jing Bin Zhang, Research Director, Worldwide Robotics and Asia Pacific Manufacturing Insights, IDC Asia/Pacific. He has listed the top predictions and major robotics trends that are set to present opportunities and challenges to IT leaders in 2017 and beyond.
1: Robot as a Service. By 2019, 30% of commercial service robotic applications will be in the form of a "Robot as a Service" business model, reducing costs for robot deployment.
2: Chief Robotics Officer. By 2019, 30% of leading organizations will implement a chief robotics officer role and/or define a robotics-specific function within the business.
3: Evolving Competitive Landscape. By 2020, companies will have a greater choice of vendors as new players enter the US $80-billion ICT market to support robotics deployment.
4: Robotics Talent Crunch. By 2020, robotics growth will accelerate the talent race, leaving 35% of robotics-related jobs vacant while the average salary increases by at least 60%.
5: Robotics Will Face Regulation. By 2019, the Government will begin implementing robotics-specific regulations to preserve jobs and to address concerns of security, safety, and privacy.
6: Software Defined Robot. By 2020, 60% of robots will depend on cloud-based software to define new skills, cognitive capabilities, and application programs, leading to the formation of a robotics cloud marketplace.
7: Collaborative Robot. By 2018, 30% of all new robotic deployments will be smart collaborative robots that operate three times faster than today's robots and are safe for work around humans.
8: Intelligent RoboNet. By 2020, 40% of commercial robots will become connected to a mesh of shared intelligence, resulting in 200% improvement in overall robotic operational efficiency.
9: Growth Outside Factory. By 2019, 35% of leading organizations in logistics, health, utilities, and resources will explore the use of robots to automate operations.
10: Robotics for Ecommerce. By 2018, 45% of the 200 leading global ecommerce and omni-channel commerce companies will deploy robotics systems in their order fulfilment warehousing and delivery operations.
"Robotics will continue to accelerate innovation, thus disrupting and changing the paradigm of business operations in many industries, suggests IDC.
Robotics in India

GreyOrange, is an Indian talent fueled multinational robotics firm that designs, manufactures and deploys advanced robotics systems for automation at distribution and fulfilment centres. The company caters to the fast growing Retail, Consumer and Packaged goods and e-Commerce sectors with its state-of-the-art warehouse automation solutions for inventory management, order profiling and sorting. Founded in 2011, headquartered in Singapore with offices in India, Hong Kong and Japan, GreyOrange has grown rapidly to over 400+ employees today with over a third working in the state-of-the-art Research and Development centre in Gurgaon.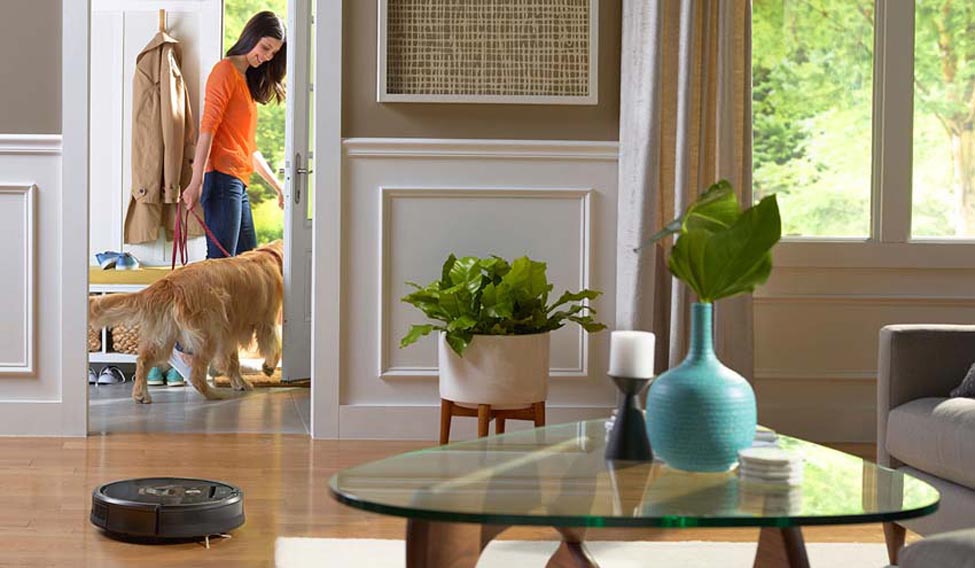 The floor and glass window cleaning robots are popular with young families and apartment dwellers. The maid or 'Bai' may be a threatened species as a machine takes over the 'jadoo-pocha' chore. Home cleaning robots were first introduced in India in 2012 under the brand name Milagrow which today has a slate of half a dozen home cleaning robots including some for cleaning glass windows, swimming pools and lawns.
iRobot has brought its flagship Roomba products to India last year, offering various models all looking and working alike, with small variations in vacuum power.
Milagrow and iRobot works like a vacuum cleaner and also comes with a wet wash mode. You can set up an infra red lakshman rekha to prevent it entering some areas and when the battery runs down, it will scamper to a corner and plug itself into a recharge socket.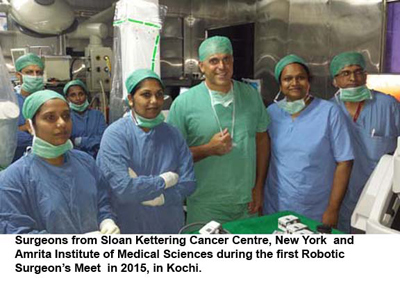 Robotic surgery, leading to a healthier post-operative life, quicker healing of wounds, lower infections and shorter hospital stays, has gained popularity in India with 25 hospitals deploying Surgical Robots to help experienced surgeons perform simple to complicated surgeries. The technology was widely showcased in India for the first time, in 2015, when over 100 participants from India, the US and Switzerland, came together at the Robotic Surgeons Meet held at the Amrita Institute of Medical Sciences, Kochi.
With the growing acceptance of robotic surgery procedures, led by Urology and Gynaecology, the number of procedures are growing every year. At the core of robotic surgery is an experienced surgeon well trained to deploy the power of 3-D vision as well as optimal precision offered by a surgical robot. While the robots do not perform any surgeries they offer higher precision, particularly in hard-to-access parts of the body, to the surgeon, than hand-held tools.