Her father A.R. Kohli was the governor of Mizoram from 2001 to 2006, and for a while, had the additional charge of Meghalaya. Vandana Kohli would be in and out of Aizawl. But even before that she has spent time in the North East—her father was the development adviser to then chief minister of Mizoram, Lal Denga. "My affinity for the North East begins way way back. There is so much of music, the people are so fashion conscious," says Vandana, whose video of the Shillong-based Serenity Choir singing the National Anthem began going viral within two or three hours of a quiet launch on YouTube and Twitter, as India was waiting to celebrate the 70th anniversary of Independence.
Vandana has been making music for about two decades now. A few months ago, she decided to record "Jana Gana Mana" in a different way. It had to have what she calls "body harmony and perfect layering of voices". Vandana says that both these aspects are the results of human training—no technology is involved. They have existed from the beginning of time, she says. But while it has been done aplenty, our nathional anthem had never been sung that way. She discussed it with Arjun Sen who has been involved in her music production for years. Himself from Guwahati, Arjun recommended Vandana look towards the North East. And they had begun their work on the national anthem, fusing different complementary notes and layering voices.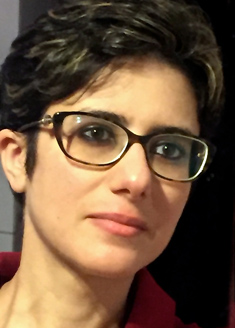 As Arjun sent her recordings in digital format, she wanted more harmony, more highlighting of that, more here and some layering here and more body there. The song in the making went back and forth for months, till Vandana heard something very close to what she had in mind in April. Three months later, she played it to her husband Rajat Sethi and brother Nalin Kohli. They loved what they heard! They thought it sounded beautiful yet different – meaning what Vandana calls harmony and layering. And they suggested she make a video for Independence Day.
On a visit to the University of Guwahati in July to conduct a workshop on another pet project of hers— managing anger—Vandana went over to Shillong and met up with the 15 members of Serenity. They planned the Khasi costume in a simple colour palette and decided that the video will have singers singing into the camera as much as the mike. Early this month, they shot at a studio in Guwahati and then began the editing work. The video was ready just in time for I-Day!
Vandana simply uploaded it on YouTube, tweeted it to friends and posted it on Facebook. They all shared it. By 11 am, it was being telecast repeatedly on a news channel, and a newspaper story she received on her phone said the YouTube link had been seen by 5000! The numbers went up as the video had gone viral, to her pleasant surprise. By 5 pm, Prime Minister Narendra Modi re-tweeted it and a bit later Finance Minister Arun Jaitely also tweeted it with a piece of his own on the cultural heritage of the North East. Majority of those who commented used a single word. Goosebumps. That is what the Serenity Choir's rendering of Jana Gana Mana gives viewers.