Diplomatic Enclave,Delhi, 1966. Josef Stalin's daughter Svetlana Alliluyeva crossed over from Communist Russia to Capitalist America via India. She had been in Delhi for three months, to immerse the ashes of her third husband Brajesh Singh. Then, the Little Sparrow, Papa Josef's favourite, drove to the white building of the US embassy in Delhi. And, later left for the US with an official of the Central Intelligence Agency.
"The Russians were furious," says former Union minister Natwar Singh, who was then attached to Prime Minister Indira Gandhi's office. "The Indian ambassador in Moscow was given a dressing down. They thought we knew."
US Ambassador Chester B. Bowles had asked Svetlana to give her request in writing. The letter was taken to Indira after Svetlana left. India and Russia were friends, and this very public and embarrassing defection threatened a diplomatic crisis.
Already, Indian officials were under pressure not to extend Svetlana's visa beyond the three months. The Russians had a feeling that she had no intention of returning to Moscow. "She had kept her mission under wraps," says Singh. "This was declared an unfriendly act." Though the situation became very heated, a crisis was averted.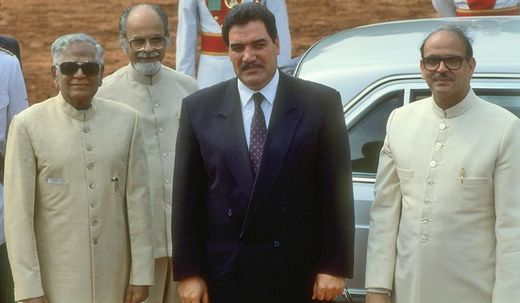 From Svetlana's secret departure, to the very public arrival of the Dalai Lama, there is a side to India's international engagement that happens quite outside the realm of documented diplomacy. Lutyens Delhi, with its broad roads, leafy trees and quiet bungalows, has been a haven for political refugees.
Safe houses are a bit like the 9 ¾ platform at Paddington, for the Hogwarts Express in the Harry Potter series; hidden in plain sight from "Muggles". Nestled in quiet colonies of Delhi, Ajmer, Bhopal, Lakshadweep and Chanderi, these houses are chosen with care.
"They sometimes belong to government servants," says a former Research and Analysis Wing operative. Payments, of course, are untraceable. Those who merit top security live in the most protected part of the capital, the cantonment. For others, there are farmhouses in Delhi's Mehrauli-Chattarpur area, chosen for its seclusion.
Kashmiri separatist leaders were housed in a Mehrauli farmhouse. Pu Laldenga, the rebel who became the first chief minister of Mizoram, stayed in a Chirag Enclave house for the secret discussions that led to the historic Mizo Accord of 1986. Prime Minister Rajiv Gandhi knew, so did Arjun Singh, veteran Congress leader and keeper of many secrets.
There was a whole network of safe houses in Calcutta in 1971. Tofail Ahmad, one of the four students who started Mujib Bahini, was given a slip to be read and destroyed—an address in Bhawanipur. When Sheikh Mujibur Rahman was arrested on March 26, Ahmad fled Dhaka in the middle of the night with a letter and some money. He reached the safe house, 21 Rajender Road, to find that other young members of the Bangladeshi resistance were already running an underground press there.
"The house still exists," says Ahmad, who is in touch with the son of the man who sheltered him. Indian officials would visit the house under the cover of darkness. Most of the safe houses in Calcutta, now Kolkata, were grand mansions of bhadralok Bengalis. In one such house was an underground radio station. In another, diplomat and politician D.P. Dhar, a member of Indira's all-powerful Kashmir clique, met Bangladeshis.
Then there are the famous places, like the Ashoka Hotel where LTTE leader V. Prabhakaran stayed during negotiations. Former Union minister George Fernandes's home on Krishna Menon Marg housed Burmese refugees. His bathroom was a studio for an artist. Flats in Mayur Vihar housed Burmese rebels, when Indian sleuths were arming and training Arakanese rebels in Landfall Island, Lakshadweep.
Over the past few months, THE WEEK visited prominent residents of safe houses. Vulnerable in their own countries, they made India their home. Some for a brief period, some forever. Diplomatic ties and compulsions apart, India has over the years ensured home, safety and security to them.
For some, the fear never goes away. A. Varatharaja Perumal, the first and only chief minister of Sri Lanka's North Eastern Province, is on the LTTE's hit list. In India, he has moved from a forest rest-house in Chanderi, where he experimented with brinjals, to Ajmer where his daughters finally saw other children, to a quiet Delhi colony amidst elite education institutions. Since 2010, the threat perception has decreased. Now he roams around with only a security detail.
Perumal's only regret is that India never made use of him. "They could have consulted me," he says. "I could have been useful." But, there is a price for refuge: silence and a promise to never indulge in politics. "You can't use India as a platform," says Natwar. Even the Dalai Lama has realised this. He has been spoken to a few times.
There are those who will not speak. Former Afghan president Mohammad Najibullah's family has lived in India for decades, yet have never granted an interview. In the early 1990s, Najibullah sent his daughters and wife to Delhi on an Air India flight; "a hush hush operation". He was to follow in 15 days. An intelligence operation was planned and an Indian Airlines flight was to bring him.
Prime Minister P.V. Narasimha Rao and Natwar knew the details. The plan was to fly him into Delhi and then to Moscow. "Our chaps were going to pick him up," says Natwar. But, Najibullah was murdered by the Taliban on September 27, 1996, in the United Nations office in Kabul, where he had sought refuge.
The family still holds Afghan passports and is involved with Afghanistan in different ways. According to reports, the Indian government provides them security, the safe house and a monthly allowance of Rs1 lakh.
One of Najibullah's daughters is a peace activist in Geneva, Switzerland, and another a journalist. Repeated attempts made to meet them were met with polite and firm refusals. "It is not that I am ashamed of my story, I just want to build my own identity," said one of the daughters.
Many other senior Afghan commanders had also moved to India to stay safe. Afghanistan Chief Executive Officer Abdullah Abdullah had sent his family to India in 1990. An aide of the legendary Ahmad Shah Massoud, Abdullah was then fighting the Soviets at home. Abdullah's wife and daughters continue to live in an undisclosed location in India.
The budget to protect high-profile refugees comes out of a separate fund, from within the money allotted to the Intelligence Bureau and the Research and Analysis Wing. Everything is closely watched by the Prime Minister's Office.
Support includes a monthly stipend, the safe house and security. In the case of U Nu's family—the first prime minister of independent Burma was in exile in India for six years—his grandchildren were accommodated in the best schools. Education, and even admission, in some cases, is part of the deal.
"It is important to remember that India has always been very correct when it comes to political refugees," says a former R&AW chief. "We have always granted safety on humanitarian grounds. But, they have never been used as assets." The chief of Pakistan's Muttahida Qaumi Movement, Altaf Hussain, visited India. "He had sent out feelers suggesting he would be quite willing to move here. He wanted to help," the former R&AW chief says. "India refused."
Executed Pakistan Prime Minister Zulfikar Ali Bhutto's wife Begum Nusrat asked Natwar, the then ambassador to Pakistan, if she could come stay in India. "I realised that we did not have any contacts with the Bhuttos," he says. Muhammad Zia-ul-Haq was president. So, Natwar went to his dentist Dr Niazi, who was Nusrat's dentist, too. Sitting in the chair, Singh inquired if the doctor could arrange a meeting. Niazi promised to try; he was under surveillance, too. Finally, Singh hopped into his car, taking Mani Shankar Aiyar with him, and drove to the Bhutto home, which was across the road from the Indian embassy. "She told me that she wasn't well," Natwar says. "She was not allowed to go out."
Indira ensured that Nusrat got treatment in Pakistan. Soon, Nusrat wanted more. "She told me one day that she wanted to come to India," says Natwar. "'I will come over in a burqa,' she told me. I told her that there was no way that no one would not know."
Taslima Nasreen, India's most famous writer-in-exile, has been allowed to come back again and again on the firm assurance that she will not attend public meetings. The risk is high; she was once attacked in Hyderabad. In the recent months, the threats have started afresh. This time from the ISIS.
"There was a public meeting [on gender] to be organised by the Alliance Francaise in Delhi a few months ago," she says. There was no mention of her on the invitation card and she had permission to attend. "At the end of the meeting, it was decided that the organisers will say, 'There is a surprise guest'," she says. But, in the end, the meeting was cancelled.
For the woman who fought to be free, this limited version of freedom in India is something she clings on to. She can live anywhere; she has a Swedish passport and a US green card. Yet, India—"where I know the language of the trees and their names"—is where she chooses to live.
A. Vartharaja Perumal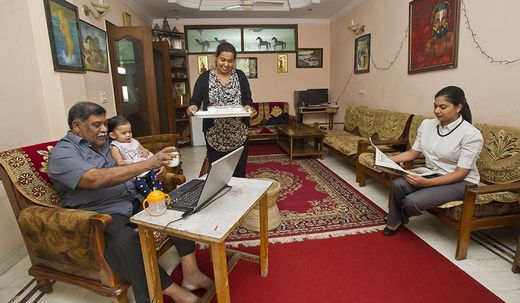 He was the first and last chief minister of the North Eastern Province of Sri Lanka. LTTE chief V. Prabhakaran put him on the Tigers' hit list. So, Perumal's exile is self-imposed. Prabhakaran was killed in 2009, but Perumal has not stopped looking over his shoulder.
"We were unable to survive, as the LTTE and the [Sri Lankan] forces were against us. We had to leave or we would have been killed," he says, as he keeps his granddaughter from trying to take away his tea.
His home now is a flat in a quiet colony in Delhi, where a former home secretary lives. A solitary policeman sits in a chair outside the flat.
In 1990, the Perumals were bundled into an aircraft arranged by India and flown from Sri Lanka to Mauritius. "Prime Minister V.P. Singh did not want me to come to India directly," he says. Four months later, he was asked by Indian officials to approach the Australian embassy for a visa.
"I had a diplomatic passport, but the Australians refused me," he says. "The Sri Lankan foreign minister raised the issue in parliament. He said I was in Mauritius cutting sugarcane." The Perumals fled to India. "The day I arrived in Bombay, my colleagues were killed in Chennai," he says.
The government immediately moved him. "A craft with Black Cat commandoes took us to Kochi and then to Lakshadweep," he says. After a few months, the Perumals moved to a Public Works Department rest-house in Chanderi, Madhya Pradesh. The place was turned into a fortress, with search lights and a Central Reserve Police Force company on guard.
The Perumals stayed there for two years. There was no school for his children to go to. The only children they saw were the tehsildar's kids.
The first attempt on his life was made here, says Perumal. The police apprehended a suspicious stranger from near the rest-house. He acted like a madman. The labels on his clothes revealed that he had come from Karnataka. "No case could be filed against him, so he was released by the court. This was in the afternoon. In the evening, he was found strangled with a wire," he says with a shudder.
In 2003, when he visited Colombo, he escaped two human bombs. Then the LTTE came when his eldest daughter was getting married in Ajmer, where the Perumals lived for 11 years. "Around nine people were apprehended by the Intelligence Bureau," he says.
He went to law school "a while ago". Everyday he took a different route to the university. "But I never told anyone who I was," he says. "Even now, if someone calls me, I say 'I have just come back from Jaipur'." Fear always lurks in the shadows.
Taslima Nasreen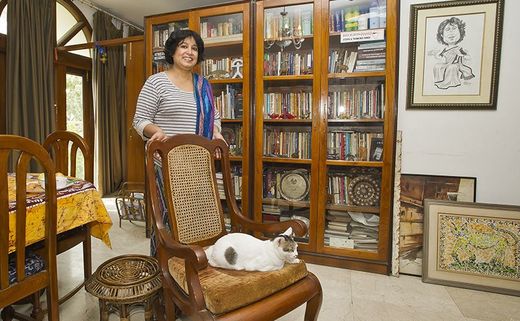 The house has not been swept for days. Taslima Nasreen is leaving for Sweden for a few months. The sanitised west is the only place she can actually be free. Ever since Lajja (1993) hit the stands, Nasreen has been in hiding. The writer who sparks, thrives on and maybe even encourages controversy, lives in the heart of diplomatic Delhi.
Nasreen is heavily guarded. A tent has been erected at the entrance of the building. A register lies on the table outside to record your name, number and address. There is an escort to her door, where the guard rings the bell and asks if the visitor is expected.
Nasreen is busy filing a story and asks for a few minutes. "Twenty years is too long," she says as she settles down in a chair. Her cat comes running, and Nasreen tries to pick her up. "The two months in which I was hiding in Bangladesh were horrible," she shudders. "There were fundamentalists demonstrating, demanding my execution by hanging." Nasreen rubs her neck. "I had to stay in people's homes. They were reluctant to keep me at home."
Ever since, she has been on the run. Over the years, her enemies have multiplied. Twitter, where she can be out virtually, has brought the danger closer. "There was an ISIS handler following me," she whispers. Recently, she received a death threat, a graphic description of how they would behead her, from the ISIS. "I spend my nights worrying what will happen if they do find me," she says. "I hope that the knife is sharp and it will be over quick."
Her house is filled to the gills with books. "I have many more in Dhaka," she asserts. "I know I will be killed. I cannot live in a cage." Forty books later, "none of them on Islam" she admits, but "about women", she has given up any shot at normality.
Forced out of Bangladesh, India became her haven. And, West Bengal home. The state, known for its commitment to the freedom of expression, was not home for long. Nasreen was "forced" to move to a safe house in Delhi cantonment. "I have a green card from the US," she says. "But I want to stay in India."
When West Bengal refused refuge, Nasreen claims, Indian officials wanted her to know that she had outstayed her welcome. "There was pressure from Muslim groups which wanted me out of India," she says.
But, she stubbornly stuck on. She was not allowed to go out. Food was brought to her. Eventually, she had to leave. In 2011, she came back. "They allowed me back on a residency permit, with conditions," she says. Nasreen is discouraged from attending public meetings. She can live in India, in silence.
She says, "An official asked me how much I would want. They even offered me an apartment in Europe, a car and money every month. I said 'No'. I love India. It feels like home. That is priceless."
Daw Than Than Nu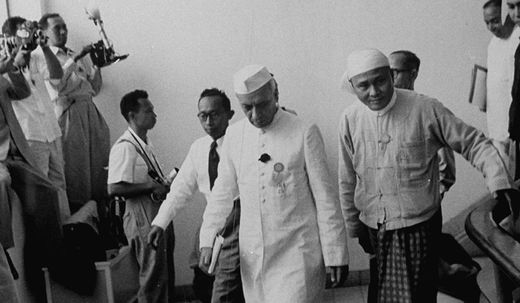 India silenced her in 1990. Daw Than Than Nu, daughter of U Nu, first prime minister of independent Burma, was living in India. The All India Radio building in Central Delhi was her office. She would broadcast the news in Burmese. One day, she was asked to stop.
"The junta told the Indian government that they do not want to hear my voice," she says, sitting in her Yangon office. "My husband could broadcast. But I could not. I was U Nu's daughter."
Democracy in Myanmar has been an issue dear to India. But, India has also had the support of the junta in dealing with insurgents from the northeast. And, China was gaining clout.
Daw Than Than Nu was fiercely pro-democracy. She even lobbied for the freedom of Rangoon University students Soe Myint and Htin Kyaw Oo who had 'hijacked' a Thai Airways flight in 1990 and had forced it to land in Calcutta. India had no choice, but to take her off the air.
Now, Daw Than Than Nu, founder-member of the Democratic Party, is back in her country fulfilling the promise made to her father. "I promised him that I would come back," she says.
She and her family lived in India for 20 years. First in a safe house in Bhopal, then, after her father went back, in a flat in Pragati Vihar Hostel, near Nehru Stadium, Delhi. From there she wrote to Indira Gandhi, asking if she could have a bigger house. She was given a flat in the D2 apartments in West Kidwai Nagar.
"The allotment letter arrived the same day as Mrs Gandhi was assassinated," she says. "It was also my birthday." It was in this flat that Soe Myint and Htin Kyaw Oo came to stay. "The IB was there every day," she says.
Across the table sits her husband, frail, like her, and deeply engrossed in his newspaper. He resolutely refuses to join in the conversation. But, regardlessly, her thin and firm voice fills the tiny room.
Jawaharlal Nehru and U Nu were friends. Indira Gandhi visited Burma in 1968. "She met my father," Daw Than Than Nu says. "The army did not want her to do so, but she put her foot down. My father had come out of prison. So, she must have asked about his health. He said that he was not too well. She suggested that we come for a checkup at the Breach Candy Hospital in Mumbai."
This was the ticket for Daw Than Than Nu, her parents and her older brother to escape. They stayed in Bombay for one-and-a-half months. After which they went to Thailand for six years. U Nu had engineered an armed insurgency against the Burmese government. The revolt failed and the family came back to India. The safe house was in Bhopal. "My father wanted to go to Bodh Gaya," she says. "He was very religious. But Mrs Gandhi said it was not safe."
Six years later, General Ne Win, the superstitious military dictator, sent "common friends" to Bhopal asking U Nu to return. "He could do anything but politics," she says. U Nu went. But, Daw Than Than Nu and her children did not. Her husband had escaped into India, too. Before he left, U Nu asked Indira to give his daughter and son-in-law a job and suggested All India Radio.
When her mother died in 1993, she wanted to travel to Burma. "I did not have a passport," she says. "But the Indian government let me travel. They even paid for an air ticket." It was then that she promised her father that she would be back. She used to insist on two-year contracts with AIR, instead of the standard five, so that she could go back. After a decade, she was back in Myanmar. The party will fight the November elections.
Yasin Malik
The farmhouse stood on a lane in Delhi named after a flower. Behind the high walls stood a bungalow hemmed in with green. Here, Yasin Malik, separatist leader of the Jammu Kashmir Liberation Front, spent months recovering from his open heart surgery in 1994.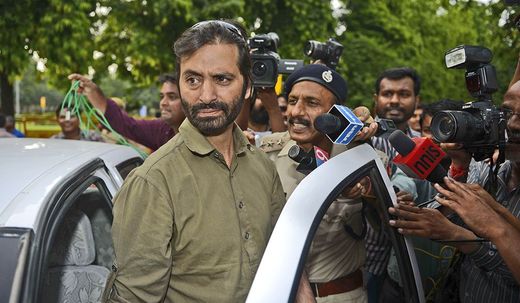 "It was jail," he says from his Srinagar home, on a day that he has been detained again with Hurriyat leader Masarat Alam. "It may not have been Tihar, but it was jail." Malik was kept out of the valley in the turbulent 1990s, when azadi was still a romantic and idealistic cause worth waging an armed battle for.
A veteran of prisons and the prison systems in India, Malik will rattle off the dates he was taken in to a jail and rank them. Jodhpur was the worst; Mehrauli, probably the safest.
A unit of the Border Security Force guarded him while he stayed out of a 4ft x 6ft prison cell specially created for him. In Agra, he was kept with the mentally ill; Malik was rushed to the All India Institute for Medical Sciences when his weight fell to 42kg. He had much more to worry than just his weight. It was his first in a series of open heart surgeries. He was then 31.
The Delhi farmhouse was where the government kept separatist leaders to hold secret negotiations. It was ideal. Far away from the power corridors, it was on the edge of the city. Solitary, but close enough for Intelligence Bureau officers and top babus to meet these leaders. Before he was brought in, the house was occupied by Syed Ali Shah Geelani, Shabir Ahmad Shah and Abdul Ghani Lone. "They were shifted to Jammu and I was brought in," Malik says.
His doctor, Venugopal, had insisted that Malik be not taken back to prison. "The doctor told the Indian government that either they release me or they put me in a guest house in the hospital," he says. As the hospital, where he had spent a few months, was out of the question, the safe house in Mehrauli was chosen.
Brought under the jurisdiction of Tihar Jail, the house was referred to in court as the Mehrauli Jail. Of course, no jail exists in this area. The idea was to ensure that no one really knew where he was. His relatives had to visit the jail superintendent in Tihar to seek permission to meet him.
THE WEEK team that visited him then with a court order found Malik reading Mahatma Gandhi's autobiography and the Gita. He did have more freedom than when he was behind bars. "I was not in handcuffs," he says. And, he did get much more time to walk. "The BSF men had to stand all around, before I was allowed to step out of the building." Malik was later transported to Jammu, where his trial was being held.