Make in India, which was put forward by Prime Minister Narendra Modi, is a pervasive concept. While it seems to have found resonance with India Inc. and some foreign investors, it is yet to give a push to making the right kind of talent in India. If India's huge young population is its biggest asset, it is also its biggest worry. According to a report commissioned by the National Skill Development Corporation, around 119 million additional skilled workers will be required by 24 sectors, such as construction, retail, transport, logistics, automobile and handloom, by 2022. Industrial training institutes, which had been supplying a steady stream of skilled labour, could not keep up as industry sped ahead in the past two decades.
"My personal impression of that time is that the ITIs for a long time played a critical role in fulfilling the demand. However, post liberalisation, our economic growth virtually leapfrogged and the demand for skilled manpower across sectors mushroomed. Unfortunately, since that time our skilling ecosystem has been trying to play catchup," said Vandana Luthra, founder of VLCC Group and chairperson of the Beauty & Wellness Sector Skill Council.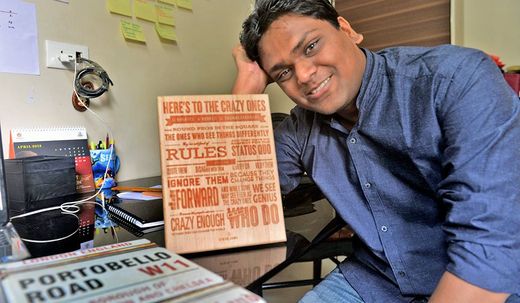 An unskilled workforce is more of a burden than an asset―a bottleneck on the growth highway. That is why skill development is a priority across sectors around the world. "Take the case of Germany," said Luthra. "I understand, at any given time more than 30 lakh youth are undergoing training under the apprenticeship system there. Compare this with the possibly one-tenth of that number in India. However, I am glad to see that we have now started taking proactive steps to address the supply-demand gap for trained manpower, be it the creation of a ministry for skill development and the National Skills Development Agency and National Skill Development Corporation or initiatives like the National Urban Livelihood Mission and setting up of the Sector Skill Councils."
Training has never been a more important part of the Indian industry, "The challenge is more acute with niche skills and industries," said Aparna Sharma, head of human resources at cement maker Lafarge India. "Besides, young employees who join the workforce change jobs too often. It prevents them from adding actual value in their jobs. Many industries are looking at a 'hire & train model' or a 'train & hire model'. The latter helps companies to intervene with inputs in the curriculum, thereby reducing the transition period and ensuring faster on-the-job delivery."
Sejal Chavan, 22, is a product of such an initiative. She dropped out after her class ten examinations and spent a few years answering telephones at a call centre. It was a standard response to a typical situation, where a girl who could not afford higher education being forced to do a job she did not want to do. Sejal, however, was ambitious. "I wanted to become a nurse. I thought I would be good at taking care of people. It was something I had always enjoyed," she said. This is where India's training story takes a turn for the better. Sejal enrolled for a training programme run by outsourcing service provider Viztar International's corporate social responsibility division and the Global Success Foundation. Today, she is a nursing assistant at an old age home. "I want to do this for a year and then look for opportunities in a hospital," she said.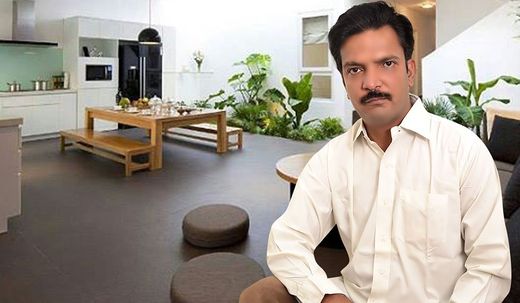 Sachin Adhikary of Global Success Foundation has seen the positive impact of skill development and believes the ecosystem goes beyond mere training. And, he emphasises the importance of adequate infrastructure. "We had trained about 100 people in a village in Gujarat," he said. "Twelve of them got business process outsourcing jobs. However, a year later, when we went back, they had all quit." The reason was the four-hour journey to their workplace, which involved changing two buses and walking a few kilometres. "We spoke to their company, and it agreed to send a bus to the village," said Adhikary.
Interestingly, this kind of a training ecosystem is a departure from Indians' craze for certificates. "The focus now should shift towards validating certificate courses that recognise skill training and industry level qualifications for a particular industry," said Prof Ajay Mallapukar of Tata Institute of Social Sciences, Mumbai. "We need to look at skill accreditation, too." He said India was headed in the positive direction with both educational institutions and industry aware of the tough challenge before them.
In February, TeamLease Skill University, which has been formed in partnership with the Gujarat government, announced an association with the labour ministry to increase the number of apprenticeships in the country. The memorandum of understanding says TeamLease Skill University National Employability Through Apprentice Programme (NETAP) will assist the government in reaching out to 20,000 new employers and appoint more than five lakh apprentices over three years.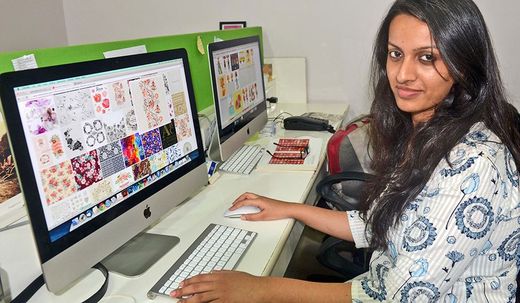 "India's job and skill emergency need creative solutions at scale," said Rituparna Chakraborty, co-founder of TeamLease and head of NETAP. "It has long been known that the learning by doing and learning while earning aspects of apprenticeships are powerful vehicles for skill development. This partnership creates new connections between education, employability and employment, and takes us closer to NETAP's ambition to be the world's largest apprenticeship programme by 2020."
India's apprenticeship regime has been underperforming and this could give a clue to why industry struggles to find skilled workers. India has only three lakh apprentices while Germany has three million, Japan has ten million and China has 20 million. If India had the same proportion of labour force in apprenticeships as Germany, it would have 15 million apprentices. NETAP offers opportunities across 26 high-growth functions and industries for 3 to 24 months. The trainee stipends at least equal the unskilled minimum wage. In the future, trainees will receive academic credit for lateral entry into certificate, diploma and degree programmes.
For India, the real growth in employment needs to come from manufacturing. "In most other countries, the trajectory of growth while moving from developing to developed was from agriculture to manufacturing to services," said Prof Amit Dhiman of Indian Institute of Management, Calcutta. "In India, we jumped from agriculture to services. There is no other story like that of India and we need to ask ourselves whether this is sustainable and whom does it benefit."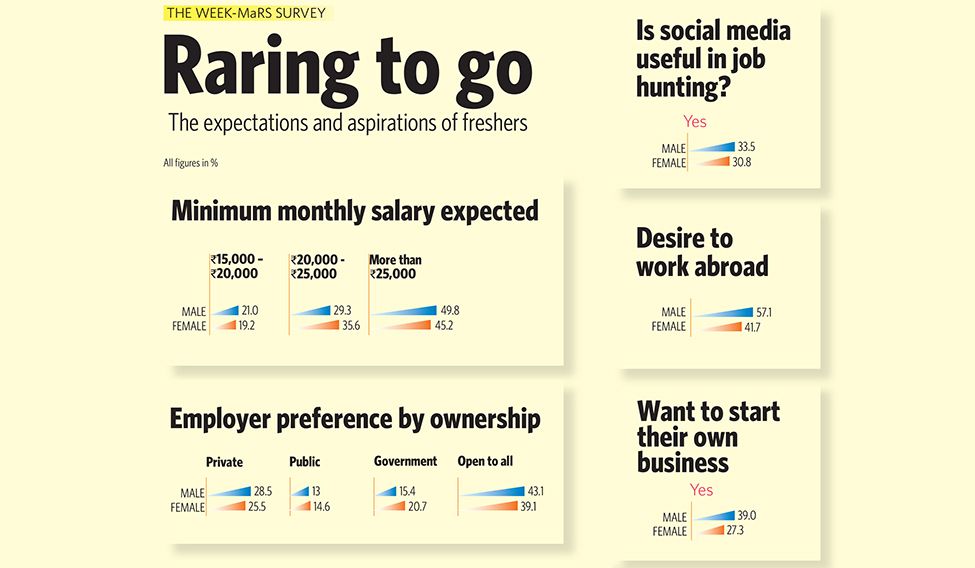 The information technology sector has been one of the biggest employers in India, and one of the most generous paymasters. But companies are now hoping for a resurgent interest in jobs beyond the field of IT services. Anand Parameswaran, senior vice president (human resources and talent deployment) at Cyient Ltd, calls the IT sector a big black hole where all engineers get sucked into. Cyient, which works in the field of product engineering, data networks and operations, employs engineers and graduates in various positions in their company. But the best engineering talent for long has been snatched by IT companies that offer fat pay packets.
Parameswaran, however, sees it changing now, though slowly. "The attractiveness of the core disciplines in engineering is going up," he said. "With the Make in India campaign gaining ground, the ecosystem for manufacturing is shifting. The kind of opportunities we are seeing from clients is interesting." In fact, during recruitment, Cyient has seen students who assert that they would like to pursue a career in the core discipline rather than simply following the formula for success and money.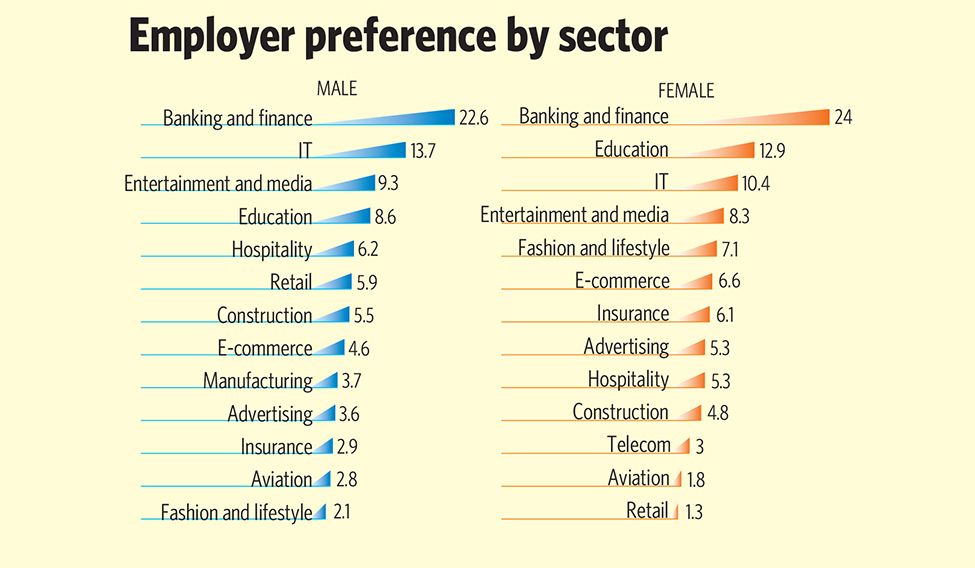 The young generation of employees have made companies adopt a bottom up approach in their HR policies. Flexibility and maintaining a healthy work-life balance are top priority for the millennials, and it is acknowledged and encouraged by organisations. Khustar Pandit, 23, is a technology analyst at ZS in Pune. Apart from her day job, she is passionate about skating, and she has a patent-in-process for an interactive projector system which could be used in seminars and schools. Khustar's various interests are celebrated by her company. Said Chaitrali Singh, director (human resources), ZS India: "Over the last one or two years, we have done workshops on what millennials want, and we realised that they want flexibility on how they work. So we decided to equip all our employees with a laptop and good bandwidth connections. We also allow them 'me time', which means they are allowed to go completely off the grid once a week. And, keeping in mind their need to grow, we introduced a programme called Evolve, wherein they can go and work in another area within the company after 18 months."
Another priority for many companies has been managing diversity―not just gender, but also age. In fact, ensuring age diversity at workplace is also about managing generation gaps. "The Gen Y is aggressive and less loyal, and wants global exposure and a cutting edge technology environment. On the other hand, experience is always a big asset. Companies have to maintain a fine balance," said a spokesperson for Dale Carnegie Training Ltd.
Apart from flexibility, youngsters rank communication up there. With an increasingly independent minded young workforce, companies themselves have to change the method in which they engage their employees. "The traditional way of managing the workforce will not work," said Nitin Razdan, managing director of Hay Group, a management consulting firm. "Earlier, if you spent less than four years at a company, it could not be called a career. Today, even two years is defined as a career. Seniority has become redundant."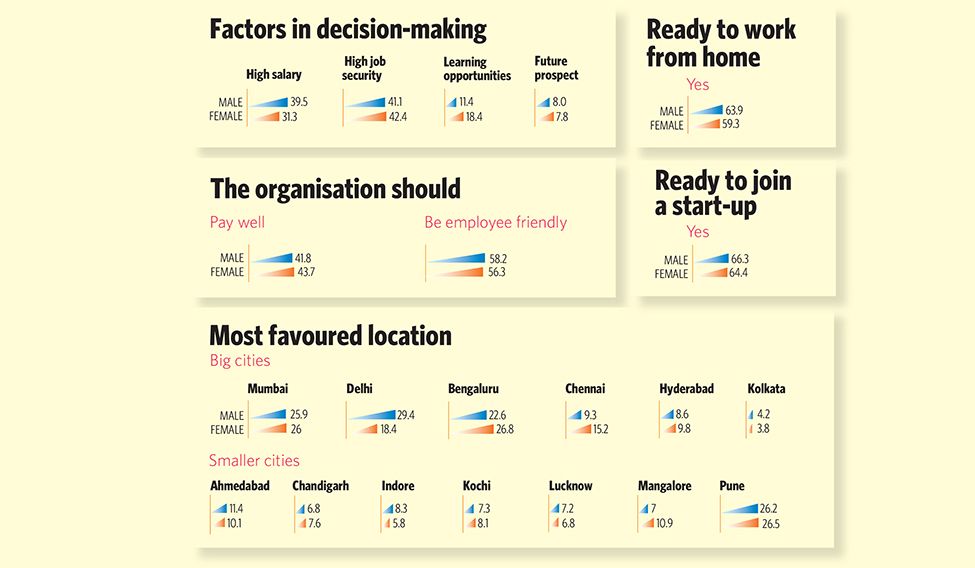 The focus now is on retaining the spirit of diversity within the organisation and work with the younger generation that values individual growth and opportunities. "Gen Y is purpose driven. The institution they work for has to inspire them. They also want clear and consistent feedback from their superiors, not just performance appraisals," said Razdan. The change in leadership, therefore, has to reflect this ability to keep the workforce which is primarily composed of digital natives.
"Leadership has to move away from being ego-centric to anthro- centric. Social awareness and self-awareness have become an important part of leadership," said Debu Mishra, director, Hay Group. That is, rather than leading a team, managers have to ensure their workforce is constantly challenged; the millennials do not want to follow old diktats but create their own path. Even in niche industries with a comparatively young workforce, the bottom line is to ensure you challenge your employees.
"In the past decade or so, when animation opportunities increased owing to birth of many production facilities, retaining talent was a challenge," said A.K. Madhavan, CEO of Assemblage Entertainment, an animation developer. "But, over the last couple of years, this has stabilised, as more and more artists would like to stay and grow with an organisation which is feeding them with challenging assignments."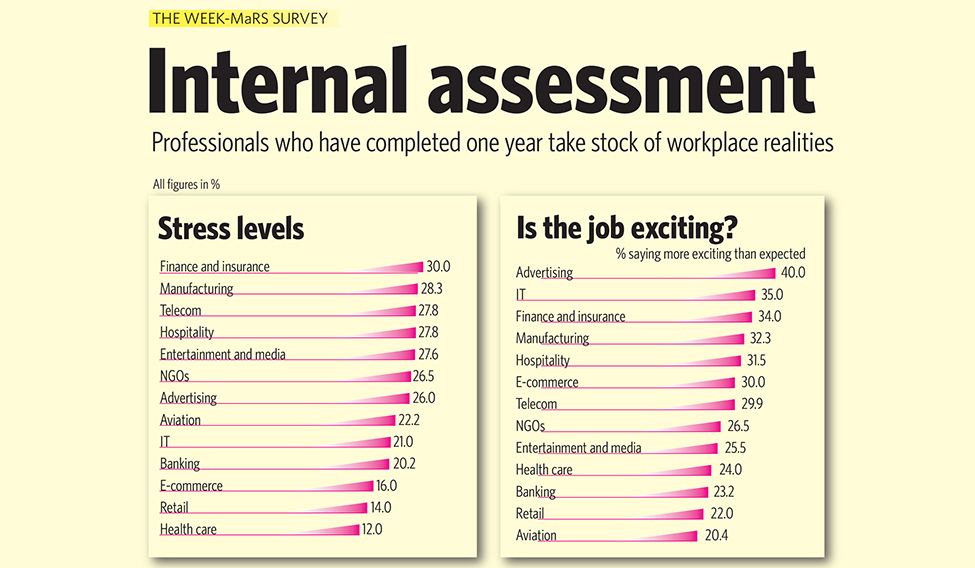 Last year saw start-ups, especially e-commerce start-ups, disrupt the hiring scene. College graduates not only started companies, but also hired other graduates and gave them big responsibilities. However, the first choice for most graduates is still the large companies. And, the traditional sectors still do the bulk of the hiring. "Hiring in IT has made a come back," said Kunal Sen, MD, TeamLease Services. "With new banking licences given out, we see banking also making a come back, and, in a quarter or two, we may see manufacturing jobs hitting the market."
There are also certain niche jobs in the IT industry that are now being filled by foreigners. "Companies require specific skill sets when it comes to handling big data, analytics or creating a user interface," said Rishi Das, founder of HirePro. "This is where we see a good number of people coming from the US." It is also an indicator of the huge gap of skill in India's workforce.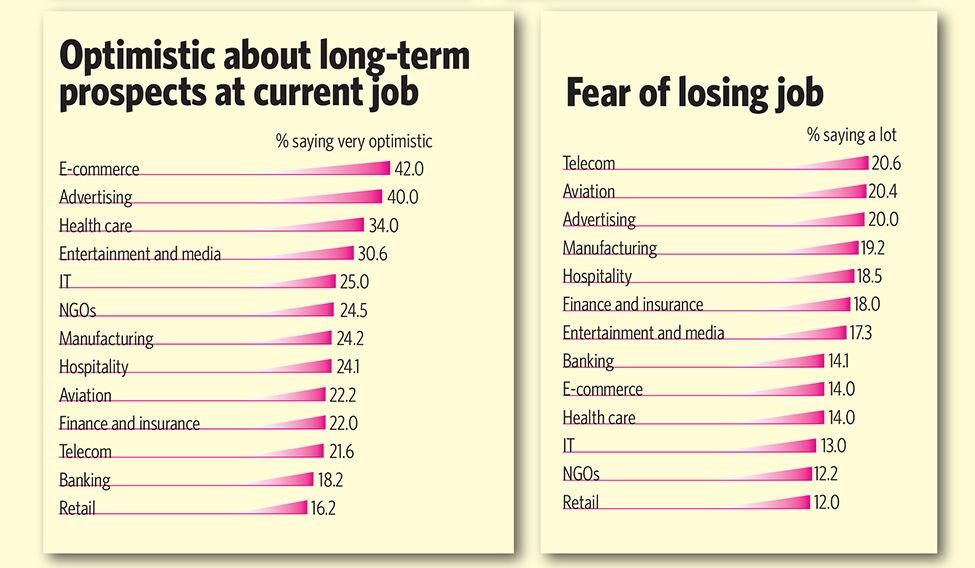 Time to upgrade
Professionals need to keep learning to stay ahead of the game. In addition to conventional mid-career courses, many websites offer online classes and degrees to help better your prospects.
Edureka.co
Courses offered include big data, mobile application training, android development, data warehousing and business analytics. There are live classes, instructors and personalised support. Fee―Rs10,000 to Rs20,000
Edukart.com
The Flipkart of online education. It is India's largest higher-education enrolment platform and offers more than 1,000 degree, diploma and certificate courses from recognised universities, institutions and industry bodies. Fee―varies depending on course
Jigsawacademy.com
For those interested in big data or analytics. Options include analytics for beginners, HR analytics and web analytics. Advanced courses include financial analytics, retail analytics and fraud analytics. Fee―Rs5,000 to Rs77,000
Copal Institute
This Gurgaon-based institute has both physical and online courses for banking and finance professionals. Online courses include equity research, financial modelling, credit research and valuation modelling. Fee―Rs14,000 to Rs28,000
Mylaw.net
Gives users access to knowledge in a wide spectrum of Indian laws. Offers a database of articles and interviews that analyse the evolving Indian legal system, industry trends and policy developments. It also showcases videos of veterans in the field. Fee―Rs2,500 onwards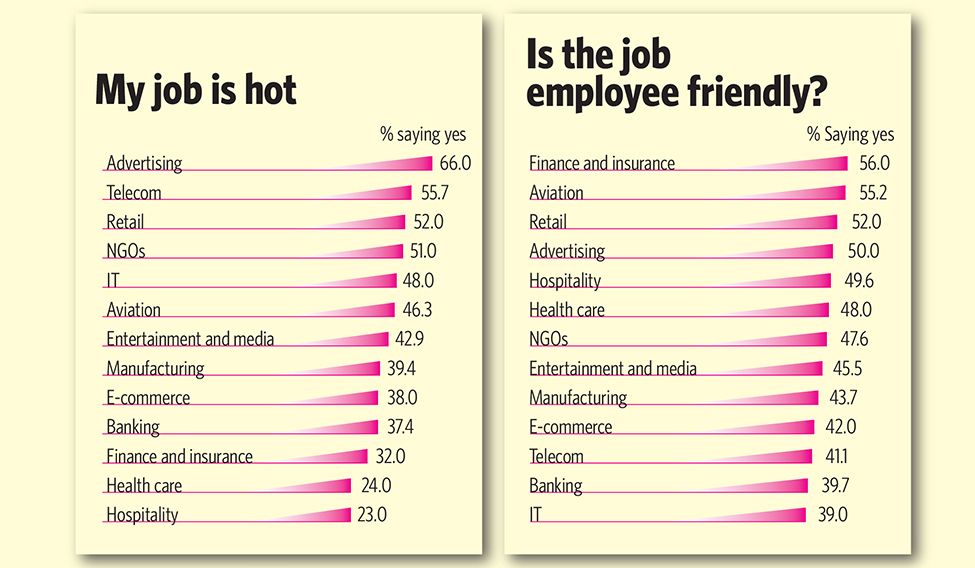 Manners matter
By Alexandra Messervy
FOR THE INTERVIEW
* Make a strong impression―never slouch or chew gum
* Always arrive well before the appointed time
* Have a firm handshake
* Do not keep checking your phone, you might come across as inattentive or arrogant
* Always carry a hard copy of your resume, even if you have a tablet handy
* Look up the company you are interviewing with and know its background
* Organisations will want to know more about you and your interests * Read up on current events
* Always be mindful of what you post on your Facebook profile
AT THE WORKPLACE
* Good grooming is important.
* If you are hosting a meeting, always introduce people according to seniority * Offer people a seat when meeting with them
* Do not fiddle with paper, doodle on your pad or drum your fingers
* Do not lean back in the chair
* Steer clear of controversial topics such as religion, sex and politics
* Always be polite
* Have a confident demeanor and be bright-eyed and engaged
* Make sure you have manicured nails and a suitable hairstyle
Messervy is founder of The English Manner academy in the UK. She was brought to India by the Wasan Knowledge Hub. As told to Sharmista Chaudhury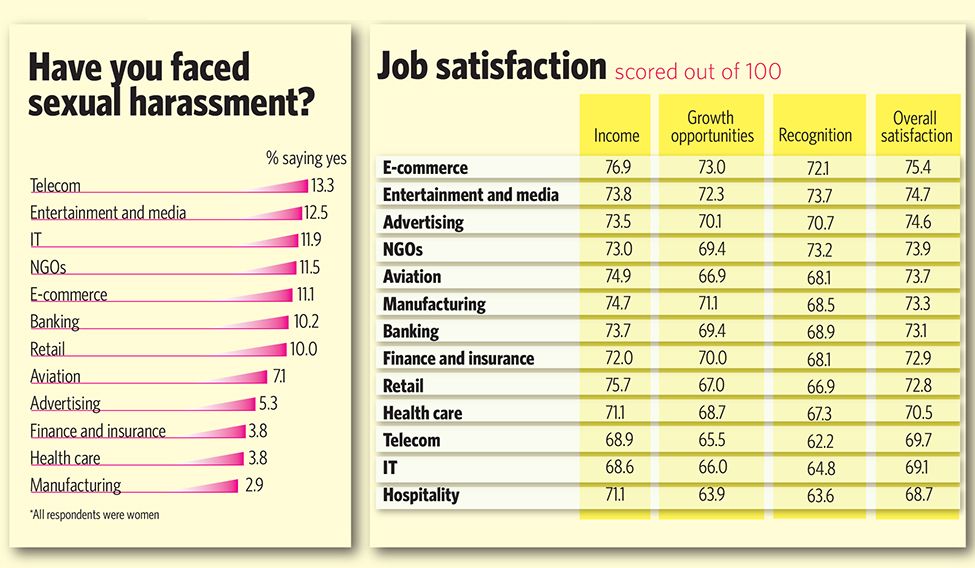 Headhunter tips
* Headhunters expect the government to push initiatives for better hiring in tier- 2 and tier-3 cities
* There should be a20 per cent increase in hiring compared with 2014
* Several new aircraft are likely to be inducted, which will lead to increased entry-level hiring in the aviation sector
* There would be more entry-level jobs in advertising, events and promotions
* The hospitality sector, driven by overseas investments, might create more than 75,000 jobs
* E-commerce may create 60,000 jobs in the next three to four years. This will create several thousand entry-level jobs in 2015
* Hiring in banking and financial services could increase by 25 to 30 per cent
* The construction sector could create more jobs
* Hiring in entertainment and media will increase by about 20 per cent
* IT/ITeS and FMCG will lead the pack in recruitment, with overall hiring in the IT sector exceeding 1.25 lakh