The joy of discovering how to work! Sounds simpler than it is. It's almost as hard as giving birth—for some, painless and a breeze; for others, labour is too lame a word to describe the agony and effort. But all said and done, it's completely worth it!
And that sums up for me what SMART is all about! Strategic Management in the Art of Theatre, India's very first homegrown theatre management training course that a bunch of us gave birth to last year, is about to enter its second avatar. The most amazing thing for me working with the dream of SMART has been the journey, from the nagging kernel of the idea to the coming together of such amazing, generous people in designing and facilitating the course, to the unwavering support of our funders, to the openness and commitment of the first participants, to realising it all. And now the journey continues towards training theatre groups to look beyond surviving from production to production, to creating their roadmap that takes them across the next three years and beyond towards realising their full potential.
The time seems ripe in India today to talk about management for the arts. As the country bemoans its need for infrastructure in the corporate world, we, too, in theatre need infrastructure. Infrastructure in theatre comprises not only brick-and-mortar auditoriums, but also opportunities to learn and to train, both in the creative field and in management. There is a requirement for trained management that looks at our ground realities and needs of today, with a theatre-centric and theatre-sensitive gaze. Management that serves our dreams without imposing structures that throw us from our path. SMART serves exactly this purpose. We decidedly chose to work with theatre groups, and impact their internal working systems.
As Arundhati Ghosh, executive director of India Foundation for the Arts and a core team member and facilitator of SMART, said, "SMART makes it possible for the ecology of theatre to learn from its own past journeys and create possible futures from its archives of memory and knowledge. For the arts to thrive on their own terms in today's neoliberal context, and for artists to be able to continuously challenge, dissent, resist and build in this environment, all independent arts practices need to address the issue of sustainability from within."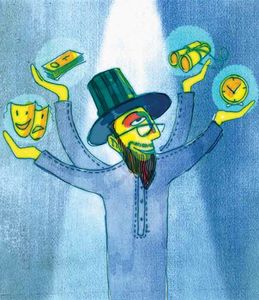 Alok Rajwade of Natak Company in Pune, one of the participants of last year's course, aptly put it, "There is no existing system that compels you to think about growing larger in the context of content, language and reach. Before SMART, we only thought about the creative side, never about the administrative front!"
According to Sunil Shanbag, director of Arpana and also a SMART core team member, one of the most significant aspects of the programme is its connect with the active theatre and arts scene in India, and hence its familiarity with the reality of arts practice. "The cumulative effect of this learning is of great significance," he said.
Last year, the opening segment of the SMART programme, with a ten-day residential course, followed by a mentorship programme was truly moving. Neel Chaudhuri of The Tadpole Repertory, Delhi, recalled, "Our experience was both sobering and exciting. It brought into sharp relief the need for clear and precise thinking in managing our theatre groups across a range of considerations—our vision, audience, resources and, most crucially, our futures. Best of all, it brought us into a room with our peers from across the country, and there is no greater learning than that."
And to sum up, another participant of SMART 2015, Praveen Shekhar of Backstage Theatre, Allahabad, said, "It always seemed that doing theatre was like fighting the Mahabharat with a razor blade. After doing this course, I don't feel as though I have a bigger or better weapon, but the battle does not seem as daunting as the Mahabharat anymore."