Bharatanatyam dancer, choreographer, teacher, writer and so much more, Vandana Alase Hazra begins her 'Meet the Artist' session (at Junoon's Arts at Play with Schools programme), at DPS Coimbatore, by asking the children where they think the clothes she is wearing are from. Several guesses later, one child says Assam. Yes! Her mekhla is from Assam, but the top piece of cloth is not. It is from Kerala. A bit of a hotch-potch, a little like herself.
She is a Maharashtrian living in Kolkata, dedicating her energies to a south Indian classical dance form. Vandanadi's discovery of Bharatanatyam happened in class IX. Until then, her mother sent her to folk dance classes, when she would much rather be playing with her friends. So, serious classical dance came to her well into her youth.
And, it clearly gives Vandanadi such joy when she asks the students to look at the weave of a sari to see how the flow of threads weave their way towards the crescendo on the pallu. So much like the crescendo of a dance that weaves its way through intricate rhythmic cycles culminating in the sanam. That which culminates at its beginning!
Weaving her own life experiences into this rich sharing of her passion, Vandanadi spoke of her greatest inspiration being nature. And, how even though classical dance movements get stylised, folk dances remain true to the land from which they were born. The sway of Kerala's dance imitating the palm trees; the energetic bhangra of Punjab—where tall wheat is grown—vivaciously reaches for the sky; the bent posture in Bengal's sweet rhythmic dance imitates workers in paddy fields, and the dances of Rajasthan have stoically straight backs and stiff movements in response to the arid land. Just imagine if our geography classes in school could talk of these fascinating details that impact people and their culture!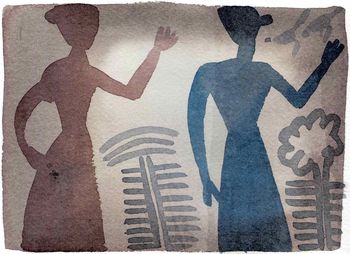 Vandanadi recalled that as a child she thought herself to be not very pretty at all, and far too tall. But then she learnt that dance was not about how pretty you were, but about how strong your body was. She spoke of what she loves most about classical dance—your individual concerns about how you look, how dark you are, how tall, how thin, fat, or how shiny your nose is (as was her concern as a child!) all disappear through the strength of your body and through the formal structure of the dance. The sheer beauty of the geometry takes over and allows you to "come out of your various separateness".
And then, Vandanadi took the children into the wonderful world of mathematics! Drawing the image of the primary posture of Bharatanatyam, the perfect cube within which the body must sit. Asking the children to spot all the triangles that this stick figure makes within this cube. They did this with such glee and wonder! And then from geometry they dived into factors as they played with rhythm cycles demonstrating how the music may play out one cycle of say five beats and the dancer may choose to dance to a rhythm cycle of say three beats. So, when would they reach their sanam together?
So not only do you understand it in your mind, you must understand it in your body. These rhythm patterns are played out by the children clapping the music cycle in perfect unison, as Vandanadi recites the dancers rhythm cycle. The two meet at their perfect sanam 15 beats later! It is by physically doing that one truly understands.
Gillo Theatre Repertory, our partner in Junoon's school programme, was present last year at a school in Guwahati, where Vandanadi was the guest artist. They recalled that a child asked Vandanadi that if dance disappeared from the world, would she be sad or angry? Vandanadi said she loved dance, but it was not an addiction. If she could not dance for any reason, then she would sing! She would not be sad or angry. Dance is not outside her, it is inside. As long as she exists, dance exists inside her!