I am doing very well and rehabilitating under the guidance of the Centre for Sports Medicine of the Sir H.N. Reliance Foundation Hospital, Mumbai. The team is headed by Heath Matthews and is assisted by physiotherapists Chandan Poddar and Arvind Nigam. Chandan helped me for five weeks before Arvind took over.
My muscle strength has improved and the stiffness is gone, and I might go to Bengaluru before October 15 with Vimal Kumar sir for court practice. I might also play tournaments scheduled in November and December, such as the China Open, the Hong Kong Open, the Macau Open and the Dubai Super Series Masters. But, of course, I will let you all know before I return to competition.
For now, let us talk about my opponents and their quirks. Carolina Marin from Spain shouts, as does Wang Shixian from China. Carolina is a very fast player. Her pace is equal to the men's, and she shouts when she makes a nice move, but never in frustration. I can't think of anyone else among my opponents who shouts as much. And, even when they do, it is because they are doing extremely well.
There are other tricks players use to take a breather or to distract and displace the other player's moves. Some tie shoelaces, while others stop to wipe their face or to drink water. However, these are rare occasions. There are two other occasions when play can be stopped mid-game—when the shape of the shuttle cock changes because of the game, and when a player challenges the decision of the linesmen/women.
I do not usually shout, except after the winning shot or when I am very irritated. A player could be shown yellow or red card for unwanted complaints or dawdling. A little shouting, however, is tolerated.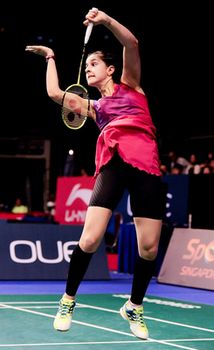 Tai Tzu-ying from Taiwan is a stylish, wristy player who can control and change the direction of the shuttle, and this has irritated me at times. Carolina, a lefty, defeated me in the All England Open and the World Championships.
Wang Yihan and Shixian from China are extremely talented, but have unfortunately retired.
Li Xuerui from China is tall, talented, stylish and forceful. After I defeated her in a match in 2012, I have not beaten her till date. But, I have mostly lost to her in three sets. Let us see what happens in the future.
Ratchanok Intanon from Thailand, Minatsu Mitani from Japan, Sung Ji-hyun from South Korea and Nazumi Okuhara from Japan are other formidable players. In my earlier days, Eriko Hirose from Japan and Pi Hongyan from France defeated me several times in major tournaments.
Many of these players have more stamina than I have, but when it comes to game skills, we are all equal. I watch my opponents on YouTube, analyse their game and create my own strategy to tackle them. I also discuss with my coach on how to plan better to beat an opponent.
You know how it is in cricket or football, where the country supports its players with a lot of noise and gestures, like the Mexican wave. In India, the crowd is still thin, but they try to support the players loudly. In China, because there are a lot of people, the support is more. Spain does not conduct too many tournaments, so I do not have a lot of information about the crowd support. The Danes are also supportive of their players. And though Indonesians support their players, they support other players, too.
Nowadays, players are well trained and it is possible for any country to spring a surprise in any international tournament. India has become a big force in badminton these days. The Chinese are formidable and have a lot of facilities for the players. I am constantly trying to train better with my coaches, be it Arif sir, Gopi sir or Vimal sir, and give my best to translate the training into wins.
editor@theweek.in