Legend has it that Lady Godiva, the comely Countess of Mercia, rode naked through the streets of Coventry to save the peasantry from her husband's excessive taxes. The good people of Coventry locked themselves in, and saved her ladyship's honour. Only tailor Tom peeped through the window. He was struck blind, but he gave a phrase to English language.
A few Tamil Nadu peasants, burdened by debt, have taken a fig-leaf out of Godiva's book. They stripped naked on top of Raisina Hill, bang in front of the PMO. Peeping Toms of the media captured them on camera.
Only desperate souls and unbalanced minds resort to such modes of protest. A few years ago, a Rajkot woman walked down the town streets in bare essentials to protest against her in-laws' dowry demand. More recently, a woman who failed to get her old notes changed stripped in front of the Reserve Bank.
Such protests hardly create a ripple. But the stripping by a few Manipuri women to protest against human rights abuses was treated as an act of desperation. It shocked the national conscience, and made the state think of ways of being more benign.
The Tamil peasants' bare act was out of desperation, like the Manipuri women's. Rain gods failed last winter, and the Cauvery water has not reached the tail-end fields. Faced with crop loss, burdened by debt, and stalked by usurers, farmers have been killing themselves at the rate of two a day.
But, their methods have been trivial, and much like the dramatics resorted to by PETA. The animal rights body gets comely starlets to dress skimpily in lettuce leaves or in chain mail (which have several suggestive chinks) to spread messages of animal rights and vegetarianism. Indeed, PETA has elevated striptease to the status of a fine art, but it beats me how showing of more flesh can promote vegetarianism.
The farmers too have been catering to the cameras. They have been sitting with dug-out skulls of dead farmers, been biting on dead rats, and eating meals spread on the road. All tricks that appeal to photo editors on newspaper desks and docu-makers in global television networks, but not to the hard-headed babus in the PMO or Krishi Bhavan.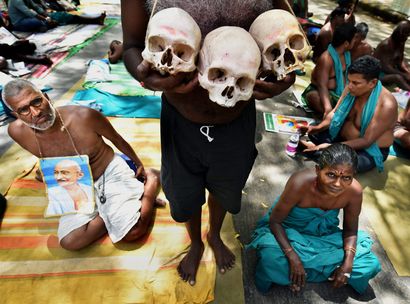 A crisis is looming over the farm sector. Crop yields are growing, but farm income is falling because of fall in soil fertility, fall in water tables, and rise in input costs. A sample survey by the government showed half the farmer households in debt. The census of 2011 recorded nine million fewer farmers than in 2001, but 38 million more village workers. They get more income from non-farm work.
Narendra Modi's farm initiatives aren't working either. His bid to check food prices is hurting farmers. Funds for the Krishi Sinchayee Yojana, which seeks to irrigate every farm, have been cut for two years. The soil health card scheme is moving at a snail's pace, because there aren't enough soil-testing labs.
The peasant castes of the north—the Jats, the Marathas, the Gujjars and the Patidars—are restive, but they lack peasant leaders. Gone are the titans like Charan Singh, Mahendra Singh Tikait or M.D. Nanjundaswamy who could mobilise the peasants in millions, march them through the rajpaths of national or provincial capitals and bring governments to their knees. In their place are Hardik Patel and Kirori Singh Bainsla who aren't seeking better farm incomes, but quota jobs in the government.
Tailpiece: Tikait's 1988 Boat Club rally was the greatest show of strength by Indian farmers ever. Seeking better sugarcane prices and waiver of power and water charges, he rallied five lakh farmers on Delhi's Boat Club lawns. They pitched tents, cooked food and defecated on the well-manicured lawns for a week. The Rajiv Gandhi government relented when the stench became too much.
prasannan@theweek.in