Everybody loves a good drought? I doubt.
Everybody was talking of farmer suicides till a month ago. Those aren't always because of drought. Suresh Shetty, a BJP MP from Maharashtra, said it was a "fashion" among farmers to end their lives. That was much like former Kerala CM E.K. Nayanar remarking that rape in America was as simple as drinking tea. The old comrade didn't know Americans drank coffee.
India took note of the drought only after an NGO filed a PIL against the IPL, saying it was a crime to waste millions of gallons of water to wet cricket pitches when farmers and cattle were dying of thirst. There has been a flood—pardon the usage—of PILs since, and a deluge of directions from the courts.
Now everybody woke up to the drought. Drought grabbed prime time and prime ministerial time. The PM asked the home minister to coordinate the central efforts. Cricketers postponed matches; airliners stopped giving water-jet welcomes to new planes; irrigation engineers dug canals, one for Maharashtra minister Pankaja Munde to click a selfie.
Droughts had been predicted since the days of the Genesis. In the Book of Genesis, the Pharaoh of Egypt dreamt of seven lean cows devouring seven fat cows, and seven withered ears of grain devouring seven fat ears. Joseph the Dreamer interpreted this to foretell seven years of abundance followed by seven years of famine, and counselled the Pharaoh to store grain in the surplus years. Egypt was saved from famine.
We aren't facing a famine. Ever since Allauddin Khilji built granaries in the 13th century to save for the rainless day, our pharaohs have been battling food shortage. Finally we beat food shortage in the seventies of the 20th century.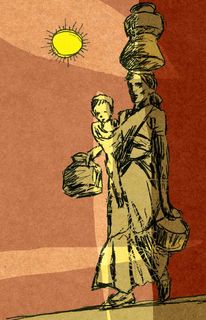 Today, we don't need dreamers to predict a drought. The weathermen do it. In the last two years they predicted scanty rains. They were right.
Our pharaohs swung into action. Farms Minister Radha Mohan Singh says, scientists tied up with state farms universities and made contingency plans for 600 districts. Central and state officials met over video-links every week and talked about the weather. Literally! They discussed rainfall pattern. They asked farm scientists to send drought-resistant seeds, study soil moisture, hold meetings of crop weather watch groups. States "took up in-situ soil and moisture conservation, micro-irrigation and groundwater re-charge". Together, they ensured good crops.
Our problem, thus, isn't about food. We produce more food than we can eat. Our problem is water. We don't have enough of it. Close to 4.4 lakh hamlets—more than a quarter of the total—in 266 districts have no water.
We knew this was coming. Our water managers reported 96 billion cubic metres of water in the 91 major reservoirs in September; it was down to 72 bcm in December, and less than 30 bcm today. Where has all the water gone?
The PM checked with his ministries. None had an answer. Some blamed the states. Over the weekend, Modi called the CMs. Everybody had medium and long-term solutions. Even the PM. Use "technologies like remote sensing and satellite imaging for planning of water conservation and recharge structures," the PM told them. Change cropping pattern—another suggestion. Adopt Chhatrapati Sivaji's water conservation methods—yet another. Conserve water in the next monsoon, said water resources ministry.
But what to do till the monsoon, which is a fortnight away? Only Suresh Prabhu had an answer. He sent tanker-trains to the villages, much like Sushma Swaraj sent water-planes and water-ships to the Maldives last December.
But as Akhilesh Yadav asked, how to reach the water to hamlets that aren't rail-linked? He wants money to buy tanker-lorries.
But then, won't the rains be here before the lorries?