On an average, 50,000 people watch a live Shakespeare performance for the first time every year
When Hamlet came to Mizoram, he became a Mizo." The opening line of Pankaj Butalia's film could easily be rewritten as "When Shakespeare came to India, he became an Indian. And when he came to Bollywood, he became the Badshah of Bollywood." While certain elements still fume against Shakespeare as an instrument of colonial oppression and cultural imperialism, Indian cinema has blithely borrowed from, adapted and appropriated his plays.
Shakespeare's plays lend themselves to our cinema as easily as our own mythological narrative structures. In 16th century England, drama was a newly emergent form, vibrant with influences and borrowings that spawned plot devices like warring families, political intrigues, mistaken identity and disguise, lost siblings, ungrateful children, scornful heroines, suspicious husbands, courtroom drama, and the travails of star-crossed and happy lovers. Indeed, as Naseeruddin Shah points out, every cliché in Hindi films seems to have come from Shakespeare. Moreover, Shakespeare's plays rely heavily on episodic intensification, a structure that almost begs for the exaggeration and heightened drama that forms the mainstay of Bollywood.
Shakespeare's journey to Indian popular culture began with Parsi theatre, and his presence in Indian cinema was more or less contemporaneous with his entry into Hollywood, in silent films as well as talkies. A century ago, Mehdi Hasan 'Ahsan' revealed an adaptive urge: "I have not taken the help of Shakespeare's poetic imagination but built a little mosque of my own design because, in my opinion, Shakespeare's way of thinking does not harmonise with the Indian way of thinking. That is why the plays have been greatly altered." Hasan's adaption of Romeo and Juliet was called Gulnar Firoz.
Kishore Sahu's Hamlet (1954), clearly influenced by Laurence Olivier's 1948 film, adds a note of intertextuality as the dying Ophelia sings Bahadur Shah Zafar's "Na kisi ki aankh ka noor hoon". The first sustained cultural appropriation is Malayalam director Jayaraaj's 1998 Kaliyattam (The Play of God/ Othello), a richly-coloured spectacle that explores caste dynamics and power structures in Kerala using the ritual dance form Theyyam. Vishal Bhardwaj is only the latest, though undoubtedly the most inventive, Indian filmmaker to successfully indigenise Shakespeare.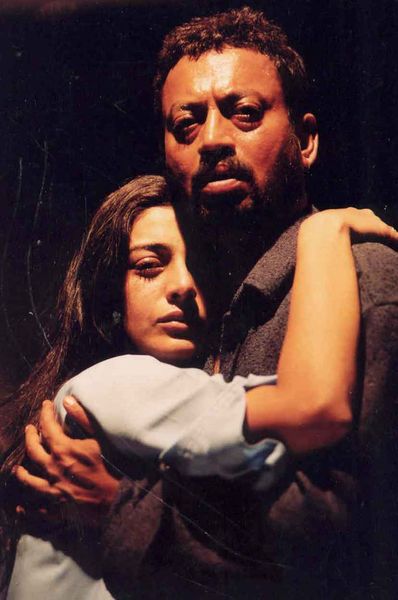 Bhardwaj has stunned audiences, film critics and Shakespeare scholars and won innumerable accolades with his brilliant adaptations: Maqbool/ Macbeth (2004), Omkara/ Othello (2006), and Haider/ Hamlet (2014).
His audacious settings, plot changes and finely-nuanced characters make the transition from Shakespeare seamless and utterly convincing. He doesn't merely graft the plot onto an Indian setting; in a marvellous engineering feat, he dismantles the original play, examines its inner workings, and then rebuilds it with indigenous components. These new contexts are complexly layered and meticulously crafted with the minutest details of social customs, dialect and even food, resulting in a visceral recognition and instant cultural resonance. Bhardwaj doesn't stop at equivalences, parallels and analogies; he transmutes and transforms so that the end product subsumes the essence of the original while exulting in its own independent identity.
This is an extraordinary feat, considering that Shakespearean tragedy is inseparable from its Greek antecedents in philosophy as well as drama. Tragedy is essentially the plight of a conflicted protagonist whose fate is inextricably tied up with his society's, and embodies the Aristotelian notions of hamartia and hubris causing suffering and, finally, catharsis. In Shakespeare, "character is destiny", as Novalis (poet, author and philosopher) observed, and one might add, poetry is character.
Macbeth's desolate contemplation of the void "tomorrow and tomorrow and tomorrow," the anguished Othello "who loved not wisely but too well," Hamlet, the flower of Renaissance humanism, torn between action and consequence finally seeing that "the readiness is all"—these protagonists have been defined by their sublime poetic utterances and enshrined over the centuries in the hearts of Shakespeare lovers. So, if you excise the language, the poetry, what is left? And yet, Bhardwaj takes these plays, steeped in the ethos of 16th century England, and "gives to them a local habitation and a name", imbuing them with an organic Indianness.
It was Japanese filmmaker Akira Kurosawa who opened up a host of possibilities with his Throne of Blood. Without a single direct reference to Macbeth, he transposed the outline of Shakespeare's plot onto a medieval feudal setting and, using elements of Noh theatre, created an arresting visual narrative steeped in Japanese sensibility. Bhardwaj, too, relocates Macbeth in an entirely different socio-cultural context—the dark underworld of Mumbai inhabited by dons, politicians and policemen corrupted by varying degrees of greed.
Combining generic elements of gangster films and film noir, and extensively using half-light and shadow, he constructs a sinister world riddled with conflict and moral ambivalence where the supernatural and the real comingle; the witches become eccentric policemen, but the prophesied coming of Birnham Wood becomes the inexorable tidal fury of the sea.
One of the most striking aspects of Shakespeare's Macbeth is the balance of sympathy and judgment for the protagonist. "We go to Macbeth to learn what a man feels like after he has gained a kingdom and lost a soul," said Northrop Frye, a literary critic.
Maqbool, however, is no conventional hero; he bears the taint of his murky amoral setting, is loyal to Abbaji yet drawn to his mistress Nimmi, and driven by sexual desire rather than political ambition. Nevertheless, though Macbeth's epiphany—"Life is a tale told by an idiot"—is missing, the film ends on a profound note of disquiet and unrelenting "sound and fury, signifying nothing".
In many ways, Othello makes for a far easier cross-cultural adaptation. Jealousy and sexual insecurity, sadly, are universal, and Shakespeare himself drew on the popular genre of domestic tragedy.
Bhardwaj sets Omkara in the hinterland of north India, where an aggressive muscular honour ethic still constitutes an imperative. "Omkara is literally a 'half-caste' ruffian who has become a leader. Because of the insecurity about whether he is accepted or not, everything is destroyed for him," says Abhishek Chaubey, who co-wrote the film.
The motiveless malignity of Shakespeare's Iago is chillingly captured by Langda Tyagi (played by Saif Ali Khan) and made credible both visually, by showing him in a poisonous green light, and through his scorchingly foul and contemptuous language, which is jolting, even though the entire film uses coarse earthiness and profanity as a marker of verisimilitude.
Hamlet relies heavily on language to distract from the melodramatic plot of the avenging son of a wronged father hampered by his Oedipal conflict. In a string of soliloquies, Hamlet reflects upon what it means to be human and mortal and even, quite simply, to be, and ultimately finds divinity in the fall of a sparrow. But Bhardwaj changes philosophical speculations into political ideology: what it is to be a Kashmiri.
Hamlet's famous incapacity to act is turned into a moral choice: the rejection of revenge as a destructive, sterile impulse; in the process the original is both diminished and enlarged. "He overcomes his feeling of revenge. It makes him a bigger character," says Bhardwaj. "It leaves hope for Kashmir. For everything." He argues that the real Hamlet of the film is Kashmir itself with its unreconciled conflicts, and replaces most of Hamlet's soliloquies with a sweeping visual narrative of Henri Cartier-Bresson-like long shots of isolation and silences that underscore this message.
A significant aspect of Bhardwaj's adaptations is the centrality of his women characters. Lady Macbeth, Desdemona and Ophelia either inhabit the margins or are underdeveloped, while Bhardwaj empowers his women characters with agency. In each film, the plot is altered to create triangular relationships, and sexual tension becomes a key element.
Finally, Bhardwaj has restored the song and spectacle that were once an inseparable part of Shakespeare's plays. His spellbinding music captures a range of emotions, integrating them into the action, like the ironic lullaby "Jaag ja" in Omkara and Arshia's (Ophelia) disconnected humming, her mind unravelling along with the red scarf in her hand. Haider's exquisitely shot elegiac grave-digger song is a portentous lull from the tense action, while the play within the play, intended to establish Claudius's guilt, is brilliantly transformed into the breathtaking "Bismil". Thus, the overused Bollywood convention of song and dance routines bring out more sharply what is in fact intrinsically Shakespearean and remind us, in Rachel Saltz's (critic and editor at The New York Times) words, of "how cinematically he can construct Shakespearean moments".
In one of his uncanny foresights, Shakespeare wondered, "How many ages hence. Shall this our lofty scene be acted over. In states unborn and accents yet unknown!" In 21st century Indian cinema, the voices are louder, the accents more pronounced, and the audience is hooked. Shakespeare must be smiling.
Shah is former head of department of English at St Xavier's College, Mumbai.