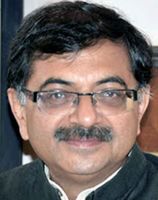 He represented the revolutionary soul of the nation, he lived India.
Savarkar was quintessentially a rebel, who didn't accept the beaten path, neither of the arrogant, high-caste, ritualist Brahmins nor of the slavish mindset of the leftists who hobnobbed with the British to worm their way into the Congress and sabotage the freedom movement.

At 21, he founded Abhinav Bharat, a revolutionary organisation, and at 24, he pronounced in London that the rising of 1857 was not a mutiny but the war of independence. He organised celebration of its jubilee in the den of the colonial rulers. And, at 25, he wrote his magnum opus, Indian War of Independence 1857, which was secretly published in Holland.
He wore the spirit of India throughout his life and welcomed Gandhi, a bar-at-law, in London. A writer and firebrand social reformer, Savarkar was against untouchability—he formed the Patit Pawan Sanghatana to fight the social evil—but he approved of cow slaughter at one stage. He contributed immensely to the Marathi lexicon. Words like arthsankalp for budget and sthanak for way station are used even today. He wrote scintillating poetry for the patriotic hearts—Lata Mangeshkar sang them with such devotion—and he defined hindutva in a new context, changing the language of politics and giving it a new agenda. 

Savarkar is the only revolutionary who was awarded transportation for life twice, and the incredible saga of his life in the Cellular Jail remains an eternal source of inspiration for all patriots. It is unfortunate that those who acted as British agents and supported the Chinese aggression in 1962 created a rampage of sorts and had the Savarkar plaque removed from the memorial in the Cellular Jail. Despite numerous reminders, it has not been reinstalled.
He has inspired the party that gave India two prime ministers and he stands out for being the most discussed intellectual of the hindutva ideology. His idea of hindutva has been setting the agenda of many an organisation in India. Fifty years after his death, Savarkar remains a pole of ideological strength for some and a point of extreme opposition for others. His hindutva, however, is often misinterpreted. He is either adored as a god of new politics or derided as the divisive factor, but he can't be ignored. His hindutva is defined as powering society through education and reforms, and by protecting our age-old Hindu civilisation and traditions, which are under threat from foreign-funded Semitic religious groups and their new editions in ISIS, jihad and conversions.
We, Hindus, are seeing a continuous decline in our population and are facing the most hateful and savage attack from within and outside. Is it a crime to safeguard a community and dharma (not religion) that provides the foundation to the flowering of Indian democracy and pluralism?
An uncompromising and unapologetic pride in our Hindu dharma alone will protect minority rights and constitutional democracy. If India has to save itself from going the way of our Islamic neighbours, we need to look at what Savarkar said. He was not against any community, but wanted India to retain its core values of the Hindu civilisational spirit.
If at all someone deserves to be decorated as Bharat Ratna, who else but Savarkar. However, he has grown much beyond any decorations or citations. He is an icon of faith in nationalism and Hindu rejuvenation. No state decoration or award can enhance it further.
We need to look beyond such decorations and make his ideology of an all-encompassing hindutva acceptable to all. Removing untouchability and two-glass system, ending the scourge of two cremation grounds, one for the so-called high castes and other for the scheduled castes, empowering women and injecting the youth with a zeal to work for the nation's development would be the best award for Savarkar.
Tarun Vijay is member of the Rajya Sabha.