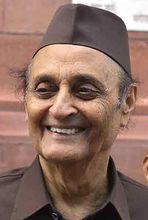 The turmoil in Kashmir is a tragic situation as it has involved a horde of youngsters who have grown up in the shadow of militancy and have known nothing but violence. Their consciousness has been distorted and their psyche, damaged.
Burhan Wani was killed on July 8, and until the previous day, Kashmir was chock-a-bloc with tourists. Wani's killing acted as a trigger and brought out deep-seated resentment, resulting in the breakdown of civil society. Another disturbing factor this time is that the protests have spread into the rural areas as well. There is no doubt that Pakistan is fuelling this. But we have to realise that there is something seriously amiss in our handling of the Kashmir issue. What I have suggested is to begin a process of dialogue, and it has to be with people who disagree with us, including the separatists, the Hurriyat.
The common programme of the BJP and the PDP, when they formed the government, included serious talks with all shades of opinion. Two years have passed, and no talks have been held. Chief Minister Mehbooba Mufti has to bear the responsibility for this.
I want to emphasise four points. The first is that we say it is an internal matter. OK, it is an internal matter, but what about half the state that is not with us? What about huge areas of Gilgit-Baltistan and PoK which are with Pakistan, and from which Pakistan has alienated or leased land to China? When we say it is an internal matter, does it mean that we are not interested in that part of Kashmir that is with Pakistan?
Second, Jammu and Kashmir is an integral part of India. It certainly is. The day my father signed the instrument of accession on October 26, 1947, it became an integral part of India. But while all the other states signed merger agreements, Jammu and Kashmir's relation with the Centre is based on the instrument of accession, Article 370 and the state Constitution, which I signed into law as Sadr-e-Riyasat, on January 26, 1957. So it does not necessarily mean that every part must be treated exactly the same way.
Third, Jammu and Kashmir is one state. But there are three clear-cut regions in that state. There is the Valley, there is Jammu and there is Ladakh. And they have their own aspirations. So when you talk of Kashmiriyat, what about Jammuiyat and Ladakhiyat? We have to talk to them too. Four, you cannot make an omelette without breaking eggs. Whatever agreement you are going to have, some section or the other will remain dissatisfied.
The first thing that has to be done is re-establishing the civil society. Simultaneously, the state has to open dialogue with multiple stakeholders, and also step up development works.
How we deal with Pakistan is another story. The prime minister has made some very strong statements. I think he has taken off from my speech in Parliament. But I never talked about Balochistan. I spoke about Gilgit-Baltistan, which is a huge area like Leh-Kargil and PoK. When they keep raising our problems, we will have to start raising theirs.
But, Balochistan is a different kettle of fish. It is not a part of J&K. It is a part of Pakistan. So it is a more forward diplomatic move than simply talking to Pakistan about the areas under their control, terrorism and infiltration. This is the first time we have talked about a constituent unit of Pakistan. I feel that this shift in our strategy was needed. Politically, it will certainly add pressure on Pakistan in the international fora.
We have to see how it plays out. On one hand, we have this situation in Kashmir, while on the other we have Pakistan's special meeting of their assembly and their independence day that was devoted to Kashmir's independence. And we had a counter-attack of sorts by the prime minister. How the government deals with it, who deals with it and what the structure is, I cannot say. But we must get out of this dreadful situation.
Karan Singh is a Rajya Sabha MP.
As told to Soni Mishra.