Pride, however mistaken in its object and origin, is positive. It's an assertion of India's influence in a globalised world
Mera jhootha hein Japani
Yeh patloon inglistani
Sar pey lal topi Russi
Phir bhi dil hein Hindustani….
From the film Shree 420
Some years ago I was walking down the street in Cannes, France, where I was attending the international film festival. An Indian TV crew approached me. The reporter enthusiastically burbled, "Mr Dhondy, you have five films in the festival, a record for any Indian! Can you tell us...."
"What are you talking about? I have no films in the festival."
"It's in the Indian newspapers," she protested.
"Newspapers? I have two producers trying to sell five films for which I've written the screenplays, but they are in the market, not in the festival. 'In Cannes' means your films have been chosen to compete. Saying they are in Cannes is like passing through Yale and claiming you are a graduate of the University."
"Oh," she said.
"You see what you reporters have done now? I can never go back to my native land."
"Why?"
"All my creditors now believe I'm rich and will be waiting at Mumbai airport!"
She got the joke but she'd lost a story.
The Indian papers in late June reported that the Conservative MP of the UK parliament, one Priti Patel, a junior government minister who supported the 'Leave' side in the British referendum on membership of the European Union, was a potential prime ministerial candidate. She wasn't and isn't. Patel is as far from winning the prime ministership as a boys' team in a Dilli maidan is from winning the cricket World Cup. Indian newspapers fasten on Indian names and hype their prospects.
It's understandable. The ex-governor of a US state, Bobby Jindal, is often touted as a potential president of the United States. It's a far cry, but an indication that Indian opinion is viscerally tied to Indian pride, and the average achievement of a PIO (Person of Indian Origin) is acclaimed in India as native lustre on foreign soil.
Pride, however mistaken in its object and origin, is positive. It's an assertion of India's influence in a globalised world. Of course in that globalised world there are real achievers. There are the Nobel Prize winners: Subrahmanyan Chandrasekhar, Har Gobind Khorana, Amartya Sen and Venkatraman Ramakrishnan. One may legitimately ask if their success abroad is a reflection of something stifling in the Indian environment. Why do they win Nobel Prizes only after going abroad? All of them, even Amartya Sen, an economist, are achievers in the rational sciences and worked at their research in milieu conducive to such discovery.
Some of these high achievers return to India, by invitation, to do service and contribute at the highest level in some public institution. Their expertise as scientists, economists, bankers, businessmen and info-tech experts benefits the country to an incalculable extent and the trend promises to yield greater results as there is no abatement in the curiosity and consequent nostalgia of the non-resident Indian—even now of the third generation descendant of immigrants.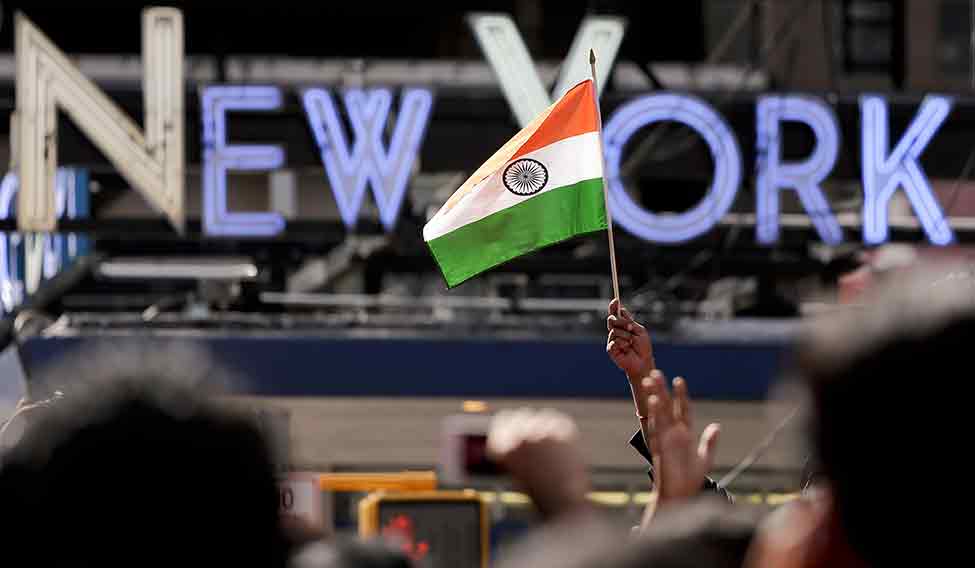 Turning to cultural pursuits, artists of the Indian diaspora have contributed ideas and genres which could not have been bred on the subcontinent. The evidence for this contention is not the remarkable work of Anish Kapoor alone, but is to be found in the films of Mira Nair, Deepa Mehta and Gurinder Chadha who have made films with themes rooted in the subcontinent, but of a sensibility that is distinctly removed from both Bollywood films and from the socially-conscious films that have been dubbed 'art cinema'. Monsoon Wedding, Fire and Bend it like Beckham are partly comic or courageous ventures into unique material.
Gujarat may have become prosperous through the administrative capabilities and non-bureaucratic approach of its then chief minister who encouraged, for instance, Tata to locate its people's car manufacture in the state, but it was certainly boosted by the influx of dollars and pounds from its NRIs. This material transfer does not simply build houses and gated estates in Chandigarh and Kutch; it contributes to capital ventures in Gujarat, Punjab, Kerala and, beyond the boundaries of India, has made the Bangladeshi region of Sylhet and the Mirpuri 'state' of Pakistan extremely prosperous. Of course, capital in the form of laundered black money flows in the other direction. A few notable characters with NRI status siphon money through dodgy channels out of India and buy estates in Scotland, France and other places, holding funds in benami accounts in Swiss banks and tax havens.
In my short and happy life I have never met an Indian who is absolutely deracine, who has transformed into a wholly foreign creature, though some do affect or have acquired authentic cockney or Texan accents. The lure of Mother India and the identity it confers remain indelible. Perhaps in generations to come, America will absorb the descendants of the NRIs who will, as other Americans have done, acknowledge their ancestry but think of it as alien. Not yet and certainly not for a few generations in Britain.
Dhondy is an Indian-born British author and screenwriter. His latest book, 'India My India—A stab at its history', is published by Rumour Books.