I visited the island of Mykonos, Greece, in early July, shortly before voters shot down the country's deal with its creditors in a referendum. Despite Greece's woes, life was great on Mykonos, or so it seemed. I remember one particular night in which it felt like there was a huge party going on.
At restaurants and bars, people were laughing and dancing to Mediterranean beats as the Aegean's warm winds blew through the crowd. At one restaurant, a couple in swimsuits got on top of a table and danced between glasses of wine and a plate of lobster.
The message on Mykonos was clear: We are happy, and we want the world to know. (Later, of course, spirits were tempered a bit when the bills were brought out.) I remember seeing a bottle of champagne listed on a menu for 1,20,000 euros. Who pays that much for champagne? Wealthy Russians, I was told. It was not the locals.
Despite the vibrant atmosphere, a sad disconnect was palpable. While visitors were looking for a bit of happiness, the Greeks were suffering. Most Greeks will have to endure deep economic hardship for years, even decades, as its government pays back its enormous debts to creditors. Greece is hardly a happy place, when times are tough for so many.
My visit to Greece got me thinking about the notions of happiness and the connection to quality of life. In its 2013 World Happiness Report, the United Nations made an important distinction between happiness as a point of view and happiness as a distinctive measurement of well-being and quality of life.
In order to rate a list of nations from the happiest to the saddest, the UN took into account six criteria: productivity per person, social support, life expectancy, freedom to make choices, generosity and perceptions of corruption. According to the list, the happiest nations are all in northern Europe: Denmark, Norway, Switzerland, Holland and Sweden; the saddest countries are in Africa: Rwanda, Burundi, the Central African Republic, Benin and Togo.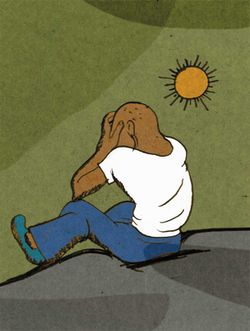 There are some curious rankings on the list. Mexicans (at No 16) appear to be happier than Americans (No 17); people in Venezuela (No 20) are happier than people in Germany (No 26); and Uruguayans (No 37) are happier than the Japanese (No 43). The study makes it clear that happy people are not usually the wealthiest or those with the most possessions. They are generally healthy, employed and living in an open society with clear rules.
When it comes to how our point of view affects our happiness, many of us think that happiness is right around the corner, or that moving to a new place and starting a different life will makes us happier. That is why we go on vacation, for instance.
Identifying a place with happiness is nothing new. Columbus thought he had found happiness upon seeing an idyllic place along the coast in the New World—a region in what is today considered Venezuela. It is believed that he was even convinced he had found paradise.
Today, Venezuela is quite far from being considered paradise on earth. The vice ministry of supreme social happiness, formed by Nicolás Maduro, Venezuela's leader, and intended to reduce sadness in the country, has done nothing to reduce crime and corruption, nor has it provided an escape route from Venezuela's agonising economic crisis.
Indeed, happiness cannot be spread through decrees or by ministries. True happiness boils down to achieving a minimum level of well-being for people. A nation in which people can coexist in harmony is a happy nation. Happiness is reachable, and its benefits are tangible.
Ramos is an Emmy award-winning journalist and author of nine best-selling books.