Based on textual evidence in the sonnets and some plays, some believe that Shakespeare was bisexual.

The word 'bottled' meant 'swollen' in Shakespeare's time.
Adaptations on stage
From the presence of Boishnob Choron Addy or Babu Bustomchurn Addy as he was called, a "real, unpainted nigger Othello", as a letter in the Calcutta Star put it, in the Sans Souci Theatre in Calcutta in 1848, to a self-reflexive, confident Sebastian in Atul Kumar's Piya Behrupiya (an adaptation of Twelfth Night) in 2012, who jokes that every time he translates Shakespeare into Hindi bon mots, the playwright gets all the credit. "Translation ki job, ma kasam, itni thankless job hai yaar... mein aake liney suna raha hoon to keh rahe, 'Wah! Shakespeare kamaal!' (The job of translation is a thankless one. You do all the work and still people praise Shakespeare.)" Indian Shakespeare adaptations have come a long way.
Shakespeare enacted by Indians entered India in a humble guise: students of the David Hare Academy in Calcutta staged a substantial part of The Merchant of Venice in April 1853 while a rival school, the Oriental Academy, staged Othello in the Oriental Theatre in September 1853. In both performances, the students were trained by the British. The audience was select—wealthy Bengalis and the British. Shakespeare was staged in Bengali on the Calcutta stage about 20 years later. There were 23 productions of Shakespeare, mostly tragedies and romances, in Bengali between 1852 and 1899. At times there were productions once every two years, at times twice in a single year.
Two famed actor-directors staging Shakespeare in Calcutta were Girish Chandra Ghosh (1844-1912) and Amarendra Nath Dutta (1876-1916). While Ghosh preferred remaining true to the original and lost the audience's interest quite speedily, Amarendra Nath preferred adaptations. His Horiraj (1896), an adaptation of Hamlet, proved quite popular while Ghosh's expensive Macbeth (1893) "in the European style" bombed.
Shakespeare performance post independence fall into two major categories: productions in English and adaptations of Shakespeare in the Indian languages. The latter may be further subdivided: performances that follow Shakespeare's text faithfully, translating only the language, as in Ebrahim Alkazi's production of King Lear (1964) in Hindi and Othello (1969) in Urdu, and productions that adapt the Shakespearean text radically. The latter may Indianise the characters and situations and perform the play in an indigenous folk theatre form such as kathakali (from Kerala), nautanki (from Uttar Pradesh laying emphasis on music,) yakshagana (from Karnataka) and jatra (a folk form from Bengal whose forte is dialogue). There may also be a combination of one or more of these forms within a single performance.
These adaptations, with the addition of music, dance, colourful costumes and makeup, can make the original play unrecognisable on an uninitiated viewing. The presence of a strong, indigenous dramatic tradition has enabled some outstanding folk productions such as Barnam Vana (Birnam Forest, 1979), an adaptation of Macbeth directed by B.V. Karanth for the National School of Drama Repertory in the yakshagana style with costumes that bore resemblance to those worn in performances in Java and Indonesia and a huge fluttering curtain painted with leaves to suggest Birnam Wood moving to Dunsinane and; Kamdeo ka Apna Basant Ritu ka Sapna (The Love God's Own, a Spring Reverie, 1993), an adaptation of A Midsummer Night's Dream directed by Habib Tanvir of Naya Theatre and dealing only with the "rude mechanicals" (Bottom and his friends) for which Tanvir trained tribal performers speaking in the Bastar dialect.
Manipur has produced a number of outstanding Macbeth adaptations, including Lokendra Arambam's Chingkhei Napa (Manipuri Macbeth, 1997), which was staged in a lake, Ratan Thiyam's Macbeth (2014) in which he said he had to invent a new tribe with new rituals, and Ranbir Mangang's Macbeth (2015). The grand spectacle of all these productions, drawing on Meitei martial arts, dramatic costumes and rituals, matches the evocative power of Shakespeare's iambic pentameter.
There is no sense of being overawed by Shakespeare in these productions, which are steeped in elements belonging to the various Indian folk traditions: vernacular idiom, dance, song, the presence of musicians on stage, martial arts, vibrant costumes.
Utpal Dutt's Calcutta-based Little Theatre Group produced a variety of Shakespeare's plays, The Merchant of Venice (1953), Macbeth (1954), Julius Caesar (1957), Romeo and Juliet (1964) and A Midsummer Night's Dream (1964). However, in light of the violence that had gripped Bengal politics in the 1960s and 1970s to "stick to Shakespeare or Bernard Shaw was unbearable," Dutt wrote in the essay, Little Theatre O Ami.
When he returned to Shakespeare, he did Macbeth in the jatra style for Bengal's villagers. Royston Abel's Othello: A Study in Black and White is an interesting English-language production of the United Players' Guild that embeds Othello in a contemporary English play about a group of Indian actors rehearsing Shakespeare's play and exposing their racial, ethnic, class and language biases. It has at its core beautiful lines spoken in Assamese and drawing on Ankiya Nat by Adil Hussain, the boy from Assam's Goalpara, who to the cast's surprise is chosen to play Othello. It is in his own language that Hussain's Othello woos Lushin Dubey's uptown, upmarket Desdemona. The play talks as much about racial tension as about the class and ethnic conflicts within a supposedly cosmopolitan society such as Delhi and draws on Abel and Hussain's own sense of marginalisation during their student days at the National School of Drama.
Kumar's rambunctious Piya Behrupiya, which is part nautanki, part Bollywood expressed in Hindi, English and Hinglish, was that rare phenomenon—a Shakespeare adaptation that ran to packed houses and had the audience roaring with laughter. What is significant about this production is its self-reflexive quality. Amitosh Nagpal, the translator of the play, also plays Sebastian.
We see the vast difference in attitude towards the source text—while Ebrahim Alkazi's attitude in the 1960s was one of reverence, Kumar's in 2012 is one of confident irreverence. It is this confidence which enables a character to slip out of the role created by Shakespeare and address the 21st century audience as contemporaries. The problematic act of staging Shakespeare in a postcolonial society is as much a part of Piya Behrupiya as the Shakespeare narrative.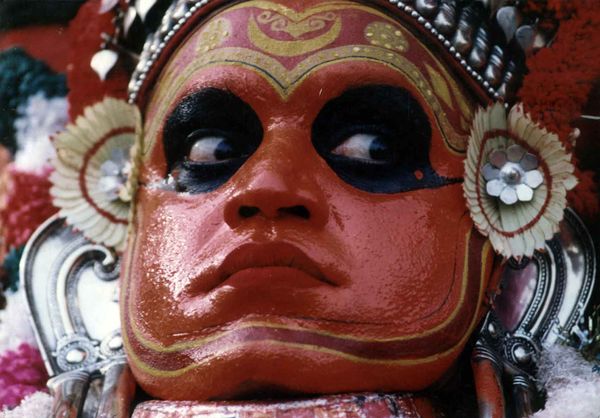 Cinematic Shakespeare
It is from the Parsi theatre (1870-1940)—relaxed, free, confident Shakespeare adaptations in various languages in a highly rhetorical and musical style performed in Maharashtra, Gujarat and even South Asia—that Shakespeare entered the Bombay film industry. Dil Farosh, a 1927 silent film based on The Merchant of Venice, is probably the earliest example. Among the tragedies, Romeo and Juliet (1947) had a brilliant portrayal by Nargis but carried no mention of partition or independence even though produced in 1947. More recently, Ek Duje Ke Liye (1981,) Qayamat Se Qayamat Tak (1988) and Ishaqzaade (2012) have retold the story of the star-crossed lovers using regional differences, warring Rajasthani Thakur families and political foes who are also of different religions.
Hamlet has been popular, producing multiple adaptations including Sohrab Modi's Khoon ka Khoon (1935), Kishore Sahu's Hamlet (1954) and, of course, Vishal Bhardwaj's recent Haider (2014). There are a number of adaptations of The Comedy of Errors: Bhranti Bilash in Bengali (prose translation by renowned Bengal Renaissance scholar Iswar Chandra Vidyasagar), Debu Sen's Do Dooni Char (1968) and Gulzar's Angoor (1981) in Hindi.
All were successful because of the saucy relationship between brother-in-law and sister-in-law (a traditional source of raillery in India), the close ties between master and servant (domestic help often being considered part of the family here) and a certain generation of Indian women's love of gold ornaments. Jayaraj's Malayalam film Kaliyattam (1998) turned Othello into a story about caste discrimination rather than race in his story about a poor theyyam artiste.
Shakespeare on the Indian screen comes of age in the work of Bhardwaj. The confidence of these adaptations on both stage and screen suggests that Shakespeare has moved from being the world poet of the 19th century colonial imaginary to one who is both complete stranger and intimate friend—we have the freedom to adapt his plays because of how familiar we are with them and, at the same time, their ineluctable, undiminished strangeness finds expression in the very radical nature of the adaptation. There is no colonial burden of the master text. Along with praising Shakespeare we can exclaim, "Wah! India kamaal!"
**Panja is professor of English
and joint director, Institute of Lifelong Learning, University of Delhi.**