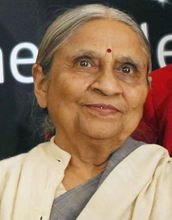 THE CHANGES in India's course of economic development since 1991 have been historic, in the sense that these changes have moved India closer to the big corporate private sector as well as to global finance and investment. However, today we see that the changes have kept the authorities somewhat away from its social protection role towards citizens.
My worldview of citizens is predominantly that of the poor, the self-employed and women. When I think of India, I first think of the poor and women. They, as citizens, are economically active as small producers in home and on farm, or are engaged in small trade as vendors, for example. They provide services like manual scavenging, picking waste and cleaning homes. They are categorised as those engaged in the country's informal economy, which employs over 90 per cent of India's workforce, half of them being women. This is India's private sector, and it is productive, but not recognised as economically productive in most economic policies.
The reforms opened access to international markets. But neither the state nor the corporate sector has invested enough in the development of communities and organisation of the working poor or in building their capacity to access emerging national and international markets.
Mobile phones brought in convenience and ease of connectivity, having equal access to information. This is a tremendous step ahead. But this connectivity is yet to be fully used by the poor, women, and the self employed to find ways to reduce widespread poverty.
The license raj has gone or has been significantly reduced, but the free entry to market for the working poor, or women or small business—rural and urban—has not been easy. Take street vendors, for example. They have the Street Vendors (Protection of Livelihood and Regulation of Street Vending) Act, 2014. But the vendors' businesses have become more insecure than before. Local markets have either vanished or are being evacuated to make smooth flow of increasing vehicular traffic. Big malls sell imported items and push poor vendors away from the market and their business. Any change happening at the cost of others, I wonder, can we consider it progress or development?
Special economic zones have created economic assets, mainly in information technology and related consultancies, but the working poor and women and small businesses earning their livelihood around those zones have remained mostly untouched by the SEZs. An opportunity is being lost.
The changes have not substantially succeeded in harnessing the energy and efforts of the working poor. The changes have failed in making social sectors reach out to the local working poor, rural and urban. This is a big loss to the nation's economy and GDP. And, an even bigger loss to the lives of the two generations of the working poor, particularly women.
The legal, regulatory and policy environments often tend to punish these citizens. Home-based workers (30 per cent of women in India) are not recognised as workers, producers or entrepreneurs and are denied basic infrastructure services and housing tenures that would make their home-cum-workplace more productive.
Women entrepreneurs face threats from large-scale urban renewal and infrastructure schemes. Lack of basic services and slum relocations, or single-use zoning regulation, affect home-based production and sales in every large and small city of India.
Any change for betterment brought without the engagement of the people for whom it is meant, does not serve the purpose. It is the participation of the citizens with the support of the government that brings the planned change. Increase in opportunities and incomes at the top is evident. For others, the growth is slow.
Those who lose out are often displaced by infrastructure projects. Roads cleared slums. Malls cleared vendors. Canals flooded villages.
The challenge before us is to make up for the loss and to look for business opportunities, big and small, in unchartered areas. The challenge is to find ways to make tree plantation more profitable than cutting down forests. Let us make recycling more profitable than new manufacturing. Water-harvesting can be made more profitable than boring deep-wells. How? That is the challenge for us today.
Let us make communal ownership of assets more profitable. Given a fair chance, the spirit of cooperation is just as likely to lead us to profits in India as a dose of healthy competition. With change in our thoughts, we will also need to change our vocabulary.
Money and profit cannot be the only measures of the success of changes. Knowledge, skill, stability and social bonding are of equal value, perhaps even more. Money does have a relatively finite potential, I agree. On the other hand, the value of an investment in mental, physical and social growth is infinite.
How did liberalisation and globalisation help us achieve more freedom and peace? This form of change is slow to come, but once it does, it bears fruits far richer than money in the long run. However, since such change cannot be enumerated by statistics, it is sadly neglected or dismissed.
In the end, what matters is not the change we make, but how it unfolds in the lives of poor women and men of India.
Bhatt founded the Self Employed Women's Association of India in 1972.