Had M.F. Husain lived another four years beyond 2011, he would have completed a hundred years. His birth anniversary is being celebrated by Art Heritage and Dhoomimal galleries in Delhi, and surely in other places through exhibitions, readings of his poetry and reminiscences by senior contemporary artists like Krishen Khanna and Ram Kumar. I was privileged to know Husain a little from 1969. Visiting him in London in 2007 brought some insights into how he viewed himself.
At every turn of the road, Husain defied destiny. His father had plans to apprentice him to a tailor until [N.S.] Bendre, dean of Indore's art school, convinced him that the boy had artistic genius. When he came to Bombay, he began life as a painter of film hoardings, and the passion for films never left him. In 1947, Husain joined the Bombay Progressive Artists Group. F.N. Souza, S.H. Raza, K.H. Ara, Sadanand Bakre, H.A. Gade and Husain formed the initial group of six—they were inspired, as Souza wrote in the manifesto, to paint in "the spirit of freedom". For them, as for India, this was a dramatic moment of discovery.
Husain's work focused on the human figure, as he remarked: what else mattered in a country populated by billions? In 1972, he was invited to exhibit at the Sao Paolo Biennial, which raised him to celebrity status. He was awarded the Padma Bhushan, and also nominated to the upper house in Parliament. From living 18 years in a Bombay ghetto, he later became a freewheeling cosmopolitan who travelled the world. He gambled with the prices of his own work so that the market of contemporary Indian art quadrupled, and he gambled with life.
Read more: The nomad's new tent
These facts are well known, but they are necessary in exploring his portraits. Few recall that even in his teens in Indore he earned small amounts by making portraits. His closeup of Jawaharlal Nehru in 1960 is a master's hand in realistic detail, finalised from sketches made at the prime minister's office. He certainly knew realism. Yet, for most of the time, he chose to show iconic figures in the genre he called 'metaphor'. In archetypal figures such as the Mahatma, it is the staff and dhoti by which we recognise him, as the head is blurred out in a haze of blue smoke. This tendency holds equally in epic heroes. Watercolours of Hanuman represent him flying over the burning city of Lanka, recognised by his mace that hides the face.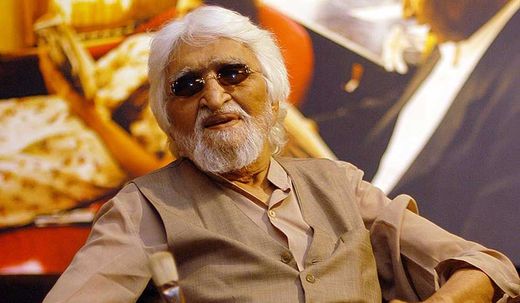 Bhishma, great guru of the Pandavas, lies supine with his head unseen on a bed of arrows as the sun sets on the tenth day of the war of the Mahabharat. The savagery of battle, as the Kauravas drive their chariot, is conveyed through the spattering of blood in red and black and the letter 'ka' in Devanagari.
Most of all, in his series on Mother Teresa, he depicts her with the folds of her white sari and blue border against the black of night, with her face blacked out—nonexistent. The metaphor of the mother with an orphan child is linked to his personal history of losing his own mother when he was three. He became obsessed with this frail, indomitable woman who rescued the poor, weak and dying off the streets of Calcutta. He described her thus: "Like the Madonna—glowing marble melting over the knees of the Pieta.... The same white robe unfolds love on the limping lanes of Calcutta, where at dead of night an unwanted, almost unborn child crawls in and out of the womb...."
I once asked Husain about his reservations on depicting the face. He waved aside my query with the statement, "How does the face matter? It is the gesture of the hand, the movement that brings life!" Even his self-portraits become metaphors in this nature. His early self-portraits from the 1950s are exceptions, where he shows his gaunt face with black beard. When he was bestowed the Padma Bhushan, he reacted with quick humour. In a brilliant self-portrait, exhibited at The Village Gallery in 1988, he lampoons himself, depicted in a general's uniform shining with stars and lapels but holding his long brush in place of the sword. His brushes were two and three feet in length. Was this carried over from the days when he painted film hoardings?
In 2007, Husain invited me to visit and stay with him for ten days in London. Perhaps, he expected me to write a book in that time—it took me two years to write one essay. The entire surface of walls was covered with his paintings from the film Mughal-e-Azam by K. Asif. Given the love story of Anarkali, it was appropriate that he called it the Fida Museum, referring also to his own name. His parents bestowed on him ambitious names: Maqbool Fida Husain.
He had already fulfilled the promise of the first, arriving at fame and 'greatness'. Now it was time in his life to fulfil the name 'Fida'—his infatuation with cars, with women, with life itself! We drove through the streets in a sleek silver Phantom. His Self Portrait hung above the staircase, painted the same year. He depicts himself as an adventurer, attired in a dark blue cape with boots and a belt inscribed with 007. His predilection for dancers is confessed with a diminutive dancer below the towering figure. At 92, he assumed the persona of James Bond.
Did Husain reflect upon the realisation of his third name? Did he ever see himself as a martyr? I do not think he paused long enough to give this much thought; he had too much to do. He is quoted as saying that even if he were given four lives, he could not complete all that had to be done.
Sen is an author and art historian.