The compelling need to modernise led India to replace vintage equipment with Soviet tanks and APCs in the late 1960s while adding more tank regiments, mechanised infantry battalions and armoured brigades.

The all-arms concept of cooperative and synergistic effort is best exemplified by mechanised forces. Tank units form the spearhead and muscle; mechanised infantry acts complementarily.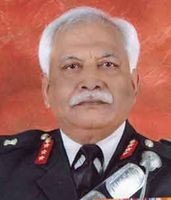 Cavalry adds class to what would otherwise be a vulgar brawl. Made in a mixture of jest and a sense of superiority, the irony of this statement was that horsed cavalry, which had slowly been losing its utility as modern weapons proliferated, was of little use in the trench-lined, barbed wire-infested, shell-pocked battlefields of Europe during World War I where the routine horror of massive casualties imposed its own vulgarity. It was in this scenario that the tank made a modest and ineffective debut in the Battle of the Somme in France in September 1916 and gradually gained recognition as a battle-winning factor. Commencing with a few tanks supporting assaulting infantry against deeply entrenched defences, more innovative thinking gradually led to larger, massed groupings breaking through strong defensive lines. Consequently, the cavalry metamorphosed into the tank corps and the era of armoured or mechanised warfare dawned. In the inter-war years, military thinkers developed theories on the basis of which large-scale, tactical exercises were undertaken, which were instrumental in refining employment methodologies. The creation of highly mobile, offensive-oriented mechanised formations comprising tanks, mounted infantry and artillery followed. Significantly, the essential element of mobility was restored to the battlefield. The German blitzkrieg against France in the opening stages of World War II established their efficacy and the concept was reinforced in numerous campaigns in theatres as diverse as Europe, Russia and North Africa.
Closer home, mechanisation of the Indian cavalry commenced in 1938; regiments were equipped variously with light tanks, scout cars and truck-towed antitank guns. Four Indian regiments participated in the Burma campaign and one in the 1947-48 Kashmir operations. Starting off with only seven of the existing twenty cavalry regiments when Partition came about, US aid in the 1960s helped Pakistan to augment this number and modernise its armour with Patton tanks and M-113 armoured personnel carriers (APCs) while 'modernity' in Indian armour was its four Centurion and two AMX-13 regiments acquired during the 1950s. Worse, the 1962 defeat by the Chinese shifted the focus to raising and equipping mountain formations, which relegated modernisation of Indian armour to the back burner. By 1965, Pakistan had two armoured divisions compared with India's one. Moreover, India had only 'lorried' infantry as against Pakistan's APC-borne infantry.
Nonetheless, good training, determination, excellent gunnery skills and relatively better strategy enabled Indian armour to come out on top in the 1965 India-Pakistan war. A thrust in the Chamb-Jaurian (J&K) sector achieved considerable success, but, elsewhere, Pakistani armour came off second best. An offensive by India's 1st Armoured Division, part of the hastily raised 1 Corps, resulted in heavy destruction of Pakistani tanks in the Sialkot sector. Over 400 tanks, on both sides, participated in what is viewed as the largest and fiercest tank engagement after World War II. Further south, armour-supported infantry divisions launched offensives which reached the outskirts of Lahore. To relieve pressure, a counteroffensive by Pakistan's 1st Armoured Division in the Amritsar-Ferozepur sector was mauled by tank regiments of India's 2nd Independent Armoured Brigade in hard-fought battles at Khem Karan and Asal Uttar, which created a graveyard of over a hundred much-vaunted Patton tanks.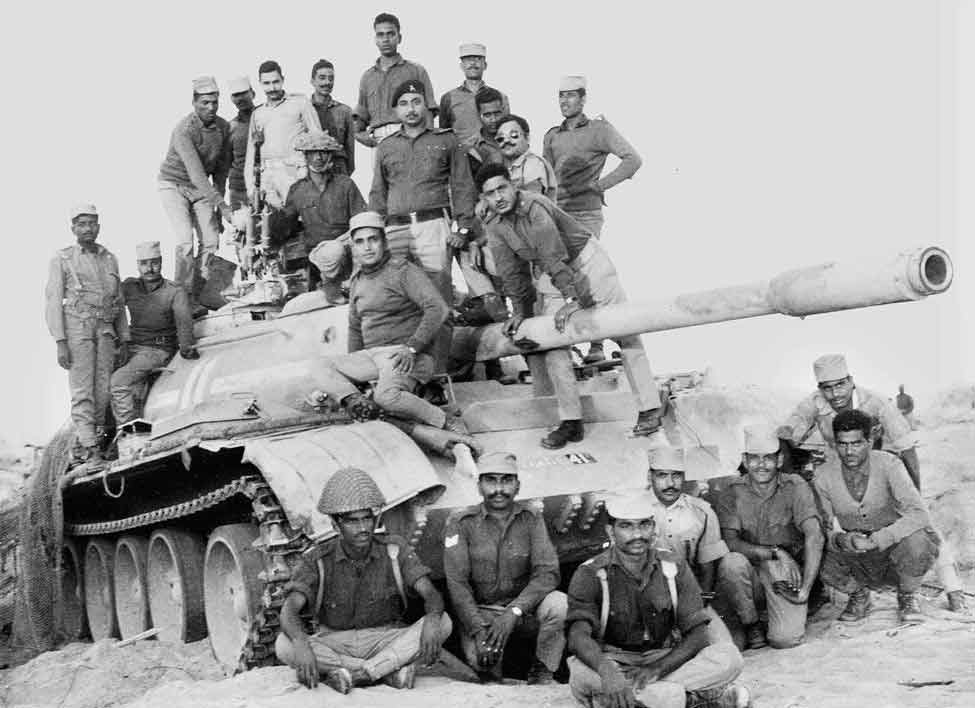 The compelling need to modernise led India to replace vintage equipment with Soviet tanks and APCs in the late 1960s while adding more tank regiments, mechanised infantry battalions and armoured brigades. Concurrently, new assault bridging and minefield breaching equipment helped augment offensive capability. However, Pakistan also kept pace by raising more units and acquiring Chinese tanks.
The highlight of the 1971 India-Pakistan war was the campaign in the Eastern Theatre, which led to the dismemberment of Pakistan and gave birth to Bangladesh. This brilliant blitzkrieg—executed with limited resources and masterful rapidity, overcoming numerous rivers and marshes in a remarkably short timeframe—has not received the plaudits that it deserves possibly because it is Indian! The three mainly light tank regiments that participated in this campaign most often detached elements to act in support of infantry formations and contributed to speeding up operations.
In the Western Theatre, lacking the numerical superiority to act offensively across the board and to avoid over-extension, armour was mainly employed in defensive roles in the Jammu and Kashmir and Punjab sectors. A major multi-pronged offensive by two armoured brigades and three infantry divisions was, nonetheless, launched once again in the Sialkot sector towards Shakargarh to provide depth to the vital Pathankot-Jammu artery and tie down Pakistani armour. Fierce battles resulted with Pakistan losing close to a hundred tanks in addition to sizeable territory. India's lone armoured division remained unutilised since it was retained as a strategic reserve in the Punjab-Rajasthan sector to counter a major Pakistani offensive which, in the event, did not materialise. Other armour operations included two tank regiments thwarting a Pakistani thrust in the Chamb-Jaurian sector and smaller forays into Pakistani territory from the Jaisalmer and Barmer sectors.
India's mechanised forces grew almost exponentially over the next four decades during which a number of noteworthy developments occurred. The most important one has been the building of three 'strike' corps, each comprising an armoured division, an independent armoured brigade and infantry divisions with sizeable mechanised forces. These 'strategic' reserves have contributed immensely by relieving ground-holding corps of the burden of launching major offensives while concurrently defending vast expanses of territory. Next, each ground-holding corps was allotted one or two armoured brigades as reserves for defensive needs while enhancing their capability to launch offensives independent of, or in concert with, strike corps. Additionally, the long-standing entitlement of an armoured regiment in each infantry division was fulfilled; in fact, some of them even have an armoured brigade.
The all-arms concept of cooperative and synergistic effort is best exemplified by mechanised forces. Tank units form the spearhead and muscle; mechanised infantry acts complementarily. Artillery, air defence, helicopter, engineers (for minefield clearing and bridging) and communications units provide close combat support. Enormous quantities of replenishment are met by mobile logistics units which handle fuel and ammunition supply, repair and recovery, medical treatment and casualty evacuation. The Air Force provides support in the form of ground attack, air defence and close interdiction missions; mechanised forces cannot operate effectively in the absence of this vital ingredient.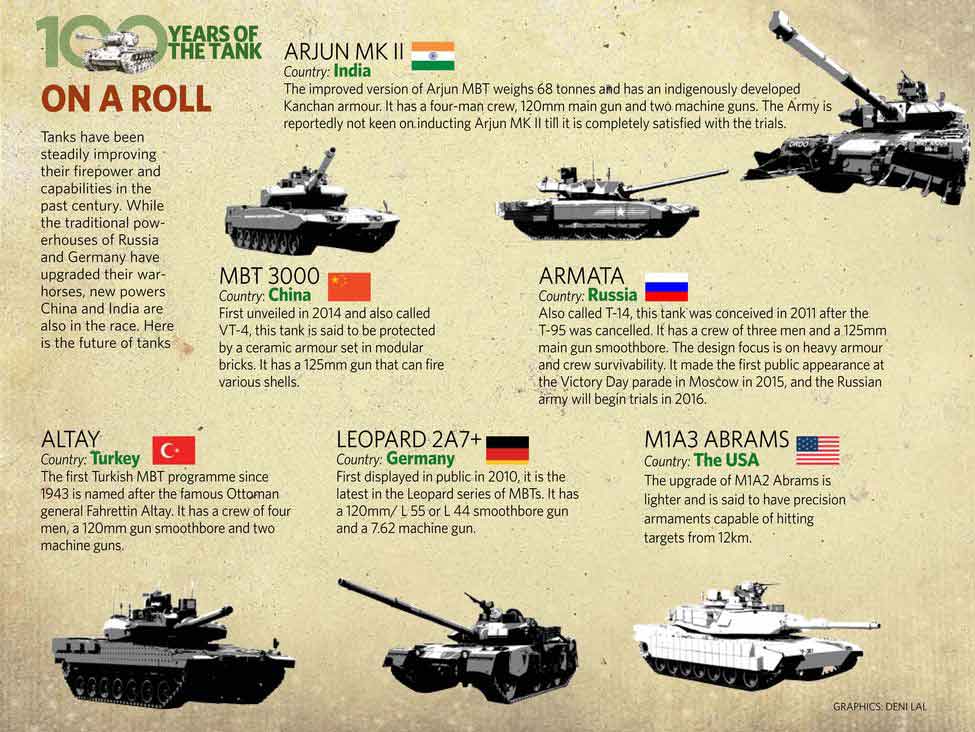 Equally capable of engaging in both attrition and manoeuvre warfare, they bring to bear their immense potential to deliver better results in the latter form. The defining characteristic of mechanised warfare is fluidity. Richard Simpkin, an armoured warfare writer, says, "mechanised forces halt between moves whereas an infantry force moves between halts". A tank man's delight is open terrain such as plains and deserts. Conversely, jungles and obstacle-ridden areas pose challenges because these hamper movement, constrict deployment and increase vulnerability to close quarter enemy action. Grouping for battle at each level varies and depends on the tasks assigned; regrouping occurs when necessitated. Integrated training, common operating procedures and good communications make for easy switching. The battlefield milieu demands that armour leaders develop the ability to think on the move, make quick decisions and exploit fleeting opportunities.
Given their size and structure, Indian mechanised forces are a 'threat in being' somewhat analogous to the naval equivalent of a 'fleet in being'. In a future war scenario, they have the potential to rapidly achieve allocated objectives in compressed timeframes to bring about favourable tactical and strategic outcomes. In the pre-hostilities stage, major formations could deploy over vast expanses to 'posture' and deceive with the aim of confusing the adversary about their intentions and thereby create a state of indecision regarding the disposition of his own forces. Once launched, simultaneously or in a pre-determined sequence, utilising the momentum generated by intrinsic firepower, mobility and flexibility, they will aim to draw out and destroy enemy forces. Tempo is sustained by day-and-night operations. Concentrating force, penetrating weak points, outflanking and enveloping strong opposition, they will seek to threaten depth objectives and capture territory of value. All in all, along with air power, they are ideal instruments for pre-emptive strikes, dislocation of the enemy's ability to bring to bear his strengths and disrupt the coherence of his fighting power.
The author, an armoured corps officer, was director general of information systems at the Army Headquarters from 2005 to 2007.