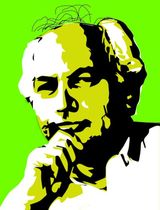 In a democracy, unlike in a totalitarian state, power does not reside in a single individual or institution. It is distributed and shared in such a manner that there is both cooperation and contestation among the institutions and individuals that wield it. The health and vibrancy of the democratic system is determined by the extent to which this is done in a spirit of mutual respect and with common respect for the Constitution.
Free and independent media is one of the main institutional pillars of the Indian democracy, indeed its protector. Therefore, as Prime Minister Narendra Modi completes one year in office, it is important to see how his relationship with the media has evolved.
It is obvious that Modi is a smart communicator, a leader who knows how to use the media to his advantage. After ten years of Dr Manmohan Singh at the helm—a period that saw India having the most non-communicative prime minister in its history—Modi's first year as premier clearly shows that he both knows the power of communication and is adept at using it in innovative ways.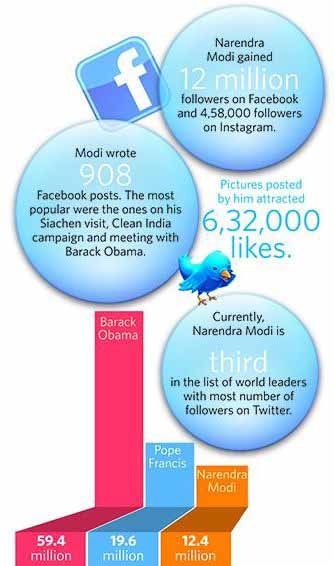 While comparison with Singh's relationship with the media is unavoidable, it must be seen in perspective. Singh was not a leader in his own right. He was also by nature shy and unenthusiastic about communicating with, and through, the media. In contrast, Modi is a mass leader. Mastery over mass communication is a professional requirement for him and also something he revels in.
This is evident from the novelty of his communicating directly, and frequently, to the people. Example: his Mann Ki Baat broadcasts on All India Radio, which still has huge reach in rural India. He has also deftly achieved the more difficult task of getting the mainstream media to communicate his message to wider audiences without too much questioning, at least so far.
We live in an age when social media has democratised the media and empowered common people to voice their opinions. Modi—rather, his communication team that operates silently but effectively—has been using this tool with considerable impact. Look how the prime minister announced his visit to China by opening an account on the popular Chinese social micro-blogging site Weibo, thus establishing a direct link to the people of a country that rightly ranks very high on his foreign policy agenda.
So far the Indian media has not turned critical of the prime minister, even though criticism of the functioning of his government is slowly on the rise. Questions are especially being asked about dissonant, and often dangerous, voices from hindutva champions that support the Modi government.
In the initial months of NDA-II, sections of the media were fearful that criticism would not be tolerated by the new government that enjoyed absolute majority in Parliament. The BJP's stunning victory in the 2014 parliamentary elections had overawed those in the media who have traditionally been critical of the party. However, such apprehensions have largely receded. So far, the government has not acted in a vindictive manner, which is how it should be.
And, when Modi said in his recent interview with TIME magazine that "democracy is in India's DNA", he acknowledged that freedom of the press is also in India's DNA. Nevertheless, plurality of views in the Indian media, and the freedom to express them, must be defended constantly by vigilant sections of our society, journalists included. And this also applies to defence of secularism, which is the bedrock of our democracy and a guarantor of India's unity.
An important and obvious area of weakness in the Modi's government's communication strategy is that it has got excessively personalised by the prime minister himself. Barring a couple of senior ministers, other voices in the government are hardly being heard. Even these senior ministers are not engaged in communicating the government's vision. They stick only to the nitty-gritty of their work. If this situation is not corrected in Modi's remaining four years in office, his government's efficacy and public image will surely be affected. Already questions are being raised, both by media-persons and well-informed sections of the public, about the performance of many ministers and ministries.
Modi should not carry the entire burden of good performance of his government, and its effective communication, on his own shoulders. No prime minister, howsoever powerful or capable, can succeed in such effort, especially in a vast and diverse country like India. For any team to win, the captain must no doubt play well and lead from the front. But he alone cannot ensure his team's victory. How the team as a whole performs matters. On this criterion, the Modi government's first year in office serves as a poor benchmark.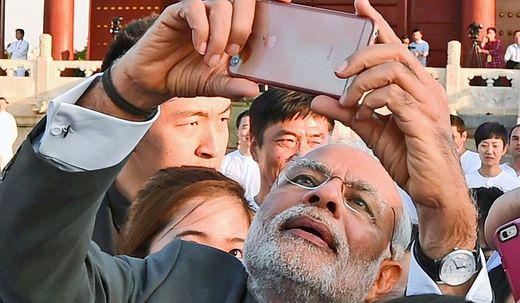 Whereas the Modi government needs considerable self-correction both in performance and in its communication to the people, I strongly think that the Indian media also is in need of serious introspection. For India to become stronger and achieve all-round development rapidly, the media's role has to become a lot more constructive and development-oriented than is the case today.
Most people in the media, both owners and practising journalists, behave as if the nation's progress and society's development is the responsibility of government alone, and that newspapers and TV channels have no specific role in it. After the initial decades of India's independence, and especially since the advent of liberalisation of the Indian economy, large sections of the media have come to believe that their narrow commercial considerations must take precedence over their duty to contribute to strengthening of India's democracy and development.
This has resulted in two outcomes that are debilitating both the media and India's democratic system as a whole. First, an excessively commercially oriented media can neither command the respect of the government of the day nor be in a position to function as an effective and independent watchdog. Secondly, when commercialism infects politics, governance, media, judiciary and other institutions, India's democratic system itself becomes infirm.
It is a pity that, during Prime Minister Modi's first year in office, the larger questions about how to comprehensively reform all our democratic institutions have not even begun to be debated. And, unless India embarks on this wider reform agenda, no prime minister and no government can be very successful even if they have a good vision and ambitious plans.
A former aide of Prime Minister A.B. Vajpayee, Kulkarni can be reached on sudheenkulkarni@gmail.com.