All or part of 300 original First Folios still survive

Elizabethan theatregoers could purchase apple and pears to eat during the show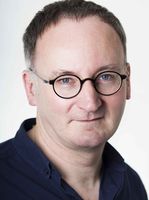 Shakespeare: twenty-something? It doesn't sound all that likely, does it? For one thing, the great playwright will be 452 years old in April next year, and such a canonical writer, mainstay of conservative school and university syllabi, and stalwart of imperial propaganda seems hardly likely to bring fire to the minds of student-age people.
But I disagree, and I have good reasons, too.
By which I don't only mean the impact of cinematic Shakespeares such as Baz Luhrmann's Romeo + Juliet, which in 1996 enthused a world of 16-year-olds with its energetic update of the best of love stories, or more recently, Much Ado About Nothing by Joss Whedon (of Buffy, Angel and The Avengers fame), though these movies unquestionably help a great deal to introduce new generations to the pleasures of Shakespearean drama.
No, it is living in London that does it, not only seeing the twenty-something theatregoers, who crowded into the Barbican Theatre to see the Benedict Cumberbatch-starrer Hamlet or who crammed the yard at Shakespeare's Globe, ignoring all the varieties of London weather, to lean up against the stage and absorb the intense immediacy of the action, but daily encounters with my students, who continue to turn to Shakespeare when they come to university, as I did at their age. They find in his plays an extraordinary command of language, an unparalleled ability to speak in others' voices, to express the hopes and fears of generations, to struggle with greed, injustice, violence, social inequity and desire in ways that speak so strongly and clearly to the present moment.
I am fortunate enough to teach English Literature at King's College London, one of the major colleges of the University of London, with as central a location as can be, between the Strand—historic thoroughfare from Westminster to the financial hub of the city—and the Thames. I am fortunate not only because of this location, but because of the magnificent, energetic and engaged students I teach, though the location does help, no question.
Just 20 minutes' walk along the river—by way either of St Paul's Cathedral on one side or Tate Modern, an art gallery, on the other—brings me to the reconstructed Globe. Twelve years ago, Patrick Spottiswoode, the Globe's charismatic director of education, and I created a Master's degree in Shakespeare Studies, which is run jointly by King's and the Globe and continues to thrive. In fact, it is growing with each year as more and more applicants from across the world see in an MA in Shakespeare Studies not the esoteric study of an establishment icon, but a practical opportunity to immerse themselves not only in the incomparable language of the plays and the ways they can be staged but also in the opportunity the degree offers to be part of, to belong to one of London's major theatres, one that has had education right alongside performance at its heart from the very beginning.
For these twenty-somethings, the degree offers something priceless, an entrée into London's cultural sector, a point of access into the backstage world of the theatre, to engage with the work that goes on behind closed doors to make possible the performances you see on stage. Some of these students wish to act or to direct, as you would expect, but most, I have learned over the last few years, want to find different ways to be involved in the creative process—from dramaturgy to theatre education, from digital development to public outreach—and the degree, over the decade-and-more of its existence, has provided these opportunities.
I hadn't realised the extent to which our MA had established a network across London until I began the conversations that led to the establishment of Shakespeare400, a consortium of 25 of London's leading cultural organisations—from the British Library to the London Philharmonic Orchestra, from Rambert to the National Theatre—together creating a season of performances and events to mark the Shakespeare quatercentenary in 2016.
Going backstage at each of these extraordinary organisations to begin conversations about 2016, I found that I didn't have to introduce myself in any detail because there was invariably someone working there who had taken our MA a few years earlier and had already done the work of introduction to her or his colleagues, and I found, to my delight, that our former students had succeeded in finding their way into the kinds of employment—creative and inspiring work in the cultural sector—that they had dreamed of when they first started their studies.
Above all, of course, it is the global appeal of London itself that draws these students in. For the polarities have reversed: Shakespeare is unquestionably now first and foremost a global, not merely a British, playwright, and the excitement of new theatrical discoveries about Shakespeare comes as much back into London as it goes out from here. Anyone who saw the 'Globe-to-Globe' productions for the World Shakespeare Festival in 2012, when companies from around the world came to perform their own versions of Shakespeare in their own languages, wholly upstaging the homegrown British productions of that year, knows that the energy of Shakespeare in performance now comes from beyond the anglophone world, or, rather, the process goes both ways, cross-fertilising, releasing new creative energies, across the barriers of language and culture.
During 2016, two productions at London's Barbican Theatre promise to underline this: innovative Belgian director Ivo Van Hove and Toneelgroep Amsterdam's compressed Shakespearean history cycle Kings of War and Malthouse Theatre's production The Shadow King, a radical adaptation of King Lear relocated to aboriginal northern Australia.
My students respond to Shakespeare as modern twenty-somethings inhabiting a global culture, one in which they can make new discoveries that have a powerful effect on their sense of identity as global citizens. So, for instance, each year one or other of my British Muslim undergraduates realises that Britain's cultural encounter with Islam did not begin, as they tend to assume, in the late 20th century, but as far back as Shakespeare and his contemporaries and indeed far further. So we ask what it meant to the first audiences in the Elizabethan Globe that Othello is a 'moor'—in those days a generic term for 'Muslim'—and we look at plays such as The Renegado by Philip Massinger, one of Shakespeare's successors at the Globe, which is set in Syria at a time of immense tension between east and west.
For these twenty-something Londoners, suddenly Shakespeare's London seems very immediate, very real, a time and a place struggling with so many of the same tensions and issues that affect us now, from immigration to racism, sexual violence to homelessness.
And if any country in the world beyond Great Britain should be aware of the power of Shakespeare to express these immediacies, it is surely India, not least because (and this statistic tends to surprise people in India) there are more films of Shakespeare's plays or adaptations, in one way or another, of those plays in the languages of the Indian subcontinent than there are in English.
From Bollywood movies so loosely based on a Shakespeare plot that the cast might not be aware of it, to powerful, highly conscious adaptations such as those of Vishal Bhardwaj, the Indian film industry is reshaping Shakespeare for the emerging generation and in the process creating a shared imaginative space for twenty-somethings, and everyone else, for that matter, that reaches all the way from Chennai and Mumbai to London and the world.
Gordon McMullan is professor of English and director of the London Shakespeare Centre at King's College. He is also the academic director of Shakespeare400 and general textual editor of the third edition of The Norton Shakespeare.