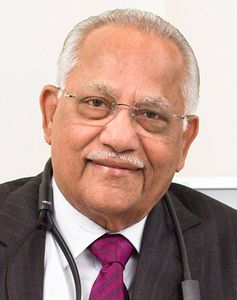 It is becoming increasingly clear that the world is living dangerously, either because it has little choice or because it is making the wrong choices about consumption and physical activity. On one side are millions who are dangerously short of food, medicines, health care, water and other essential resources. On the other are the millions who suffer because they consume too much. I touched upon this dichotomy, earlier this year, in my annual general meeting address to the shareholders of Apollo Hospitals.
Today, India's burden of maladies from noncommunicable diseases (NCDs) stands at a staggering 52 per cent. The tragedy is that most NCD-related deaths are preventable. You do not have to die of diabetes, or a stroke, or a tobacco-related disease and, increasingly, not even of cancer. Yes, good health care can be expensive, but health is not just about money. What is the price our nation will pay if we do not bring the best to those who believe in us? So I see price and value differently. Value goes beyond sticker prices, and alludes to the unquantifiable intangibles—care, compassion and, above all, unmatched clinical outcomes. And we can be proud that we have succeeded in delivering clinical outcomes comparable to the best in the world, at costs which are among the lowest.
And we have done this, while ensuring the highest standards of service. Our emergency rooms and super-specialists are available to save lives 24X7. We have built this mechanism consciously because we are aware that disease doesn't make appointments, accidents do not choose auspicious times. We [Apollo Hospitals] launched our emergency response number 1066 twenty-five years ago. With a less than 10-minute pickup time across 500 daily calls, it is a beacon of hope for patients across India today. We only want that more and more people, especially the young, are aware of these, and use it effectively when disaster strikes.
Apart from the high population density and infrastructural challenges, a key impediment to affordable health care in India is the lack of insurance. Indians are forced to meet more than 62 per cent of their health care expenses out of their own pockets. Government insurance schemes have so far not been able to reduce this burden. The nine-year-old Rashtriya Swasthya Bima Yojana, for example, does not cover outpatient expenses. Its insurance of Rs 30,000 for a family of five has remained the same while hospitalisation costs have risen. Some such as the [Jan-Dhan Se] Jan Surakhsa schemes are hampered by a lack of customer awareness. Bolstering these policies, both in formation and implementation, would be the first step towards making health care affordable.
Disruptive technology can reduce costs in the health care sector. By improving internet connectivity, telemedicine can be taken to the remotest areas, and this must be a priority. Mobile applications such as the government's Swasth Bharat can provide information on diseases, symptoms, treatment, health alerts and tips, allowing patients to conduct basic diagnoses on their own. An extension of this would be e-kiosks which allow people to conduct blood, glucose and other tests. Technology-enabled home health care must also be leveraged to free up scarce hospital beds, speed up recovery and reduce costs.
However, the most effective way to make health care affordable is also the simplest: catching disease early. In my view, not enough attention is paid to this. The initiation of a population-based prevention, screening and control programme for the major NCDs must be taken up on war footing. This is where I think we have to be innovative and maybe even unorthodox in our thinking given India's needs, disparities, hopes and aspirations.
We have to analyse where the damage begins. Let us just look at any tobacco-related disease. Tobacco kills one million Indians annually, more than tuberculosis, HIV/AIDS and malaria combined. Tobacco is a vector for some cancers and cardiovascular diseases but also for other lifestyle diseases. I believe tobacco consumption is a communicated disease—communicated through advertising, marketing and promotion. The target is India's young men and women and, increasingly, children. Most of the one million tobacco-related deaths can be prevented. The government is doing what it can, but we have to step up our efforts. We have to advocate strongly wherever we can. I am talking here of missed opportunities. When someone comes in to get checked for tuberculosis, the question doctors must always ask is if the person is also a smoker. Doctors have to enlarge their line of thinking to encompass areas for early detection so that prevention becomes part of our thought process.
Preventive health check-ups must become a part of our cultural make-up. We must make it a modern Indian tradition. Instead of buying gold on Akshaya Tritiya, we must gift each other a health check-up.
Finally, the private sector in India is on par with the best in the world in terms of technology and clinical outcomes. This expertise must be harnessed through public-private partnerships (PPPs) to make health care more accessible. Unfortunately, the PPP model has not taken off on the scale needed.
If 'Health for All' is to become a reality, we must think in new ways. We must not accept the status quo and we must challenge entrenched ways of thinking about health. After all, today even heart disease can be reversed and awareness of this is the first step.
India is rising and we are all proud of our nation being counted among the fastest growing economies. In health care, we are constantly pushing the boundaries by sharing and collaborating to improve patient experience, transforming care delivery through telemedicine and optimised protocols, digitalising and democratising health through mobile solutions and telemedicine, and working with Artificial Intelligence and Big Data to develop India-specific patterns for disease detection and cure.
On the other hand, we do have formidable challenges. The tsunami of NCDs is a big threat to the lives of our biggest assets, our real strength, the young IT professionals, doctors, lawyers and entrepreneurs who are the engines of tomorrow's India.
As a nation, let us be committed to the health and well-being of our people. 'Health for All' demands that we ensure universal health insurance coverage, put in place comprehensive programmes for preventive health, and continue building world-class infrastructure. We should also implement technology-enabled access and build strong health care skills. Above all, we need to focus on empowering the individual to take charge of his own health, and be responsible for his well-being. The right combination of all of the above is the perfect prescription for a healthy India.