Our exes can be a headache. They wield a lot of power over us; some just can't get used to taking a backseat to our current relationships, and do everything they can to grab our attention. I'm talking, specifically, about the most troublesome of exes: ex-presidents.
Yes, there are former presidents who simply disappear from the headlines and public life once their tenure is up, as George W. Bush did. They decide that the best thing they can do for their country is to leave the current president alone to do his job. But there are other exes, like Colombia's Alvaro Uribe, who act like they have never left office, and feel entitled to weigh in on every issue.
And then there are the thieves—those former presidents who used their years in power to get rich. Latin America has a great many thieving exes in its past. It is hard to think of anything more foolish than stealing while the whole world is watching, but after a few months in office, some presidents start to think that they are above the law. They regard the national budget as a private bank account— theirs to do with as they wish. Some even start doling out gifts to friends and family, or sending them on luxury trips at taxpayers' expense.
It is easy to pinpoint who the thieves are. Almost every former president had a previous career in public service, so all you need to do is tabulate what they were earning before they got elected, then see if that financial reality matches up with their net worth after leaving office. Sadly, the numbers almost never add up. But it is difficult to prosecute and jail former presidents because they know the rules of the game and tend to have dirt on their potential accusers. If they go down, they'll take others with them.
In fact, it is so difficult to imprison a criminal ex-president in Latin America that we should highlight those countries that have succeeded or, at least, are trying to. Guatemala, Peru, Panama and Brazil set the example when it comes to combating thievery, corruption and impunity. Guatemala's Otto Perez Molina is behind bars; Alberto Fujimori and Ollanta Humala are in prison in Peru; Panama has asked the United States to extradite Ricardo Martinelli; and Luiz Inacio Lula da Silva was recently convicted of money laundering in Brazil.
Whenever I interview a presidential candidate, I always ask two questions: "How much money do you have?" and "Are you a millionaire?" It is much easier to do the math if we know what presidents are worth before their terms.
It has been my experience that most candidates don't know exactly how much money they have. Many become especially forgetful after leaving office, but the job of prosecutors and journalists is to help them remember everything they have purchased with taxpayers' money.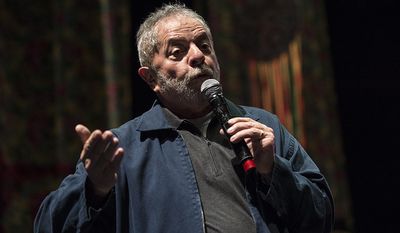 That said, no ex-president has ever been convicted of corruption in Mexico—a country where, for decades, millions of dollars were secretly allotted for the commander in chief's discretionary use.
A few years ago, Angelica Rivera, the wife of President Enrique Pena Nieto, bought a luxury home worth millions from a government contractor—an obvious conflict of interest. Following a national outcry, Pena Nieto ordered a hoax of an inquiry, putting one of his subordinates in charge of investigating whether this real estate deal involved any wrongdoing. Unsurprisingly, Pena Nieto and Rivera were cleared.
As Jimmy Morales, the president of Guatemala, told me during a recent interview, there are societies that have come to accept and tolerate a certain level of corruption. Even if a new, incoming president wanted to go after a predecessor, it is not easy to go against the grain. He or she might prefer to focus on issues that benefit millions of people.
The only way to foster real change in Latin America might be to go after a couple of our exes. It's simply not a matter of revenge, but of justice.
Ramos is a veteran journalist and author.