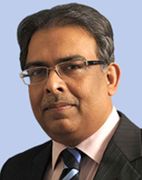 The outrage over Delhi's rising air pollution has a sense of déjà vu. With the onset of what is still a feeble winter, the air quality in India's capital has again become appalling. Particulate matter—particles so small they can be ingested deep into the lungs—and a toxic cocktail of nitrogen oxide, ozone, benzene, carbon monoxide and sulphur dioxide hang heavy over the city.
Public outrage has spiked. A court wonders whether Delhi has become a "gas chamber". Truth be told, the megacity has turned a "gas chamber" in winter for a long time now. We all know what is leading to Delhi's foul air—diesel emissions, construction dust, brick kilns, burning of crop stubble in farms around the city.
We know that the city's 85 lakh vehicles are the prime contributor to the pollution. Subsidies on the fuel mean that people are buying more diesel vehicles. An exhaustive 2012 study found that a frightening number of the city's children had impaired lung function. Hospital emergency wards receive a disproportionately high number of people suffering from respiratory distress during winter.
Delhi cleaned up its air some 15 years ago. We also know that some eight years ago, it all began sliding back. Delhi simply forgot the second-generation battle against air pollution.
On the other hand, over the years, Beijing, the other city in a dubious competition with Delhi, set higher emission standards, capped the number of cars sold in the city, banned diesel cars and took pollution emergency action. "We could not keep the momentum going. There wasn't any aggressive control of pollution," says Anumita Roychowdhury, executive director of Centre for Science and Environment.
The city needs to scale up its public transport, clean up the congestion around Metro stations and improve last mile connectivity from the stations to neighbourhoods. Imposing a congestion tax and making parking more expensive should help dampen the city's car addiction. Slashing of diesel subsidies or higher taxes on diesel vehicles could help. The government should take emergency action to reduce emissions on high-pollution days.
Recently, the Delhi government proposed that private vehicles with odd and even registration numbers would only be allowed to operate on alternate days to curb pollution. Nobody quite knows how it will be implemented in such a chaotic city. More sensibly, it proposes shutting down power plants, vacuum cleaning roads, restricting movement of trucks and a parking ban on certain roads.
"But as soon as winter eases and we come to the end of January, things will be back to square one. Nobody will be talking about the pollution anymore," says environmental lawyer Ritwick Dutta.
Delhi's failure to keep its air clean mirrors the problems the country faces in carrying out root and branch reform. Using air purifiers and masks will not help solve the problem.
India needs to seriously begin putting into action a comprehensive clean air law, which dates back to 1981 but is hobbled by poor implementation. As one lawyer tells me, there has not been a single conviction under this law, which recommends a minimum punishment of 18 months for an offender.
Successive governments have shied away from cutting subsidies that end up benefiting the rich.
"Delhi should be a wake-up call for the rest of the country. But ignoring others or passing the pollution to neighbouring states will be self-defeating," says Dutta.
Biswas is features and analysis editor, BBC News.