The average number of actors required for a Shakespearean comedy is 18; for tragedies it is 27 and for histories it is 35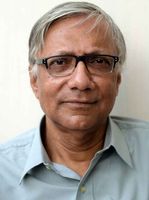 WHEN I walk down the maze of narrow lanes around Sealdah or Chitpur in old Kolkata, I find myself thinking about the ambience of Shakespeare's London, which must have been more like these areas than like London today: unplanned, untidy and bustling with a crowd of people living hectic lives in little space―vibrant, deeply human, exhilarating, but with a hint of latent violence.
Violence was endemic in Elizabethan London, often instigated by young apprentices in various trades as by students today. Yet when harder ruffians broke out fighting, it was the job of these 'prentices' to rush out with sticks and quell it. There were plague epidemics when theatres would be closed, acting companies toured the countryside, and minor actors were left jobless.
There was also much crime, not only violent ones but cheating and corruption of all kinds. Shakespeare's contemporary Robert Greene wrote regaling accounts of such goings-on in his 'cony-catching pamphlets', 'cony' (rabbit) being underworld slang for fraudsters' victims. There is a whole genre of 'city comedies' that presented this cynical and exuberant world by playwrights like Ben Jonson, Thomas Dekker, Thomas Middleton and Philip Massinger. The best single view is perhaps in Jonson's play Bartholomew Fayre.
There was also a darker, more sinister edge to the times. Like most Renaissance regimes, Elizabeth's England was a police state adept at spying, imprisonment, torture and assassination. The dramatist Christopher Marlowe combined espionage with student life at Cambridge, like MI6 agents four centuries later, and was murdered in suspicious circumstances in a tavern brawl. The biggest single target of persecution was Catholic spies and infiltrators, spearheaded by the newly setup Jesuit order; but extreme Protestants, the so-called Puritans, were equally suspect.
England was a small, poor and politically insecure country, doubtfully protected by the English Channel from the great Catholic powers of Spain and France. Elizabeth, herself head of the moderately Protestant Church of England, had to steer a tricky political course and politics, in that age, was inseparable from religion. In 1588, Spain sent a large fleet, the Armada, to attack England. Luckily for Elizabeth, a storm scattered the invaders.
The surveillance regime never relaxed. Among other consequences, all plays for public performance were censored. Shakespeare's characters swear improbably by 'Jove' (Jupiter), as they could not by the Christian God. More seriously, Shakespeare's company courted trouble in 1601 by acting Richard II (where Henry Bolingbroke overthrows and supplants the king) just before the Earl of Essex staged a revolt against Elizabeth. In 1597, Jonson and his colleagues were put in jail for the play The Isle of Dogs, thought to satirise the Queen. We cannot tell; it was suppressed so effectively that no copy exists.

This was the world underlying Shakespeare's plays, impacting on their stage production, and, sometimes, surfacing in the action. Henry IV presents a double world: the high politics at court, but with Hal the Crown Prince playing truant to consort with the fat knight Falstaff (who blithely takes bribes when recruiting for the army) and other disreputable company in Eastcheap, a low-downmarket area. Still more sordid are the brothels and taverns of Measure for Measure, set in Vienna but suggesting London. A callow deputy proclaims the death penalty for illicit sex, but himself tries to seduce a girl, who comes to plead for her brother, arrested under the morality act.
Shakespeare's audience were denizens of such a world. His plays could present it directly, or by repackaging its colourful, sensational, compelling spirit in seemingly remote tales of rulers, lovers and adventurers. The people watched them as we watch Bollywood movies or TV serials.
English Renaissance drama was not a removed intellectual product. It had to pay its way by entertaining a mixed crowd. Its mainstay was the public playhouse, with an open-air stage jutting out among the audience. The poorest 'groundlings' paid for standing-room only, and hawkers sold pies and oranges while the play was in progress. All performances were by daylight: Hamlet with its ghost, Macbeth with its witches, A Midsummer Night's Dream with its fairies.
The first such venue where Shakespeare was shareholder and chief playwright was called simply 'the theatre'. It was replaced by the famous Globe. There were also indoor 'private' playhouses with artificial lighting catering to a more select audience, like Blackfriars owned by Shakespeare's company. Most Shakespeare plays were performed at both kinds of venues. Props and sets were rudimentary, though costumes were sumptuous. Attempts at realistic settings could misfire, even literally. The Globe burnt down in 1613 when a cannon, fired during a performance of Henry VIII, set the straw roof ablaze. Another time, a woman and child in the audience died when a real bullet from a stage gun went astray.
It was better in every way to let the plays work by the power of their poetry, activating the viewers' imagination. It was this strategy that created the miracle of English Renaissance drama. From the 1580s, a new generation of playwrights began writing for the English stage. Some had been to university; others, like Shakespeare, to the excellent grammar schools of the time. They had read classical literature, in Latin and perhaps Greek. Much more crucially, they included poets of genius, Shakespeare above all. They set about a new combination of elements: probing the personalities behind the action, and bringing their motives and emotions to life by the power of the verse. Almost as crucially, Shakespeare's company acquired a group of remarkable actors who could speak that verse and render the complexity of the characters.
Shakespeare was Shakespeare. But even genius needs to be liberated by environment and circumstance. Theatre, in particular, is a highly socialised form of art: many people must work together to produce it, and the audience, too, imbibe it actively. All these people, in turn, must be motivated by the ambience of the age. The last decades of the age of Elizabeth worked the cultural chemistry to create this body of great theatrical art.
Chaudhuri is Professor Emeritus at Jadavpur University.