Shakespeare is thought to be the world's most produced and adapted playwright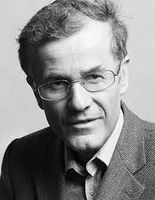 IN most of the English-speaking world, if you talk about 'The Bard' you mean William Shakespeare. In Scotland, though, things are different. Scots revere Shakespeare's genius; it's just that in Scotland 'The Bard' is Robert Burns.
As far as we know, Shakespeare never called himself a 'bard'. The word was applied to him only after his death, and came to be more widely used for him in the 18th century.
Shakespeare was a dramatist born before the United Kingdom existed; he lived his first 39 years under Queen Elizabeth in an independent England; only the last 13 years of his life were lived under the Scottish monarch King James VI, who succeeded Queen Elizabeth in 1603, becoming England's King James I. It was in 1603 that the thrones of Scotland and England united, with the new king's court based in London rather than in Edinburgh.
Englishness is vital to much of Shakespeare's work, and his attitude towards Scotland, if we can deduce it from his 'Scottish play', was hardly dewy-eyed. If all you knew of Scotland was derived from Macbeth, then you would know it only as a place of regicide, betrayal and torment, a blood-drenched region whose only hope lay in being civilised by English influences. You wouldn't want to go there. It is tempting to think that England's greatest dramatist had a distinct vein of Scotophobia.
Though few Scots reflect on that today, it may help explain why in the 18th century, the century of the Scottish Enlightenment, there was an eagerness in Scotland to find a bard who was Scottish, rather than English. Publishing his poetry in the 1780s, Robert Burns was welcomed in Edinburgh as 'Caledonia's bard'. Indeed, the designation of Shakespeare as a 'bard' was probably intensified as a kind of English counter-measure against the Scots' propensity to identify various 'bards' of their own, among whom Burns (1759-1796) is now the most celebrated.
For a time Shakespeare was one of the King's Men, working with a theatre company of that name which won the approval of the new British monarch. While the word 'king' features in the titles of many of Shakespeare's plays, and England's bard was clearly fascinated by England's monarchy, Burns's loyalties to the monarch who occupied the British throne in his own day (the mad Hanoverian monarch George III) were far more questionable.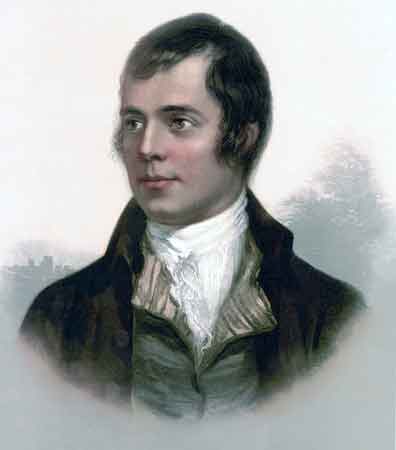 It is not just that Burns's sympathies lay with the exiled Stuart monarchy; at times he seems to have questioned the privileges of monarchs in more radical ways. One of his greatest songs is a hymn to universal brotherhood which sounds fired up by French Revolutionary enthusiasm. It admits that 'A Prince can mak a belted knight', but makes it clear that no Prince can make 'an honest man'; in the French Revolutionary era of 'liberté, egalité, fraternité', Burns sings of how 'Man to Man, the warld o'er, / Shall brothers be for a' that', and mocks any titled aristocrat who 'struts and stares, and a' that'.
What in Shakespeare's history plays might be dismissed as plebeian insolence becomes in Burns something to be celebrated. The visitor who wrote down the last detailed conversation with Burns to be recorded during the poet's lifetime stated that Burns and a friend were 'staunch republicans'. That aspect of his character is certainly one thing that makes Burns a very different bard from the King's Man, Shakespeare.
It would be wrong to suggest that every Burns Supper (held on January 25, Burns's birthday) is either a republican carnival or an occasion for cocking a snook at Shakespeare. Indeed, many Burns supperers are monarchists, and many, like Burns himself, admire Shakespeare's genius with language. Yet, Burns remains a focal point for Scottish cultural difference within Britain. The democratic tone of much of his greatest work is significantly different from that of Shakespeare.
In the 19th century many of the grandest Burns suppers—whether in India or America, Australia or Canada—would include the drinking of toasts to other poets, including Shakespeare. In one grand Burns Supper held in the Scottish industrial town of Paisley in the late 19th century, toasts were drunk to Shakespeare, Walter Scott, Tennyson, Irish poets, American poets, Scottish poets, and other worthies: there tends to be rather a lot of toasts at Burns suppers. Today, though, it would be unusual to have Shakespeare toasted at such an event.
Burns suppers now are predominantly celebrations of Scottish culture in particular, rather than a celebration of poetry in general. If you tried to introduce a tribute to Shakespeare at most Burns suppers today, people would look at you as if you didn't understand the rules.
From a 21st century perspective, we can say that one of Burns's most famous songs—'Auld Lang Syne'—has been sung in more Hollywood movies than any other song except 'Happy Birthday'. Yet not all moviegoers would know this song was by Burns. If he remains a part of international popular culture, Burns hardly occupies the same lofty position in the pantheon as Shakespeare. Burns's work has been translated into many languages, and some snatches of his poetry—such as 'to see oursels as others see us' (from his poem 'To a Louse')—are still quoted, but he is not quoted with anything like the same international frequency as Shakespeare.
Yet, in Scotland, children tend to learn Burns's words at school before they read Shakespeare. Many Scottish primary schools hold Burns recitation competitions, and he is still regarded both officially and unofficially as the national bard. His gender politics may have been suspect at times, but his charisma remains undimmed. In English schools his work is rarely taught, and few English universities offer courses on Scottish literature.
Still, Burns's levelling, democratic tone remains attractive, though readers of his work soon realise that he could write in formal English as well as in Scots dialect, and that he could sound highfalutin as well as homespun. Like 'Auld Lang Syne', his poetry tends to call together a community around it. Bonding his own voice to the anonymous voices of older Scottish popular songs, which he collected and refashioned, he made himself a pre-eminent voice of his people, truly a national bard.
None of this is sufficient to explain why in recent decades Scottish and English political energies have propelled the two countries further apart, but if in their 2014 independence referendum the Scots voted only narrowly to remain part of the United Kingdom, then Burns was invoked on both sides of the argument.
Unionists invoked a little-known Burns poem called 'The Dumfries Volunteers' in which he appears to pledge loyalty to British monarchy, and urges 'Be Britain still to Britain true/ Amang oursels united'; yet it is hard to argue that his heart is as much in that song as it clearly is in 'Such a Parcel of Rogues in a Nation', a work which denounces the Scottish parliamentarians whom Burns regarded as bribed by 'English gold' to sign the 1707 Act of Union which united the English and Scottish parliaments, and resulted in Edinburgh losing its own parliament for almost three centuries.
In this poem, as elsewhere, Burns celebrates the medieval Scottish freedom fighters Robert the Bruce (who defeated the English at Bannockburn in 1314) and William Wallace (of Braveheart fame), contrasting their heroism with the venality and greed of those modern politicians who are his 'parcel of rogues':
O would, or I had seen the day
That treason thus could sell us,
My auld grey head had lien in clay,
Wi' Bruce and loyal Wallace!
But pith & power, till my last hour,
I'll mak this declaration;
We're bought and sold for English gold
Such a parcel of rogues in a nation!
Though Burns has other poetic voices, too, it is not hard to hear him in this song as the most compelling bard of Scottish nationalism—not a title that could ever be applied to Shakespeare. In 2016, the Scots, like so many people around the world, will be celebrating the 400th anniversary of Shakespeare's death, but no Scot is likely to see Shakespeare as their national poet. When I published a biography of Burns a few years ago, I was in no doubt about what to call it. With a certain sly wink, I titled it, The Bard.
Crawford, poet and critic, is professor in the School of English, University of St Andrews, Scotland.