Defence takes up a sizeable package of public expenditure that rightfully draws a strong debate on its modernisation. Big-ticket items do raise interesting views in the debate. The acquisition of a Russian aircraft carrier for the Navy caused quite a stir after the unprecedented price escalation cost the country a bomb. Next on the list is the proposed acquisition of Rafale fighter jets, which would be the most expensive purchase to date.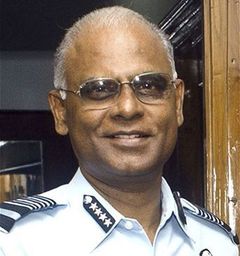 Cost is not the only concern; there appears to be a discomfort in taking decisions, which has led to extraordinary delays. India may well be creating a poor impression of its decision-making process. Fortunately, the country has a sharp-minded IIT graduate as defence minister, who is known for taking clear decisions, and we hope that the dust would settle down quickly.
Rafale is certainly a much-needed addition to the Indian Air Force. During the Kargil conflict, only Mirage 2000 had the capability to deliver a precision-guided bomb accurately on Tiger Hill, putting to rest the criticisms over its acquisition. We have ensured that its special features are embodied on the light combat aircraft and Su-30MKI.
Rafale would have better and wider capabilities in all weather. While speed and manoeuvrability are important traits of a combat aircraft, the demand in modern times is for flexibility of role while in air.
The 'swing role' fighter could carry a variety of weapons and sensors and be able to engage targets in air, on ground or at sea on a single mission. Rafale can perform 'swing role' functions though it may predominantly remain a multi-role combat aircraft (like Su-30MKI) that is configured on ground for specific missions prior to take-off. It promises more effective delivery, improved availability and longer technical life than any other machine in the current inventory. There is excellent scope to improve the Su-30MKI, which was designed 20 years ago, indigenously since it is being produced at Hindustan Aeronautics Limited.
The Air Force, for long, has been working on regaining its squadron strength. It may not be such an urgent need but would possibly be a projection for the future. The Air Force may be short on squadrons but in terms of firepower, it has four times the strength it had two decades ago when it had around 40 squadrons.
EACH Su-30MKI (more than 250 of them) has at least four times the potential of an old MiG-21 FL. What is important is 'operational availability'. Effective management follows good planning to ensure maximum availability and a systematic repair/ overhaul line.
It would not be a good idea to get new machines if the old ones are awaiting repair in the hangar. However, numbers are important to mount effective operations. Experienced air forces plan for 'high-low mix'. For India, a combination of LCA and Su-30MKI/ Rafale would make the low-high mix. Proportionately, low would be in larger number (low does not mean lack of sophistication but a lower level of ordnance carriage and range, and a limited role).
For a 'swing role' fighter to be effective, an advanced communication network, excellent real-time intelligence and a well-delegated and effective decision-making body are required. With the induction of multi-role combat aircraft, we expect to procure more advanced missiles, weapons and sensors.
Buying new planes, guns and ships alone would not make our military potent.
Innovative ways have to be found to reduce the cost of operations and of inventory management. Innovative ways have to be found to also improve manpower quality, and reduce surplus manpower. The tooth-to-tail ratio in the Indian military is one of the lowest among modern military forces.
While we criticise public sector undertakings, the time is right for the military to transfer its industrial functions to the private sector. Military service has gradually become a government job. While permanent commission is treated like permanence 'till death do us apart', those who join in short service commission are going to court to become permanent!
The Air Force must permit its personnel to retire after putting a minimum number of years of service. There should no longer be a difference between permanent and short service.
There is a lot on the plate for the government and the military to resolve. Modernisation is an all-encompassing exercise and is not limited only to inducting billion-dollar equipment.