This is that time of the year when the art world sits back and reflects upon the spoils of the previous year or the absence of it. Three major reports were released in the month of March, assessing the state of the global art market: The European Fine Art Foundation (TEFAF) Art Market Report, a report by Art Basel and UBS [financial services company that is the lead partner of Art Basel] and one by the French website Artprice. All three of them arrived at different figures.
TEFAF reported that auction and private sales in 2016 raised more than $45 billion, up 1.7 per cent from the previous year. Art Basel and UBS, on the other hand, arrived at the conclusion that sales had plunged 11 per cent since 2015. Artprice calculated only auction sales and arrived at a figure of $12.4 billion, down 23 per cent from the previous year. The TEFAF report showed auction sales to be $16.9 billion and Art Basel and UBS released a figure of $22.1 billion. You may be intrigued by the incongruities but that is inevitable because each agency uses a different database and the data is often compiled using divergent sources.
Calculating the actual worth of the art market is a tricky affair because so much goes unreported. There are unknown purchases by anonymous buyers who neither wish to reveal their identity nor make their purchases known to the world. So the discreet sales remain unaccounted for. Similarly, auction sales are taken into account while making the calculations, which tend to overlook several defaulted or delayed payments.
However, the three reports illuminated the fact that America continues to be the biggest regional market with about 33,000 high-net-worth individuals spending more than $1 million on artworks in the last two years. But Asia is catching up. China, according to Artprice, was the biggest grossing region when it came to auction sales in 2016. Chinese artist Zhang Daqian (1899-1983) was the world's biggest seller at auctions in 2016 with sales of $354.8 million.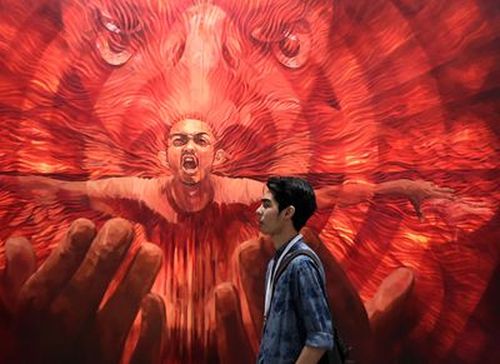 In fact, Asia is becoming a major player, now fuelled, according to UBS, by the creation of one billionaire every three days. Soon the global art market will revolve around Asian tastes. Last year, five of the ten most expensive auction lots sold at Sotheby's were bought by Asian clients. If you are rejoicing at the mention of an Asian upsurge, here's the dampener. This booming art market spreads from the Middle East to southeast Asia all the way up to China. South Asia, India in particular, draws a major blank on this art map. Though India has a fair share of billionaires, their absence from aesthetics is conspicuous and achingly palpable.
It is worth mentioning the meaningful role that Art Stage Singapore, founded by Lorenzo Rudolf [Swiss art dealer and curator], has played in making the city-state a major hub for artists, critics and art aficionados in southeast Asia.
China and other countries, including Singapore, have acknowledged the importance of acquiring and promoting culture, but not India. Look at the number of private museums that have come up in China over the last half a decade, leave alone the collections. It is mind-boggling. We are still drowned by our outdated mythical illusions of what contemporary art is and, therefore, far removed from the contemporary art world. We are yet to realise the importance of state and private patronage for art. It is something that goes back to the time when the Medici family backed Michelangelo's work. A tradition that has been maintained the world over by collectors, donors and behind-the-scene benefactors. The number of people who fall under any of those labels in our country can be counted on our fingers. Perhaps it is time to stand up and be counted and figure among those numbers mentioned above.
editor@theweek.in