Life is a tissue of experiences. For an artist, what he or she experiences is the subject matter for the work. Experiences can come from many ways. Or let me put it simply, every lived moment is an experience. It is just that we eliminate a few, distil some, edit others and embellish some others. They may come in the form of travel, interpersonal relationships, meetings, incidents and accidents. Each one of them takes the form of a dot in a line and continues to a drawing—its styles may be thick, thin or invisible.
Last time, I talked about how studio visits can be enriching experiences, and also mentioned about residencies in passing, taking the example of Anand Sarabhai's home as one of the finest residencies that artists could ask for, in India. When I talk about residencies, I am not taking a recourse to the days of rajas and maharajas and the feudal patronage that artists received in the past.
On the contrary, I would like to see the guardians of residencies as mentors or lovers of art. They provide or offer or create spaces for artists to further their experiences, either by meeting other artists in a communal space or finding time for themselves, shorn off all worries in the world, in a secluded space they can call their own. One such benefactor was from south India. Prema Srinivasan, of the TVS family, was a silent mover, who must have invited some of the most innovative architects, designers and artists to Chennai.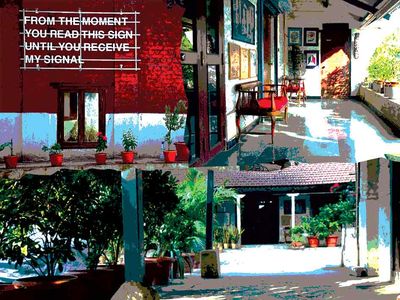 One of them was an Italian architect, designer and conceptual artist, Ettore Sottsass, who designed products for Olivetti and is famous for his bright red plastic portable Valentine typewriter. Many of Sottsass's designs were inspired by his travels in India. He did several experimental collaborations such as Superstudio and Archizoom Associati and went on to set up the Memphis collective in the eighties. Prema—I fondly call her Premaji—had introduced me to one of the most important contemporary artists of our time, Francesco Clemente, and the young Andrea Anastasio. She had also organised my first solo project with Suchi Ebrahin in Chennai, in 1993.
She had discovered me through one of my works that was part of my Amuseum show, held in 1992, that I had kept at the Shah House in Mumbai. Later, the exhibition travelled to Chennai. Incidentally, the Shah House deserves an entire column devoted to itself. Such has been its contribution to Indian art. But not now.
When we talk about residencies, we cannot leave out artist K.C.S. Panicker, who conceptualised an artists' community residency called Cholamandal Artists' Village. It might be our finest artist village, where art meets crafts. There are other remarkable ones that deserve mention, like Arts Acre in Kolkata, Vivan Sundaram's Kasoli Artist Centre and more recent, innovative, forward-thinking spaces like Khoj International in Delhi, 1 Shanti Road in Bangalore, Saloni Doshi's Space 118 in Mumbai and Krupa Amin's Space in Baroda.
I think the benefits of residency programmes are enormous. Residencies allow artists the opportunity to work in a communal space, where they meet other artists, peers, teachers and even people from other creative faculties. Where else but in a residency can you look at and discuss art, travel, food, culture and history, casually in a bucolic setting or around the dinner table? That too without being aware of what's percolating into the subconscious or anticipating how all of it will reflect in your work.
The friendships, fleeting or lifelong, are without doubt significant. A residency gifts an artist with not only the time and space, but also the experience he has gained from the interactions across different disciplines that he or she can carry forward.
editor@theweek.in