The Venice Biennale is the Mecca of global contemporary art. For those who are there and those who are not, social media is where the biennale can be seen and shared online. @labiennale, #VeniceBiennale, #Venice and #Arsenale are a few of the go-to tags on Instagram, Twitter and Facebook. Images and experiences will be shared by thousands of art lovers over the next six months. I also did my bit this year when I was there with colleagues from the Kochi-Muziris Biennale to attend the professional preview of this mother of all art events. I have not missed a single one since 2007, when Robert Storr curated that edition of La Biennale, as it is known locally.
Spread between the Giardini and the Arsenale, national pavilions are taken up this year by 86 countries, including not just powerhouses like Australia, Germany, France, the UK and the USA, but also countries like Andorra, Albania, Kiribati and Venezuela, which despite going through a national crisis, put up a decent show. So did Zimbabwe.
We ran into the president of La Biennale, Paolo Baratta, at the Turkish Pavilion. The meeting was nothing short of an embarrassment because our country, which is tom-toming about becoming a global superpower, has no presence at this marquee art event. Baratta told us that since La Biennale is not a commercial enterprise, they don't sell space or campaign or do any hard selling. But they always look into serious enquiries and wanted India to be part of the global gathering of art and culture, he added.
Presence at this biennale is critical for any country worth its cultural salt. The moment a country's art finds its way here, it automatically catches the attention of curators, critics, art dealers, gallerists and other cultural representatives from around the world. Therefore, nations with hopes of having their art taken seriously internationally seek a pavilion space. Once, in 2011, we had a temporary pavilion curated by Ranjit Hoskote. Ever since, we have been conspicuous by our absence, a fact that we cannot hide or have any explanation for when probed by fellow travellers at the event. China, Taiwan, Singapore, and even Thailand, have their own pavilions, so do Cuba and Iceland.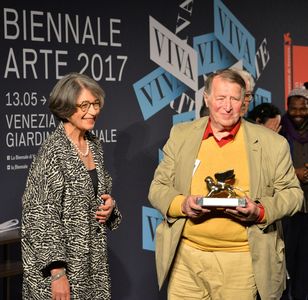 It is high time we learnt how to showcase the best of our contemporary art. That's what the world is keen to see but does not know where to find at international venues like Venice. We are simply not there. Venice is the face of international soft power: artists, shows, publications, media, power dinners, representatives of cultural institutions, curators, celebrities, museum officials, collectors and brands. It is a 360 degree celebration of art, 24x7.
There were thousands of artists present, including Anish Kapoor, Ai Weiwei, Ernesto Neto, Olafur Eliasson, Damien Hirst, Marc Bradford, Marina Abramovic, Maurizio Cattelan, Giuseppe Stampone, Subodh Gupta and Bharti Kher among others.
What was remarkable was the fact that 90 per cent of the 120 artists who showed their works at this biennale curated by director Christine Marcel were first timers. "Vive Arte Viva", as Marcel titled her exhibition, is "an exclamation, an expression of the passion for art and for the state of the artist.... It deals with the forms they propose, the questions they pose, the practices they develop and the forms of life they choose."
For the record, German artists Anne Imhof and Franz Erhard Walther won the Golden Lion awards for best national pavilion and best artist, respectively. The Silver Lion for best emerging artist was given to Egyptian artist Hassan Khan and Carolee Schneemann was presented with the lifetime achievement award. The Venice Biennale is on till November 26.
editor@theweek.in