Browsing in a bookstore recently, I found so many books about the making of famous films, like Sholay, Jaane Bhi Do Yaaro and Dilwale Dulhania Le Jayenge. They make for fairly interesting reading—all those magical ingredients coming together, inspired writing, clear direction, dedicated performances, some serendipity and vast amounts of hard work by cast and crew. You can read them just for nostalgia and anecdotes, or you can use them as a sort of manual on how to marry teamwork with individual brilliance to create something truly special—knowledge that is useful no matter what your line of work is.
But the books I would really like to see on the shelves of bookstores are, What Were We Smoking! aka the making of Jab Harry Met Sejal or How We Went So Terribly Wrong aka the making of Jagga Jasoos or A Cautionary Tale for Tubelight or The Fault Is Ours, And Of Our Stars for Bombay Velvet.
Of course, I am guilty of the occasional lapse into schadenfreude, of taking pleasure in the misfortune of others, (especially when things aren't going well for me, personally). But mostly, I just feel physically ill when a big production flops. It just seems like such a colossal waste—of money, time and energy, of blood, sweat and special effects that went into creating those six-pack abs and size-zero figures.
I love the movies and it exhausts me to make that trek to the theatre (I live 25km away from the nearest movie hall) and come back disappointed and bloated from eating too much junk food in a bid to distract myself from the junk unfolding on screen.
And so, I am suggesting postmortems. A CBI report, perhaps. An SIT. A deep dive into why highly talented directors like Anurag Kashyap, Anurag Basu, Kabir Khan, Imtiaz Ali, not to mention Vikas Bahl and Dibakar Banerjee, who have all made amazing films in the past, are not making them anymore. Is creativity a non-renewable resource? Like oil? As in, you are born with only this much and once you have made Queen and Gangs of Wasseypur, it is over? Like biryani at a low-budget party—ki, we are very sorry ji, par aap late aaye (but you were late), and all the mutton pieces have been consumed.
Or, is there an underground stream that wells up again and again, self-renewing, like Draupadi's magical handi or Jesus's miraculous multiplication of the loaves and fish? And if so, then what are we doing wrong that is damming up the wellspring so horribly?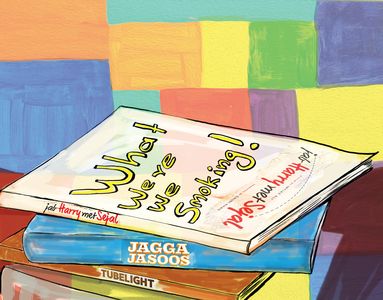 See, my point is that failure, if investigated honestly, unsparingly and unflinchingly, can teach us a lot. With the luxury of hindsight, we can look back and unerringly put a finger on where we went wrong. Did we rush in to shoot too fast, with an unready script and lazy pre-production? Did we make a bad casting decision? Order a major rewrite, aimed at placating somebody's ego? Get too self-indulgent, too drunk on the power of having the final cut? Or was it a case of the tail wagging the dog, where, in order to put in one particular scene that somebody important happened to be in love with, logic and storytelling were sacrificed? Were we rendered paralysed by how appallingly over-budget we had gotten? Or, were we trying to duplicate a formula that worked in the past, even though we know that what got us here, won't get us there?
Seriously, a genuinely introspective investigation like this, in book form, written by people who have seen both highs and lows, successes and failures, would make for fascinating (and highly educational) reading. But for that, we would first have to admit that we have failed, which seems to be something we are becoming (and not just the Bollywood producers among us) increasingly incapable of.
Anuja Chauhan is an author and advertiser.