When big ticket movie stars go public with a medical condition, I tend to get cynical. As I did with Angelina Jolie's mastectomy. As I also did with Deepika Padukone's front page confession about her clinical depression. I reacted with a sneer and a shrug. Yeah, right! Deepika and depressed! What about? Here's a woman who has everything going for her. Everything imaginable. She's young, good looking, super successful, popular, well-loved. What does she have to be depressed about? I realised I had totally missed the point. About Deepika. About depression. It really isn't about something obvious... something specific. Depression can hit anybody without a 'logical' reason... without a warning. And unless it is acknowledged and addressed swiftly, it can completely take over the person's life and destroy it over time.
When Deepika called to invite me to the launch of her foundation aptly called 'Live Laugh Love', I asked her several questions about the foundation's objectives and long-term plans. She patiently answered and then urged me to make it for the event to find out more from her team. By then, I had googled her very moving television interview with Barkha Dutt. I had figured no matter how competent an actress she may be, it's still not possible to fake this level of pain and suffering. Deepika had talked about a 'dark thing' within that used to take over her mind and body to the extent she could not function. There were days when she didn't want to get out of bed... or eat... or connect with anyone. She cried without 'any real reason' at the drop of a hat, and sometimes in public places, like airports or promotional events. It was scary. It was terrifying. She needed help. And she got it.
Deepika is fortunate in this respect. The most important part of her battle and recovery is the role played by her family. I was so touched by her parents' participation in the high-profile event in Mumbai, especially when her mother, Ujjala, spoke about that grim period in her daughter's life. Deepika herself admitted she couldn't have done it without the unconditional support and love extended by her family. For seven months, Deepika struggled to manage her condition, with the help of doctors and therapists (three of them are on her team). She was on medication that was carefully monitored, and she was encouraged to confront her inner demons head on. This must have been exceedingly difficult for someone who occupies so much public space. But, as her mother put it, the family's concern was for a daughter first and not the movie star. Her parents told her to walk away from it all if she was unable to cope. "Forget your career.... movies.... endorsements... money. Your health is far more important." This was the reassurance Deepika needed. This is what saved her.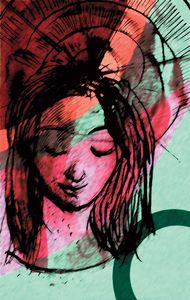 Any other star in her position would have thought twice about going public with a condition that is barely recognised as a health issue in India. Mental health is low priority in our society. We tend to dismiss it off as madness, or self-indulgence. A person seeking help in such circumstances is dubbed an 'attention-seeker'.
There were others who broke the silence over their own depression issues at the launch event. It must have taken a lot for fashion designer Sabyasachi Mukherjee to talk about his three failed suicide attempts. It took him seven years to finally fight his way out of the spiral of low self-worth. He says he woke up one fine day and told himself to snap out of it—he did just that!
'Live Laugh Love' is a good start towards generating awareness, not just on a micro level but across the board. Maharashtra's chief minister, Devendra Fadnavis, who was at the event, sought the help of Deepika's foundation to counsel the farmers of Vidarbha and Marathwada, since the farmer suicide rates in those arid, drought-hit areas are alarmingly high.
Sometimes, one influential voice is enough to break through decades of shame and silence. Well done, Deepika. It's good to see you live, laugh and love again.