I was visiting Dhaka after a decade. My two sessions at the seventh edition of the Dhaka Lit Fest sounded stimulating and fun. One of them was saucily titled, "Is Feminism the new F-Word?" The other was a one-on-one about my life and work with Antara Ganguli, who worked for the UN. Regardless. I was delighted to be invited, and looking forward to listening to eminent international writers, including Vidia Naipaul and Paul Theroux. Guess what happened? At the nth minute, citing security concerns, these fine authors cancelled. So did 17 others. Shocking, right?
First, money was demanded from organisers just to turn up, then came the no-shows. It is to the credit of the three bold and undaunted organisers that they decided to go ahead with the lit fest, thereby indirectly saying 'boo' to those who stayed away.
Of course, there were security issues. Show me one lit fest venue across the globe that can be called 100 per cent safe. Dhaka is definitely a high-risk destination, especially for bloggers, publishers and writers. Plus, there was the impending hanging of two 'war criminals' to deal with (they were hanged while we were there), but the city did not go up in flames or come to a standstill. There was palpable tension at the venue and around the hotel where authors were staying. But the presence of heavily armed security personnel everywhere was pretty reassuring. We were escorted at all times by a police van, with a volunteer in the front seat of our car keeping a look out for potential trouble. This is life today. From Paris to Brussels. Dhaka to Delhi. Deal with it.
While in Dhaka, I received an invitation to attend a lit fest in Jammu. I jumped at it. It is through nonviolent, intellectually vibrant events like lit fests, music and dance festivals, poetry and painting soirees that we can make our lives more tolerable.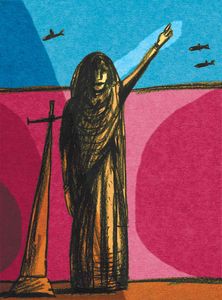 As I listened to so many strong and inspiring voices in Dhaka—Nayantara Sahgal's and Kiran Nagarkar's, for example—and when I, myself spoke to university students on a range of contemporary subjects, I thought of those who had chosen to absent themselves and felt sorry for them. Next, I thought of Sadaf Saaz, the beautiful and dynamic organiser, who said to me, "All of us spontaneously decided to go right ahead with the festival, even after those 19 last-minute cancellations. I told myself, even if nobody turns up, host the festival in a single room, but host it, you must." That is the spirit.
As it turned out, the Dhaka Lit Fest was declared a huge success. Locals came in droves and I was delighted to see people standing ten deep in the aisles at both my sessions. Yoss, a sci-fi writer/ musician from Cuba, was a big draw dressed in combat gear. Ciku Kimeria, a narrative performer from Kenya, wowed the audience with dramatised readings.
As for me, I was so astonished by the coyness adopted by one of the panellists who refused to identify, much less utter the 'F-word'! I happily volunteered to do so. Once it was out there, and nobody had fainted with shock, our session seamlessly resumed. Maybe, all of us had temporarily forgotten we were in the 21st century.
Over lavish dinners (home-cooked feasts), presided over by gracious hosts on the lawns and terraces of their magnificent mansions, invitees exchanged notes, laughed and chatted informally, refusing to yield to threats. A senior bureaucrat mingled easily with everybody and it didn't surprise me to discover he is a professional theatre actor.
Genuine respect for the arts is what all civilised societies seek. Today, we are at a stage when that very respect is under siege. Should we surrender to pressure and meekly give up our long-cherished freedoms? Or, should we take a cue from Sadaf and say, "We will go on... even if the creative space shrinks—literally and metaphorically—to a cramped room... and only the brave show up."
I have my answer. I am sure you have yours.