The shortest biodata for any governor of the Reserve Bank of India on the RBI website is that of a distinguished civil servant, N.C. Sengupta. Appointed in May 1975, the RBI website says, "N.C. Sengupta was appointed Governor for three months till K.R. Puri could assume office. Prior to his appointment as the Governor, he was working as secretary to the department of banking of the ministry of finance." Thereby hangs a tale.
Puri was chairman and managing director, Life Insurance Corporation of India (LIC). He was the nominee of Sanjay Gandhi for this prestigious post. His biodata is the second shortest. He was asked to step down a month after the Emergency was lifted and Morarji Desai became prime minister. Desai and his finance minister H.M. Patel then took the unusual decision to send an additional secretary in the finance ministry as governor till their preferred choice, I.G. Patel, could return home, from a UN assignment, and take up the post. That additional secretary in the banking department was earlier an RBI employee—M. Narasimham. He later distinguished himself as the author of many reports on financial sector reforms that the Narasimha Rao government implemented. Governors of all sizes have come and left Bombay's Mint Road. The Indian economy moves on. So, why all this hullabaloo and brouhaha about whether or not Raghuram Rajan will get a second term?
When Indira Gandhi returned to power in 1980, she did not give I.G. Patel a second term. In his autobiographical account of Indian economic policy, Glimpses of Indian Economic Policy: An Insider's View (2002), Patel recalls, "By the middle of 1982, it was clear to me that Mrs Gandhi would be happy to see me go. I had no hope or expectation, or indeed any particular desire, to have a second term and was quite prepared to leave at the end of my term. But I saw no reason to leave earlier unless I was asked to." (Page 176)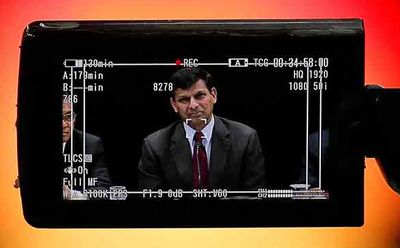 Those words must resonate in Rajan's mind as he reads speculative reports about his future. In 1982, Patel left the RBI to become director of IIM, Ahmedabad. In 2016 Rajan would probably go back to teach at Chicago, or to a better paid job in the US.
Why do so many in the media and among financial analysts make much of a muchness about the governor's second term? There would be some genuine and some not so innocent reasons. The genuine worriers would be those who are either truly impressed by Rajan's credentials and policies or those who might have invested in his continuation in a variety of ways.
The not-so-innocent worriers are chaps like Digvijaya Singh of the Congress party, who is also worried about Rajan's future. Singh must know what Indira, Sanjay and even Rajiv did with RBI governors. Rajiv did not give Manmohan Singh a second term in 1985. He sent a favoured IAS officer to Mint Road and packed Manmohan Singh off to Yojana Bhavan.
My friend and former colleague Swaminathan Aiyar has written a rather alarmist piece in The Times of India claiming that billions of dollars would fly out of India if Rajan is not given a second term. But then, Aiyar is prone to such exaggeration. In May 1998 he went along with a US assessment that the impact of US economic sanctions imposed on India in the aftermath of the Pokhran-II nuclear tests would be $21 billion. A couple of years later analysts G. Balachandran and T.C.A. Srinivasa Raghavan computed the total economic impact of post-Pokhran-II economic sanctions to be no more than $500 million! The media like to blow hot air into balloons that analysts prick.
Heavens will not fall if Prime Minister Modi chooses to be an Indira Gandhi and refrains from giving a Congress party appointee a second term as RBI governor. This is, after all, a semi-political appointment. Manna will not fall from heaven if the PM in fact does the opposite and invites Rajan to stay. Big deal!