Of all, the social scientists, economists have been the most successful in marketing themselves to governments and politicians. Every now and then one hears of a scientific adviser to the prime minister and sometimes of even a media adviser! But, rare is the PM who does not get himself an economic adviser. Prime Minister Narendra Modi may not have got himself an economic advisory council but even he has had to step out to say some nice words about the economists in his government.
But, look at public memory. When many think of the crisis of 1991, the heroes listed are often mostly economists. It is the clever and the wise economists who saved India from ignominy. The villains are the politicians, who are populist, and the civil servants, who lack imagination.
There is a long and proud tradition to that self-image of the economist as saviour. Historian Robert Skidelsky titled the volume dealing with the inter-war crisis years in his three-volume biography of John Maynard Keynes, The Economist as Saviour. Keynes and his fellow economists, says Skidelsky, viewed themselves as members of an "activist intelligentsia, claiming a right of direction, vacated by the aristocracy and the clergy, by virtue of superior intellectual ability and expert knowledge of society." They saw themselves as "the front line of the army of progress." (John Maynard Keynes: The Economist as Saviour, 1920-1937, Macmillan, 1992. Page 406.)
Ever since, economists have basked in this self-image as social saviours and commanders on the development battlefront. They have also been the most successful among social scientists in cornering cushy jobs in government and international economic organisations.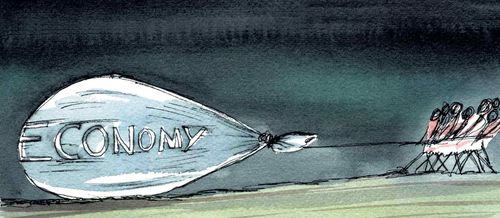 In remembering the economic crisis of 1991, during this silver jubilee of prime minister P.V. Narasimha Rao's handling of it, one must publicly recognise the role of several non-economists who played their part. Narasimha Rao himself, of course, and we must thank the young political scientist Vinay Sitapati for providing us a highly readable and balanced account of Rao's leadership in his recently published biography, Half Lion: How P.V. Narasimha Rao Transformed India (Penguin, 2016).
But, there are others, too. In all the recent writing on 1991 it is often forgotten that Rao and his team took charge of the economy only on June 21, 1991. For the first six months of the year, it was prime minister Chandra Shekhar and his finance minister Yashwant Sinha who had to hold the fort and avert default. Even their role has been partially acknowledged. But the ones whose names rarely figure in the media are president R. Venkataraman and cabinet secretary Naresh Chandra. Both were in office right through 1991.
Venkataraman knew a thing or two about the economy. Not only had he been finance minister in the early 1980s, during Indira Gandhi's second term in office, but he also negotiated the 1981 loan with the International Monetary Fund. His autobiography, My Presidential Years (HarperCollins, 1994), has a detailed account of the advice he regularly offered both Chandra Shekhar and Rao. Venkataraman's other regular interlocutor was Rajiv Gandhi. He kept counselling Rajiv, asking him not to precipitate an economic crisis through brinkmanship in political management. Rajiv was politically inexperienced and was under the influence of a myopic coterie that was desperate to get back the perks of power. They pushed him to precipitate a political crisis by withdrawing support to the Chandra Shekhar government.
During the turbulent months of January to May 1991, Venkataraman and Naresh Chandra, as heads of the state and the civil services, played a stellar role in steering policy and averting default. If Venkataraman was a wise counsel to the head of government, Chandra was an experienced and assertive cabinet secretary who ensured the political leadership stayed the course. No wonder that Rao relied on both when he took charge.