Vaiko's supporters may admire him as a straightforward politician, but the political turns and twists made by him make a corkscrew look straighter. The stormy petrel of Tamil Nadu politics exasperated his admirers by suddenly refusing to contest the assembly elections from Kovilpatti on the day he arrived in the seaside constituency to file the nomination. The town is famous for its groundnut barfis, but for thousands of Vaiko fans the announcement left a bitter aftertaste. The Marumalarchi Dravida Munnetra Kazhagam (MDMK) leader said he had intelligence that the DMK would unleash caste violence if he contested the elections. But he continues to be the force behind the assorted third front, comprising six disparate parties whose main aim is to end the domination of the Dravidian behemoths—the AIADMK and the DMK—over Tamil Nadu politics.
The impulsive withdrawal was typical. In 2011, miffed that J. Jayalalithaa did not give him enough respect, he announced his party would not contest elections. The eternal rebel showed his nonconformist streak when he quit the DMK in 1993 after patriarch M. Karunanidhi started projecting his son M.K. Stalin as the heir apparent over him.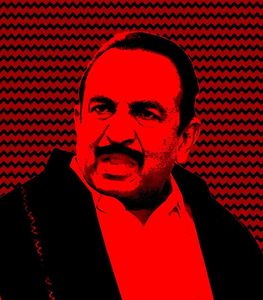 For a man described by his followers as the best chief minister Tamil Nadu never had, Vaiko has never been an MLA in his long career. He, however, was a Lok Sabha member twice and a Rajya Sabha member thrice, spending more than two decades in Parliament. His fiery speeches on diverse issues like support for a separate Tamil homeland in Sri Lanka and interlinking of rivers earned him the sobriquet "tiger of Parliament", though cynics said it was more in reference to his close friendship with the Liberation Tigers of Tamil Eelam and its commander-in-chief V. Prabhakaran. As an MP, Vaiko secretly crossed over to LTTE-held areas, causing a huge diplomatic and political storm.
As a parliamentarian, Vaiko never bothered to spend time in the Central Hall for gossip with fellow members, and instead spent all his time in the library. Another member who shared this aversion for gossip and love for books was socialist leader George Fernandes. Both were close friends of A.B. Vajpayee, helping the first BJP prime minister to stitch an alliance in the 1990s. Yet Vaiko walked out of the National Democratic Alliance and moved to the Congress-led United Progressive Alliance, which had Karunanidhi as a prominent leader. But he walked out of the UPA, too, and later tied up with Jayalalithaa. In the 2014 elections, Vaiko was part of the Narendra Modi-led NDA, but left it soon after Modi came to power.
Vaiko prefers physical endurance. He undertakes long padyatras across the state. When he launched MDMK, he spoke to an ecstatic audience for more than eight hours, ending his speech as the sun rose over the horizon with the promise of a new dawn. But political endurance and consistency is a problem for this principled politician, who preferred to make his colleagues Union ministers rather than accepting cabinet offers himself from Vajpayee and Manmohan Singh.