The confusion in the Narendra Modi government over the protocol treatment for Canada's defence minister Harjit Singh Sajjan has once again exposed the misgivings about Canadian Sikhs in the national security establishment, even though the Khalistan movement was crushed 25 years ago. Though the new Punjab chief minister Amarinder Singh raised the issue by saying Sajjan is a "Khalistani sympathiser", the speculation is on why the defence ministry first cancelled the tri-services guard of honour which is accorded to every visiting defence minister, and then restored the ceremony. Was it because higher-ups in the Army, which had fought a tough war to secure the Golden Temple in 1984 and was stunned by assassination of a retired Army chief, had reservations about Sajjan?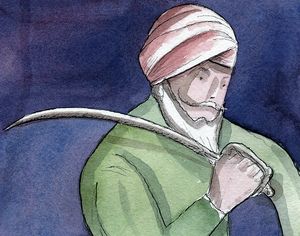 The intelligence agencies have continued to maintain dossiers on Khalistani activists and sympathisers. There have been plenty of warnings that rich and deeply angry PIOs (Persons of Indian Origin) are trying to stir the separatist pot, which has gone cold. There are a good number of Sikh citizens of Canada and the UK who are on the no-visa list maintained during the tenures of the Congress, the National Front, the United Front, the NDA and the UPA. This has been a sore point with the Canadian Sikh community. Akali chief minister Parkash Singh Badal had tried his best to get the ban lifted on "innocent Sikhs". But India's deep state of military and intelligence wasn't enthusiastic and blackballed Badal's proposition.

While Amarinder's description of Sajjan is attributed by critics to the large support given by Canadian Sikhs to the Aam Aadmi Party in the recent Punjab assembly elections, the Central government may never clarify whether the Canadian defence minister features in the hot list maintained by R&AW, India's primary external intelligence agency. Sajjan has been forthright in condemning Operation Bluestar, in which the Golden Temple complex was riddled with bullets, and Khalistan ideologue Jarnail Singh Bhindranwale and his band of supporters were killed. But the Canadian government has stood by him, saying the allegation against Sajjan is inaccurate.

Yet the hawks in the establishment are satisfied that a tough message has been sent out that India's unity is non-negotiable and even highly placed persons should remain above suspicion. But the diplomats who have worked hard to rebuild the topsy-turvy relations, which first got disrupted by the 1974 nuclear explosion by India and then by the Punjab turbulence of 1980s, are shocked that the normalcy generated during the prime ministerships of Atal Bihari Vajpayee, Manmohan Singh and Modi may get a bump. The defence ministry has said it was not a snub, but only a miscommunication. But it appears to be a miscommunication with multiple messages!
sachi@theweek.in