Readers might recall the controversy some four years ago when two young children were forcibly taken away from their Indian parents and put into foster care by Norwegian child protection services. The charges against the parents included the sharing of a bed with the children and that the mother hand-fed, and possibly smacked, the older child. About the baby girl, the mother was charged with not using the nappy changing table properly. The children were said to show "attachment disorder" for which the solution, according to the authorities, was total separation from the parents. The mother was said to be mentally unstable based on her hysterical reaction on being told that the children were to be taken away forever.
Among those outraged was Sushma Swaraj, then leader of opposition in the Lok Sabha and now India's foreign minister. In January 2012, she thundered, "I do not know the logic behind Norwegian laws. They do not know Indian culture and sensibilities.... If feeding a child by hand or a child sleeping with parents is an offence, then all Indian parents, including me, are guilty." She added, "The snatching of the two little kids from their parents is shocking. I cannot imagine what the parents and kids are going through." In Parliament, she said, "The entire country is with them. There is no politics."
Well, she has an excellent chance of determining what next when she receives her Norwegian counterpart in India. He has not arrived at the time of writing and, of course, I do not know what she would have said to him on this subject, if anything at all, by the time this reaches readers' hands. My hope is that as the Bhattacharya case has been supplemented by similar cases in several western countries, the Indian government should seriously consider an understanding, protocol, agreement or treaty with these countries, bilaterally or through the UN Commission on Human Rights, to sort out these issues so that parents and their children are not arbitrarily sentenced to the hell on earth of a lifetime of separation.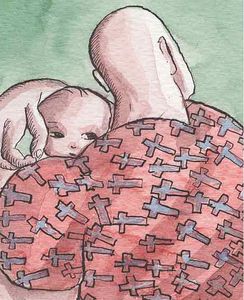 Sushmaji can take heart from ours not being isolated cases. A huge rumpus has blown up in the Czech Republic over similar treatment meted out to a Czech couple and their two sons. The president of the Czech Republic, no less, has responded to shocked public sentiment by cancelling the Norwegian envoy's invitation to the celebration of the anniversary of the creation of Czechoslovakia.
There is also a growing network of Norwegian families who are joining the gathering worldwide movement. Nehru's India would have leveraged such worldwide concern into a non-aligned initiative to recast child protection laws that need to be reconsidered in the light of implementation. A beginning has to be made somewhere, and I can think of no more opportune a moment than the visit of the Norwegian minister to India.
There are three principal issues that Sushma Swaraj should press on her counterpart for a systemic solution. First, in view of the growing number of such incidents, the Norwegian government must revisit their child protection laws, particularly to precisely define the penalties attached to different categories of what are considered parental actions attracting governmental intervention. Snatching children away must be limited to "grave abuse". Second, Norway needs to recognise that its child protection services are run by amateurs at the ground level, who are employees of some 450 municipalities. Much greater professionalism needs to be inducted to ensure that the utmost humanitarianism informs actions that could lead to the children being stolen, effectively forever, from their parents. But, most important of all, bearing in mind the cultural factor, foreign children must, as a matter of priority, be returned to their extended families back in the mother country instead of being alienated forever from their homeland. The Bhattacharya children were rescued only because of high-level intervention by S.M. Krishna. Might we expect his successor to rise to the occasion?