I have never read one book at a time. I don't know when this habit crept up on me because I was fairly single-minded as a child and read books from the front cover to the back cover, except when I was very curious and then I might skip to the end and read that and then sigh with relief (or gasp with horror) and then settle down to enjoy my reading without any tedious suspense. That was also because I grew up in a book-filled house but without too many books for children. My father discouraged us from buying books, for he said wisely that even if we believed we would read Enid Blyton until we died, there might come a time when we would not want to. This turned my sister and me into sneaky bookbuyers; we saved our money and bought our own books—such joy in owning—and then we pretended they belonged to friends or we just hid them.
When I watch young parents loading their children down with books at the local shops, hoping to persuade them to read, I think: "Fools. Just deny them any reading privileges. Pluck the books from their hands. Lock them up. And then see what happens." Too many people tell children that reading is good for them; that makes most monsters think, "Well, then I'm not having any."
Now that it is the end of the year, I thought I should do an audit of how many books I am reading simultaneously. So I went through the house—not a difficult task to do in a small Mumbai flat—and listed every book of which I had read more than 20 per cent. When I was done, I found I was reading 30 books at the same time. This does not count Marcel Proust—I am in the middle of The Captive The Fugitive—which I have been reading four pages at a time for the last two years.
Some of the books I have begun thoughtlessly, on the way home from a bookshop, you pick one out and taste just a little bit and then you're deep in. But you get home and glowering at you is the book you have to review. And when you're going to bed, there had to be a book that you can fall asleep into. And a morning book to take to the loo. And a book that fits into an overweight bag. (The bag is overweight with paper in various forms: books, notebooks, letters, notes.)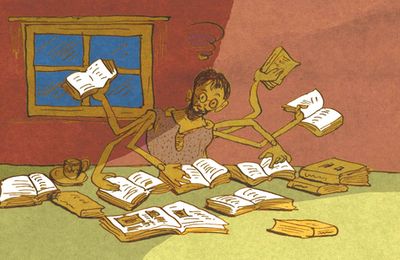 This is not an efficient way to do things. I often have to reread sections, work my way back to make connections and so I often end up reading the first few pages of a book several times over. I decided I should cut this down. Only my sister was on leave and we toppled through the South of Mumbai on a book morning. We began with a new bookshop, Wayword & Wise, beautifully boutiquey and elegant, on Mint Road. Then we went to Strand Book Stall, for old time's sake. A huge sale was on, books for Rs50 and Rs100. We splurged on all kinds of books, including some pulp and then made our way to Bargain Books which informs you that it's not the standard-issue kind of bookshop but it has books at insane prices. Then to Kitabkhana, another beautiful bookshop, which is celebrating five years in the city. Then across the road, a roadside market beckoned, full of all the books other people have decided that they are done with.
I did not want to start reading on the way back but somewhere along the way I pulled out a book that assured me it would give me a short history of the American stomach and before I knew it I was reading.
I got home and changed the figure to 31. But I will get around to those other 30 books. I will.
Since writing this column, Jerry Pinto has added two more books to the list.