The security environment in 2017 will continue to be marked by the same challenges as the previous year, albeit with some changed contours. Various technology-centric trends and leadership changes in the domestic and regional milieu, along with the ideological disposition of the new incumbents, will significantly influence the future security scenario. There are already some media reports alluding to the Pakistan army chief's inclination to revisit their 'India policy' with the intent to curb the hitherto confrontationist stance. On the other hand, Indian political leadership has unambiguously demonstrated its retributive intent to any trans-border provocation.
As compared to the conventional threats along our borders, the unconventional asymmetric threats from trans-border and domestic terrorism, cyber terrorism and cyber crimes will pose greater challenges not just to our government institutions and security establishment, but even to the manufacturing and industrial environment. Cyber threats will be coordinated across myriad devices, channels and cloud management platforms. As per [IT security company] Trend Micro, Internet of Things and Industrial Internet of Things will play a significant role in targeted attacks during the year.
Our National Cyber Security Policy of 2013 would require an urgent review to make it more relevant to the contemporary and futuristic threats, especially in view of the rapid digitisation. The revised policy should not just spell out various objectives but also give out broad methodologies for achieving them. Creation of an effective cyber security ecosystem must also cater to greater public-private partnerships. A regulatory framework that facilitates organisations to detect, avert or mitigate security vulnerabilities and share critical cyber information in real time should be set up. To fulfil the dreams of Digital India and less-cash economy, it is imperative to initiate a basic cyber awareness campaign as maximum cyber attacks occur because of human error.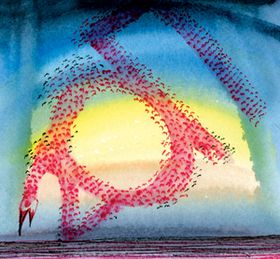 On the terrorism front, notwithstanding the media reports on the Pakistan army chief's constructive intent, it is unlikely that the terrorists will allow any departure from their thus far antagonistic posturing. Both Lashkar-e-Taiba and Jaish-e-Mohammed, which are today virtually running a parallel government in the Punjab province of Pakistan, have the potential to derail any rapprochement initiative. Reining in the two Punjabi terrorist groups will be an extremely difficult proposition.
Northeast insurgencies that today are bereft of their founding ideologies will carry on with calibrated violence to safeguard their fast denuding turf. They will continue with rampant extortion, gun-running, drug-trafficking and counterfeit currency racketeering. Violence during the year is expected to be more pronounced in Manipur, Upper Assam, Bodo areas of Assam, and Tirap, Changlang and Longding districts of Arunachal Pradesh.
Red corridor created by left wing extremism in the states of Chhattisgarh, Jharkhand, Odisha, Bihar, West Bengal, Andhra Pradesh, Telangana, Maharashtra, Madhya Pradesh and Uttar Pradesh would further shrink, given the comprehensive strategy of the government since 2006. However, sporadic violent incidents engineered by the residual militant cadres would continue.
For effective national security, we should continue to have our ear to the ground and keep our gun powder dry. Our multiagency effort to deal with various external and internal threats should be synergised and empowered with requisite technological prowess and resources. We should also develop, through diplomacy, necessary regional and global partnerships to deal with threats in their incipient stage. Strengthening of security architecture most importantly requires national unity and commitment of all. Let us together ensure that 2017 sees improved security indices with greater national cohesion and pride.