He walked for six months, every single day. Fleeing from war-ravaged northern Afghanistan, Nasrallah and his family initially took refuge in Iran. He should have been in school, but he cut stones to earn money. He had one dream: reach Europe. By 17, he had saved ¤700 and he began his lonely march across Iran to the Turkish coast. He took a dinghy to Greece and then sneaked into Austria in a truck. He now works as a kitchen cleaner. What did he need most when he landed in Europe? "My knees were shattered, I needed treatment," he replied. Instead, he rested his knees, learnt German and completed the nine-year school syllabus in a few years and eventually got a job when the Catholic NGO Caritas set up its social business—Vienna's two-star Magdas Hotel—that hires refugees.
Nasrallah is one of the few lucky ones who managed to land on his feet, despite crushed knees. Stories of migrants' escape into Europe are gut-wrenching. Marwan watched his arm fly away when he got caught in shell-fire in Syria. He ran behind, grabbed his severed arm from the rubble and took it with him to hospital in the hope of stitching it back on, before losing consciousness. When he awoke, he found himself without his right arm and left eye. He too had just one ambition—reach Europe, get a prosthetic limb. His journey involved swimming with one arm for nearly two hours at night from Kas in southwestern Turkey to the nearest Greek island Kastellorizo. Incredibly, he swam to safety.
But thousands drown as they make their desperate voyages into Europe from the Middle East and Africa. Ahmad from Syria survived when his rickety boat sank, but eight members of his family perished. After peaking in 2015, illegal migration reduced when Turkey stopped crossings into Greece as part of an EU agreement. This year, however, the influx from north Africa across the Mediterranean has already crossed 85,000 to Italy alone from Libya. At least 2,000 have drowned in this perilous journey.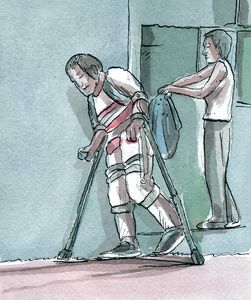 War displaces millions internally in Syria, Afghanistan and Iraq. Millions more are in refugee camps in nearby countries. Europe's initial welcome soured when faced with huge influx, misbehaviour of immigrant men and terrorism spurring far-right populism. Refugees with some savings still seek asylum in Europe, but many, especially those from the Libyan coast, are economic migrants desperately searching for livelihood. Human smuggling thrives and some migrants—from Africa and even Bangladesh—are absorbed into Italian mafia-style operations: not only in the invisible crime syndicates, but also in the visible business of selling counterfeit designer bags on Italian streets. Given Italy's sluggish economy, many migrants sneak further up into Europe where Schengen means open, unmanned borders. But in July, Austria sent four armoured personnel carriers to its Italian border to intercept illegal migrants. Hungary has already barb-wired its borders. "Desperation makes migrants take terrible risks but Europe is a magnet for all those who seek a better life," said Vienna-based psychotherapist Ulrich Kropiunigg.
Through history, humans have migrated in search of greener pastures. In its cruelty, the slave trade has few parallels. Yet modern-day trafficking is just as horrifying. People are not stolen from their villages. They leave voluntarily with hope burning in their hearts to lead a better life, away from war, exploitation and poverty. But invariably they fall into the clutches of traffickers, warlords and gangsters. And life becomes hell. Three months pregnant, Seelan from Eritrea decided to somehow get to Europe to give her unborn child a better future. Her harrowing journey includes abduction by criminals, gang-rape and torture. Instead of breaking her spirit, torment fuelled her onward, until she eventually reached Europe. But as an "economic migrant", she faces the prospect of returning to hell.
Pratap is an author and journalist.